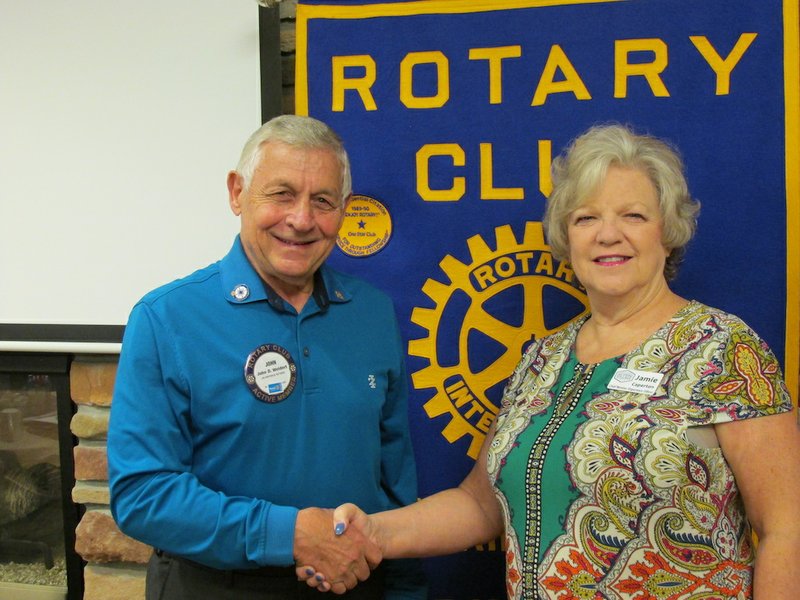 HSV Rotary President John Weidert, left, welcomes Jamie Caperton of the Hot Springs Village POA. - Submitted photo
HOT SPRINGS VILLAGE -- Jamie Caperton, chief member experience officer for the HSV Property Owners' Association, spoke to the Oct. 10 meeting of the Rotary Club of Hot Springs Village.
She spoke about raising an "army of marketers" -- residents to tell friends and family about the advantages of living in Hot Springs Village, a news release said.
Caperton said 67% of Villagers who were invited to visit by family or friends "ended up falling in love with living here."
Caperton mentioned several initiatives her office has developed to make it easy for Villagers to provide information for potential residents. There are new golf videos, emails to share, and a cost-of-living calculator on the Explore the Village website.
"By using the cost calculator, a person living in Dallas, for example, can compare the costs of living there vs. living here," she said in the news release.
Caperton's job as chief member experience officer also includes being in charge of all Village amenities. She invited HSV residents with suggestions for improvements to meet with her at her office.
"Come visit," she said, "and come with solutions."
She asked Rotarians to help bring new residents to the Village, saying, "The way to keep our fees down is to bring new people in to help with our assessments. Thank you for being part of my army."
The Hot Springs Village club meets in the Fireside Dining Room at Good Sam's, 121 Cortez Road, Thursdays at 6:30 a.m. Visit http://www.hsvrotary.org or Facebook.com/hsvrotary for more information.
Society on 10/20/2019
Print Headline: HS Village Rotary Club members recruited for 'army of marketers'
Sponsor Content
Comments