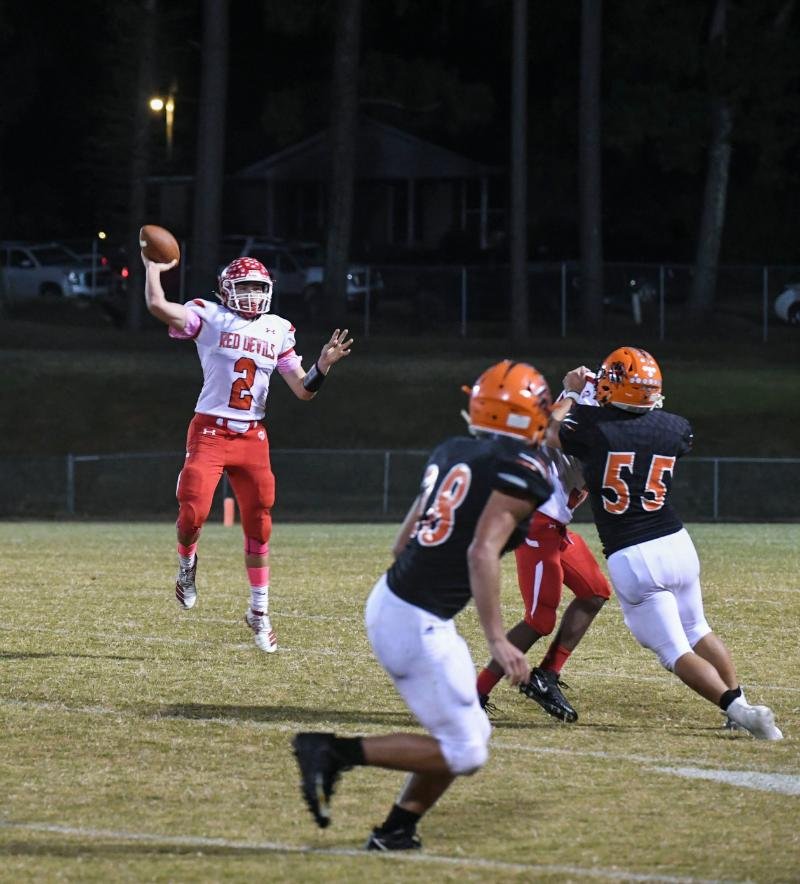 The Sentinel-Record/Grace Brown GET UP: Mountain Pine quarterback Collin Smith (2) jumps up to pass to a teammate during Friday's game at Magnet Cove. The Panthers won, 35-26.
MAGNET COVE -- A week after Mountain Pine quarterback Collin Smith rushed for 338 yards, Magnet Cove's defense held the Red Devils to just 252 yards of offense to take a 35-26 win at Kenneth W. Hammonds Stadium.
Magnet Cove head coach Caleb Carmikle said that coming into the game, the key to a win would be stopping Smith.
"He's a heck of a football player," he said. "He's probably as good as any in the conference, but I felt like we did a pretty good job of keeping him at bay. You know, a kid like that's going to make plays, and a team like Mountain Pine, they're well coached, and they've got great athletes. And they're going to make plays, but our kids did a really good job of stepping up and making big stops when they needed to."
Mountain Pine head coach Sam Counce said that the Panthers were focused on shutting down Smith, and the plan was successful.
"They did a good job at containing him," he said. "Any time he'd get out, they'd get off their blocks and run to him. They did a good job with that they planned.
"Their linemen did a good job. They got under our guys. When it came down to it, they won in crucial situations. They had home field advantage, that's for sure."
The Red Devils attempted a conversion play following each of their touchdowns, but they could only find the end zone on back-to-back tries once, tying the game at 14-14 with 8:10 left in the first half.
"The 2-point conversion stops were huge throughout the game," said Carmikle. "And that really made a difference in towards the end of the game in the way that both sides were calling plays because being able to get a stop at the end and keep it a two score game, they were having to chase points. I was really proud of our defense tonight."
The Panthers scored four of their five touchdowns on plays of 30 or more yards.
"They gassed us a bit," Counce said. "After they got us on that screen, I thought we settled in. We didn't give up. You just can't prepare for everything. I think they were a little faster than we thought they would be. That first kickoff, they got the ball back early. They scored early with that screen, and we had a chance to duck our heads."
One of Magnet Cove's key players was on the field for almost the entire game -- Landon Stone, who led the Panthers with 12 tackles as well as with 122 rushing yards on 20 carries.
"Landon's, like you said, everybody thinks [of] him as a running back and really his his future may be as much on the defensive side of the ball," Carmikle said. "He's a very huge asset to us at linebacker. We rest him at times just because of how valuable he is on offense, but he really provides a spark for our defense."
Carmikle was pleased with his team's defensive play.
"Linebackers did a good job following the ball, and we gang-tackled," he said. "And that wears on people over the course of the game when you've got six, seven people, eight people getting in on the tackle and flying to the football, and I love, love the way our defense has improved. Coach [Brandon] Godfrey and coach [Robert] Webb our co-defensive coordinators have done a really good job from where we started defensively to where we're at right now. I'm really happy with the progress."
Stone was key to the initial drive for Magnet Cove, scoring on a 30-yard pass from Tyler Hodges.
"You give him a little bitty crease, and he's gonna hit the hole," Carmikle said. "He sees field so well. Mountain Pine is very big up front, and they had a good plan coming into it to shut down our run game and forced us to throw the football. ... But Landon did a great job of when we did call his number, finding creases and made some big plays with his legs. He had the big catch on the first score of the night."
Counce said that despite the outcome the game was a "good battle between two teams in the conference."
"Being at Magnet Cove helped them a lot," he said. "If we'd been at home, it might have been a different game. But playing in front of a home crowd makes a big difference. It was just two good football teams playing hard.
"I told the guys that's what playing high school football is for. It was a great atmosphere. That'll make memories for a lifetime. I think that will help us in our next three games. We've got a chance to control our future and end up second in the conference or get home field advantage [for the playoffs]."
1Q 2Q 3Q 4Q F
Mountain Pine 6 8 6 6 26
Magnet Cove 14 7 14 0 35
First quarter
MC--Landon Stone 30 pass from Tyler Hodges (Alex Ordonez kick), 9:51.
MP--Collin Smith 4 run (conversion fail), 5:03.
MC--Hodges 30 run (Ordonez kick), 3:16.
Second quarter
MP--Smith 5 run (Smith run), 8:10.
MC--Levi Horton 40 pass from Hodges (Ordonez kick), 0:25.
Third quarter
MC--Stone 40 run (Ordonez kick), 10:52.
MP--Smith 1 run (conversion fail), 7:53.
MC--Davis Dickinson 17 pass from Hodges (Ordonez kick), 5:55.
Fourth quarter
MP--Smith 1 run (conversion fail), 6:43.
MP MC
First downs 19 12
Total yards 309 252
Rushes-yards 52-226 27-257
Passing 83 95
Comp-Att-Int 5-16-2 8-15-0
Punts-yards 2-73 3-78
Fumbles-lost 2-2 1-1
Penalties-yards 10-125 6-60
Time of possession 30:40 17:20
Individual statistics
Rushing -- Mountain Pine, Collin Smith 37-181, Jeremiah Walker 9-30, Kai Moore 5-14, Jace Chacon 1-1. Magnet Cove, Landon Stone 20-122, Tyler Hodges 5-38, JR Tolleson 1-2.
Passing -- Mountain Pine, Smith 5-16-2-83. Magnet Cove, Hodges 8-15-0-104.
Receiving -- Mountain Pine, Kayden Anzaldua 3-69, Moore 2-16. Magnet Cove, Levi Horton 3-58, Landon Stone 3-30, Davis Dickinson 1-17, Logan Walker 1-(minus 1).
Sports on 10/20/2019
Print Headline: Panthers shut down Smith, Red Devils
Sponsor Content
Comments