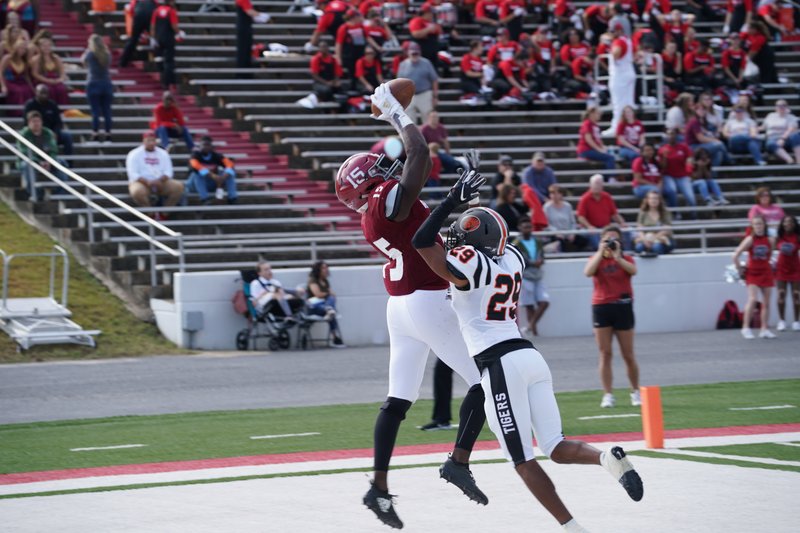 Henderson State senior receiver L'liott Curry (15) snags a pass from quarterback Richard Stammetti in Saturday's game against East Central as Martinez Hill (29) defends. The Reddies won, 48-17. Photo courtesy of Reddies Athletics
ARKADELPHIA -- Henderson State took control of the game and did not back off until late in the third quarter as the Reddies cruised to a 48-17 homecoming win over the East Central Tigers at Carpenter Haygood Stadium Saturday.
The Reddies (6-1) scored three touchdowns in the third quarter to put the game out of reach for the Tigers (1-6) after a 28-10 halftime lead.
Head coach Scott Maxfield was pleased with the way his defense played, especially in the second half.
"I thought the second half the defense picked it up," he said. "We got some stops, got the ball back. Our offense had the big punt return. I think that just shifted the whole momentum right there, and that just kind of iced it for us."
The Reddies allowed just one score for the Tigers in the second half after Maxfield allowed his backups to take over in the game.
"Then we played everybody on the team in the fourth quarter, so they got another touchdown, our backup guys, but it's good to get those guys in the game," Maxfield said. "Give them some game experience and give them a chance to play."
The Reddies stretched their lead out to 35-10 just 3:18 into the second half on a 65-yard pass from quarterback Richard Stammetti to Chase Lodree. The reception gave Lodree a new career-high.
Lodree's thinking on the reception was simple.
"Get to the crib; that's all we got to do," he said. "Get it to the house, and come back and do it again. That's all I'm thinking."
The receiver said that he and Stammetti are "brothers."
"We're with each other most of the time," he said. "That's my dude; I've always gotta stay connected with him. So [we] come around Saturday and perform to the best we can."
Braden Boykin fielded a punt for the Reddies near the midpoint of the third quarter at the HSU 22, returning it a full 78 yards for a touchdown. The return was the 10th-longest punt return in program history.
"It's great anytime you can return any type of kick," Maxfield said of the return. "It's hard to do, and there's not many of them. But Braden's a really good return guy. He works extremely hard. We're proud he's a Reddie."
Henderson State got things going early as it converted on its initial drive as Stammetti connected with L'liott Curry on a 14-yard pass for the end zone to cap a 10-play, 62-yard drive. Temo Martinez's kick made it 7-0 with 4:08 off the clock in the first period.
The Reddies held the Tigers to a three-and-out on their first drive, starting their next drive on the 27. Fourteen plays later, HSU was back in the end zone as Querale Hall ran the ball in from the 9 to cap a 14-play, 73-yard drive that burned 7:00 off the clock for a 14-0 lead after Martinez's kick.
The Tigers finally got on the scoreboard with 4:02 off the clock in the second quarter as quarterback Kenny Hrncir pitched out to Tyson Jones for an 11-yard touchdown run that was set up by a 17-yard run by Hrncir and a pair of short runs by Ontario Douglas.
The Reddies scored on their next two drives while denying the Tigers another TD, but kicker Harper Simmons split the uprights on a 37-yard field goal with 2:54 left in the half. HSU's final score came with just 35 seconds left in the half, and Simmons attempted a 51-yard field goal as time expired, but the ball was tipped and fell short.
"Anytime you can win like this on homecoming, it's big," Maxfield said. "You know, we had a good crowd. A lot of the old alums come back. So just pleased with the outcome and happy for our kids to have another one."
The Reddies travel to Durant, Okla., on Saturday to take on Southeastern Oklahoma State at 2 p.m. The Tigers host Southern Arkansas at 3 p.m. in Ada, Okla.
1Q 2Q 3Q 4Q F
ECU 0 10 0 7 17
HSU 14 14 20 0 48
First quarter
HSU--L'liott Curry 14 pass from Richard Stammetti (Temo Martinez kick), 10:52.
HSU--Querale Hall 9 run (Martinez kick), 2:13.
Second quarter
ECU--Tyson Jones 11 run (Harper Simmons kick), 10:58.
HSU--Logan Moragne 3 run (Martinez kick), 6:17.
ECU--Simmons 37 field goal, 2:54.
HSU--Doug Johnson 26 pass from Stammetti (Martinez kick), 0:35.
Third quarter
HSU--Chase Lodree 65 pass from Stammetti (Martinez kick), 11:42.
HSU--Braden Boykin 78 punt return (Martinez kick), 8:36.
HSU--Ayden Shurley 10 pass from Stammetti (kick failed), 0:57.
Fourth quarter
ECU--Ontario Douglas 1 run (Simmons kick), 10:56.
ECU HSU
First downs 20 26
Total yards 437 465
Rushes-yards 33-178 36-171
Passing 259 294
Comp-Att-Int 23-32-1 20-31-0
Punts-yards 3-138 2-80
Fumbles-lost 0-0 1-0
Penalties-yards 8-52 1-5
Time of possession 30:45 29:15
Individual statistics
Rushing -- ECU, Ontario Douglas 13-62, Kenny Hrncir 12-59, JuWan Walker 1-29, Tyson Jones 5-21, Taye Gatewood 2-7. HSU, Logan Moragne 16-81, Querale Hall 9-68, Darius Austin 10-16, Adam Morse 1-6.
Passing -- ECU, Hrncir 17-23-0-182, Gatewood 6-9-1-77. HSU, Richard Stammetti 18-27-0-265, Morse 2-4-0-29.
Receiving -- ECU, Douglas 9-51, Teslim Abubaker 3-61, Jackson McFarlane 2-35, Miles Davis 2-19, JayQuan Lincoln 2-19, Jones 2-13, Akeem Gordon 1-32, Dilland Gardner 1-19, Trey Walker 1-10.
Sports on 10/20/2019
Print Headline: Reddies host homecoming in style, down East Central
Sponsor Content
Comments