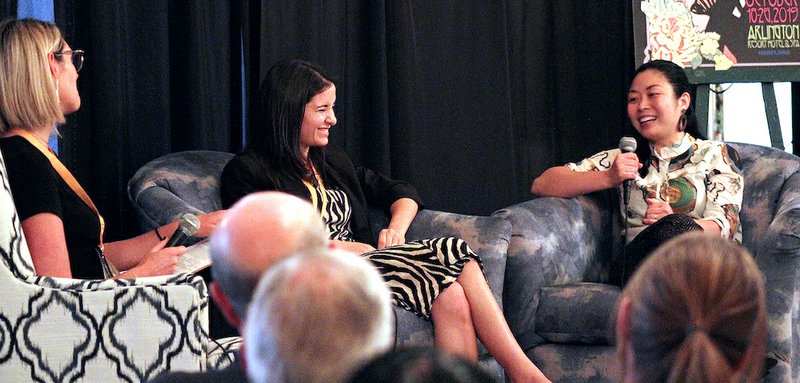 HSDFF Director of Programming Jessie Fairbanks, left, hosted the chat "Filming in High-Risk Situations, Politics, and More" with "One Child Nation" director Nanfu Wang, right, and "For Sama" director Waad Al-Kateab. - Photo by Jami Smith of The Sentinel-Record
Two documentarians who literally risked their lives to tell their stories on film participated in a fireside chat about their works on Saturday during the Hot Springs Documentary Film Festival.
HSDFF Director of Programming Jessie Fairbanks hosted the chat, "Filming in High-Risk Situations, Politics, and More," which featured "One Child Nation" director Nanfu Wang and "For Sama" director Waad Al-Kateab.
Wang's film won the best documentary award at the Sundance Film Festival and Al-Kateab's film won the best documentary award at the Cannes Film Festival.
Asked by Fairbanks how they fell in love with documentary filmmaking, Al-Kateab replied that she started out as an activist in Syria and, beginning in 2011, she decided to film inside Aleppo during the battle of Aleppo over the next five years. It is her first movie.
Wang said she was born in China "in a poor village where most of the people had never been to a movie theater and I didn't start watching movies until 2007," and those were mostly big Hollywood movies.
In 2011, however, she came to America for graduate school to major in media studies. That led to her taking a documentary class.
"That was the first time I saw documentaries ... I never realized that documentaries could be very compelling and be about characters, issues and have a narrative arc," she said.
Both filmmakers are the subjects of their movies, and both were in danger while making them. Al-Kateab was in Aleppo, and Wang had already made a movie that the Chinese government didn't like called "Hooligan Sparrow." Fairbanks asked about how both women stayed safe during the making of their films.
Al-Kateab said that she was trying to document what was happening in Aleppo. "If I can't really protect myself ... at least I can save the story and make it stay forever," she said. When Al-Kateab and her family were forced to flee Syria in 2016, she said she was "shocked, I have survived and I have all this material."
Wang said that after making her first film, she thought she was banned from China. When she discovered that she was allowed back into the country, she said "I was much more prepared after 'Hooligan Sparrow.'" After that experience, Wang said that this time she filmed "under the radar" of the Chinese government to stay out of trouble.
Both filmmakers said that neither of them initially intended to make themselves the focus of the movies. Fairbanks asked both how they came to the decision to focus on themselves.
"At the beginning, I was like 'No, no, no. I will not do the film about myself," Al-Kateab said. She wanted the film to be about the city and its people. However, she said when trying to figure out "how to make people more engaged and understand the situation, I knew that this was the right thing to do, which was to put myself in that."
Wang said, "I think that how much of yourself to put in your film is probably the most difficult that doing" a personal documentary. "When making 'One Child Nation' I was like OK, this film, I'm not going to do it," she said. However "It usually takes somebody outside to see how obvious that the film is personal and including the personal story would make it much more relatable and stronger."
According to the HSDFF site, "One Child Nation" is about Wang's journey across China in consideration of its "one child policy" and its "enforcement through propaganda and unsettling government policies."
"For Sama" is Al-Kateab's "bracing autobiographical portrait documents the unfathomable horrors committed against the people of Aleppo, Syria, during the country's bloody uprising," the site says.
The directors were also asked about their hopes for the impact their movies will have.
Wang said that when she was growing up, she never questioned the one-child policy in China. She said that she hopes people outside of China will see the film and "start questioning their own culture."
"I know it will not make the regime fall," Al-Kateab said. The war made her people "feel like we lost everything" and that the film "helps us keep fighting."
Both women were asked what they have planned for their next movie. Al-Kateab said that she has many ideas, but right now she is focused on showing "For Sama" to the world. She did say that she won't focus on herself in her next movie.
Wang responded to that comment with a laugh, saying that after her first movie she would never focus on herself again.
"Then it happened two films later," Wang said. Wang said she has two projects she is working on next, one that is funny and one that is about criminal justice.
Local on 10/21/2019
Print Headline: Documentarians talk about risking lives for work
Sponsor Content
Comments