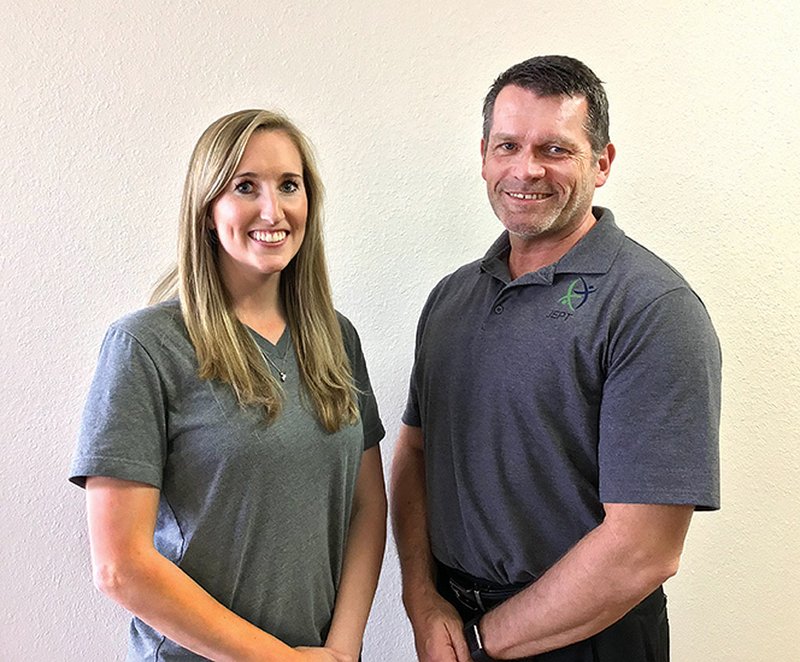 Gretchen Cellars, PTA, left, and Rob Jordan, PT. - Submitted photo
Nearly everyone, over 80% of the population, experiences lower back pain at some point in their life.
In fact, at least one out of every four people reading this newspaper has likely experienced lower back pain within the last three months. The majority of low back pain is mechanical in nature, meaning that there is a disruption in the way the components of the back (the spine, muscle, intervertebral discs, and nerves) fit and move together. The symptoms of low back pain can vary greatly between two individuals. The pain may feel dull and achy, burning, or sharp. Sometimes the pain is isolated to a single point, and sometimes it is felt over a broad area. Sometimes this pain is accompanied by muscle spasms or stiffness, and sometimes this pain shoots down one or both legs. Numbness, weakness, or nerve pain should never be ignored.
In reality, the phrase "low back pain" is extremely vague. Which is why there is no cookie-cutter-treatment that cures all lower back pain. Recent guidelines and studies recommend physical therapy and therapeutic exercise as the first line of defense in treating and preventing lower back pain, rather than prescribing medication, injections or surgery.
At Joint Effort Physical Therapy, therapist Rob Jordan has over 30 years of experience in diagnosing and treating lower back pain. Over the years, he has created an initial evaluation process that is geared toward developing an individualized treatment plan. The combination of experience and individualized treatment is the key to successfully treating and preventing recurrent lower back pain.
Identifying the cause
Contrary to popular belief, lower back pain can be accurately assessed and diagnosed without the use of expensive S-rays, CT scans, or MRIs. A PT diagnosis is accomplished through the initial evaluation process, during which the physical therapist assess the patient's health history, lifestyle, symptoms, as well as performing appropriate tests and measures to identify any positive signs and symptoms or any problems with posture, flexibility, muscle strength, or joint mobility and movement. Once the evaluation is completed an experienced physical therapist, like Jordan, can confidently develop an individualized treatment plan.
Treatment
Not all lower back pain is the same, nor should it be treated the same. "Your treatment should be tailored to address the needs of your specific symptoms and condition," a news release said. Depending on the factors contributing to the specific back problem, treatment may include:
• Manual therapy to improve the mobility of joints and soft tissue.
• Therapeutic exercises to improve strength and flexibility.
• Modalities such as traction, electrical simulation, dry needling, or laser, all of which aid in the reduction of pain and inflammation.
• Patient education in understanding back pain and how to prevent recurrent back pain.
"If your pain lasts more than three days or is steadily getting worse, call Joint Effort Physical Therapy today," the release said. "See how we can help you Feel Better, Move Better, Live Better."
Most insurances are accepted and do not require a physician referral. Joint Effort Physical Therapy also offers cash pay options. Call 501-781-2701 to schedule and evaluation today. For more information, visit http://www.jephysicaltherapy.com or follow @JEPhysicalTherapy on Facebook.
Business on 10/21/2019
Print Headline: Lower back pain: Discover key to lasting relief
Sponsor Content
Comments