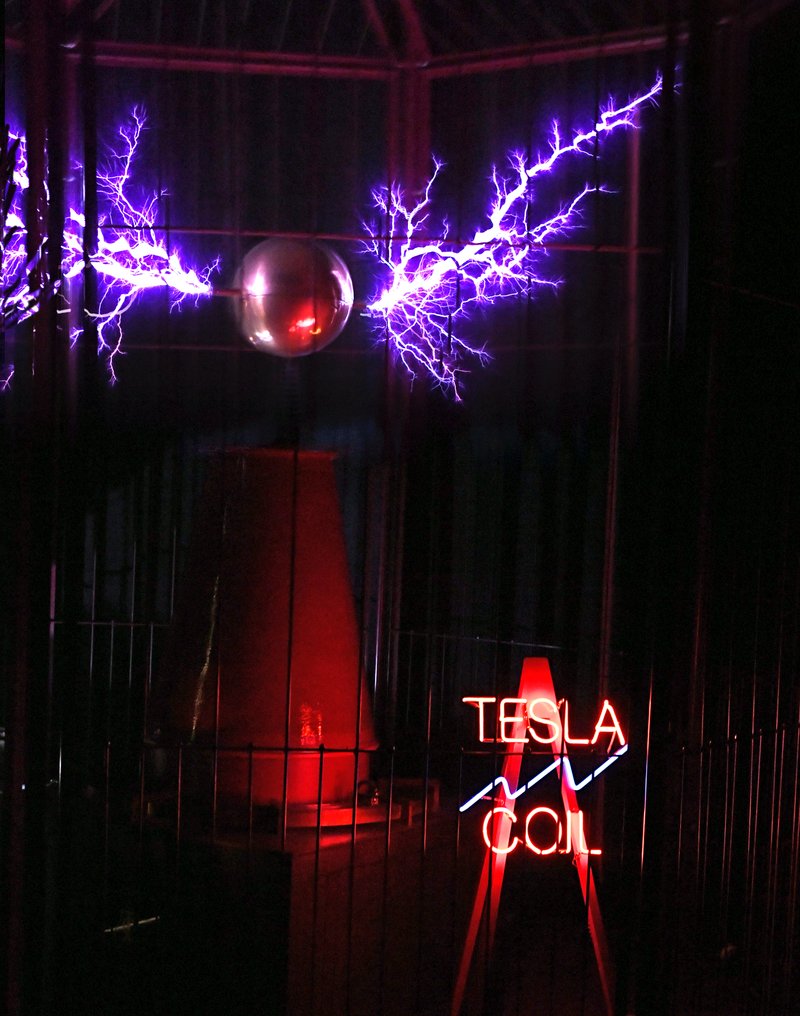 Mid America Science Museum's giant Tesla Coil lights up the Tesla Theater. -Photo by Grace Brown
Mid-America Science Museum's Girls in STEM Program is hosted by the museum's all-female education staff on the first Saturday of every month.
"Here's the thing: STEM is in everything, and that's what the Girls in STEM program is trying to show," museum educator Deana Hughes said. "It doesn't matter what the heck you're doing. ... Science and STEM and STEAM is in everything that anyone does. There's not a field in the universe that doesn't deal with science at some base level. ... Every problem you solve from the day you're born is the scientific method."
STEM is the acronym for science, technology, engineering and mathematics.
"I think it's important (to have a Girls in STEM Program) because you can't emulate what you don't see," said Kayla Ingle, the museum's education coordinator. "More women in science means more women in science."
Hayley Chronister, the museum's Tinker teacher, said it's mostly men who dominate areas of science, technology, engineering and math. She added that the Mid-America education staff is actually trying to coin the term STEAM, rather than STEM, so art can be included.
"Art and science inform each other, and it's important to be creative and hands-on, especially in the Tinkering Studio, and experiment," Chronister said. "And thinking about, maybe like scientists in a lab, if you're trying to have these new ideas and create something new, you have to be creative. Like, what are you going to do if you don't have that creative muscle? If you're not thinking that way, creatively you're just going to make the same thing over and over and over again."
Mid-America Education Director Casey Wylie said including art in STEM is important because when she was younger she loved science, but she was eventually told she had to choose between being an artist or a scientist.
"I decided (when I was younger), well, I don't like math. So I can't be a science person, and I wasn't interested anymore, which made me really sad," she said. "It wasn't until I came back to work at the museum that I went 'I like science again.' So I just always wonder where could I have gone if I'd pursued science in college or even in high school. So I don't want there to be other girls like me who are like 'No, science isn't for me, I'm not supposed to do that.'"
Wylie added, "We tend to think of it as STEM is this weird, separate thing that people have to do or get into, but that's not how it works exactly. Like Deana said, STEM is everything. Science is life. ... That's what I want girls to get. You're already doing it no matter what you do every day. So say you do it. Realize that you do it, realize that every person is a scientist. No matter what you're doing, you're experimenting, you're trying new things, you're making observations, you're engaging in the scientific world."
Hughes said the Girls in STEM Program targets sixth-grade girls.
"We open it up to any girl interested, we don't want to smush that interest if it's there," she said, "and it's an environment that, although brothers are welcome, is for girls, led by girls about any subject that may stereotypically not be for girls."
Hughes added that the only age restriction is a minimum of 6 years old, and the program is free for attendees.
The Girls in STEM Program will also work to combat the challenges women face in the field that men don't.
"I don't know how to talk about this without getting too political," Hughes said, jokingly. "Women do typically get paid less than men in the STEM fields. I have a master's in biology and you walk into a biology lab it's mostly boys in your class. And you kind of have to teach yourself early, that your voice is important and to be just as loud as they are."
"And you have to decide, am I going to fit in with the boys' club and be more like them? Or can I continue to be myself," Wylie said.
"And there's also a social stigmatism," Hughes said. "Like field biologist; you're going to be out in the field with these guys in tents in the middle of nowhere. And there's a social stigmatism that comes with that nothing's going to happen out there. But people assume things all the time."
"And a lot of STEM jobs, not all of them, but a lot of them you get dirty, you work with your hands," Wylie said. "It's typically seen as masculine work, but not necessarily."
Mid-America's education associate, Nancy Bell, said the implied gender roles in the STEM field start early in a child's education.
"When they're studying math and science they already start sorting the kids out, unconsciously I think, instead of what they're going to be better at," she said.
"I was a science teacher and so was Nancy," Wylie added. "There's a big difference between boys and girls in the classroom. And they get treated differently even though you try not to, they still do."
The museum's education staff is using the Girls in STEM Program to combat all of the hardships they have faced growing as a woman in the STEM field, for girls at a young age.
"It's not this weird, nebulous thing that you have to get into," Wylie said. "You're already doing it (science), so gain the confidence that you need to be able to go 'well, OK, then. Yeah, engineering looks cool. I think I'm going to do that.'"
Chronister added, "Yeah, you can do anything and learning is fun."
"We're teaching them different skills that they may have never looked at before," Hughes said. "But with a Science Framework."
"It's a life skills class," Wylie said. "It's a science is everywhere class."
Go Magazine on 09/15/2019
Print Headline: Girls in Full STEAM
Sponsor Content
Comments