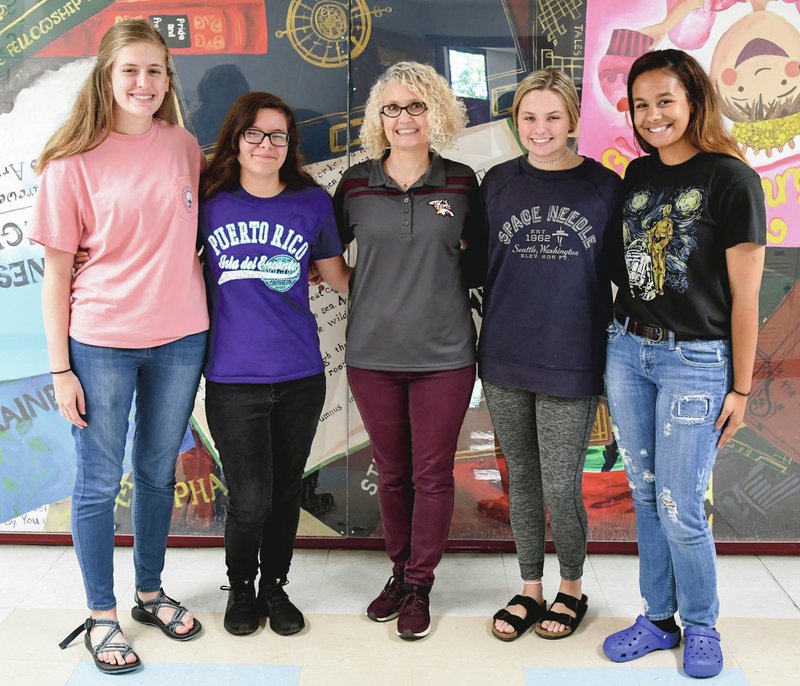 Lake Hamilton Senior High students Colleen Miller, left, Zoie Keys, computer science teacher, Karma Turner, Abby Reynolds, and Kendal Shamel represent the Girls Who Code club at Lake Hamilton. -Photo by Grace Brown
The girls of Lake Hamilton High School's Girls Who Code club are out to conquer through code.
According to the national organization's website, Girls Who Code is a nonprofit organization that aims to "support and increase the number of women in computer science by equipping young women with the necessary computing skills to pursue 21st-century opportunities."
Lake Hamilton's computer science teacher, and 2019 Arkansas Computer Educator of the Year, Karma Turner, founded the school's chapter, dubbed LHSWolvesCode, about two years ago.
"I went online and searched it, found it, put in the application. Then they grant you the ability to have the club, and they provide you with materials, videos and things like that, curriculum. They have videos and curriculum that are really pointed at girls, that show successful women," Turner said.
The national organization provides the school's chapter with a $400 stipend per semester. Last year, those funds were used for two field trips: one to the regional Innovation Hub, the other to the David Glass Technology Center.
The requirements for membership are simple: be a girl with an interest in coding and STEM fields.
Since the club's founding, membership has grown. This is thanks in part to how the club is managed. Rather than having special meetings, club activities are integrated into Turner's classes. Due to this model, the club has no concrete numbers for its membership.
However, operating in this manner makes it feasible for all members to stay involved in the club for as long as possible.
"It just gives opportunities specifically pointed at girls, because we lose so many girls in technology from little to when they get to this age. They just choose different things that they like. So it provides a lot of things so girls can see that there are these things you can like if you want to stay in the STEM field or computer science," Turner said.
In an effort to encourage girls to stay interested in STEM fields, the high school club has been making strides to organize and sponsor an after-school, elementary chapter for third- through fifth-grade girls.
"The Computer Science Honor Society is going to sponsor that, and they will come to my room once a month after school, and it's kind of like a book club computer science program. We'll do an activity, then we'll read some stuff in the book that has to do with the next activity we're going to do. So I'm hoping that will build interest while they're still young, while they're making those choices, and then maybe more of them will choose the STEM fields or computer science," Turner said.
"We'll show them that computer science is not just coding, it's everything. It's the engineering, it's the making, it's designing. It's a lot of things, and how it can apply to anything that they want to do."
Eleventh-grader Kendal Shamel said that "more influence" from older girls in STEM will be a game-changer for younger girls.
"Last year I was the only girl in my class, and the rest were boys. So I feel like if you start computer science in the younger grades and you integrate the girls and the boys more, then there won't really be that standard where boys mainly do this and girls don't," said 12th-grader Zoie Keys.
Club members also make efforts to show fellow classmates the real-world, practical applications for skills learned through Girls Who Code.
"Some people think 'Oh, I'm going into this field and I don't really have to deal with technology.' As we are now, technology is everywhere. We use it every single day, so I think if they really realized how much they will need to do this stuff, they would be like 'Yeah, let me hop on board," said 12th-grade club member Keys.
However, Shamel said that if coding and other STEM-related activities were glamorized the way sports are, the more girls would likely to participate.
Similar to a sporting event, club members Keys, Colleen Miller, Kendall House and Lauren Charles, recently participated in the Girls Go CyberStart competition, becoming the first group from the school to compete in the girls-only event. They placed third in the state, winning a $100 Amazon gift card for the school. The team also placed 88th in the national competition.
During the remotely accessed contest, girls across the country competed in a series of digital games and challenges online to gain a better understanding of the cybersecurity industry.
Turner said that the group hopes to participate in the competition again in the future.
"The governor provided that opportunity for Arkansas schools to do that, so hopefully he will do that again. And if he does, we will definitely enter that contest again," she said.
Eleventh-grader Miller is interested in entering the field biomedical engineering, and said that she anticipates that membership in the club will provide her with scholarship opportunities.
"I feel like there's a lot of scholarships opportunities out there for girls in STEM. So that will definitely help me. And I want to go into a STEM field.
Twelfth-grader Abby Reynolds said that the club has helped her to expand her horizons both socially and professionally.
"I made a bunch of new friends who like to do the same thing that I do. I also think it's shown me a lot of new careers that I'd never thought about that I can research and think about going into now," she said.
Keys agreed, saying, "I can definitely say for college and in the future, being in Girls Who Code, now I know the opportunities outside of high school. Earlier, I didn't really know what was going on. But now that I have all these connections, I can see all the opportunities."
Go Magazine on 09/15/2019
Print Headline: Girls Who Code together stick together
Sponsor Content
Comments