Two Hot Springs men were arrested Tuesday night after they allegedly forced their way into a local residence only to be chased away by the homeowner who had a gun.
Dewayne Marvin Johnson Jr., 18, who lists a Riley Street address, and Wintrell Va'quint Coleman, 20, who lists a Highway 290 address, were both charged with a felony count of aggravated residential burglary, punishable by up to life in prison, and a misdemeanor count of first-degree criminal mischief, punishable by up to one year in jail.
Johnson, who was taken into custody around 11:45 p.m. after allegedly trying to run from Hot Springs police, was also charged with a misdemeanor count of fleeing on foot while Coleman was taken into custody shortly after 2 a.m. in the same area.
They were initially being held on zero bond, but both appeared via video Wednesday in Garland County District Court and pleaded not guilty to the charges. Judge Joe Graham set bond for each at $25,000 and a felony review hearing for both of them is set for Oct. 21. Graham also issued a court order barring them from future contact with the victim.
According to the probable cause affidavit, around 11:15 p.m., a local man called police to report a burglary that had just occurred at his residence in the 1200 block of Garland Avenue. He said two males kicked in his front door, causing about $150 in damage, but when he confronted them with a firearm and told them he had called police they fled.
He noted one suspect was wearing a black hoodie while the second was wearing a white shirt with a blue bandanna over his face. A neighbor told police the two ran behind the victim's residence headed toward Westover Street.
Police noted that one of the suspects had left an impression of a shoe sole design on the front door from kicking it.
Just moments after their arrival, police located Johnson crouched down behind the corner of a neighboring residence, trying to hide. Officers gave him verbal commands, but he allegedly ignored them and "took off running." He hid underneath the next-door neighbor's house, but finally came out after repeated commands and was taken into custody.
Officers reportedly located a black 9-mm semi-automatic pistol and a blue bandanna up against the residence where Johnson had been hiding when first spotted. They noted Johnson was wearing a white shirt and gray sweatpants.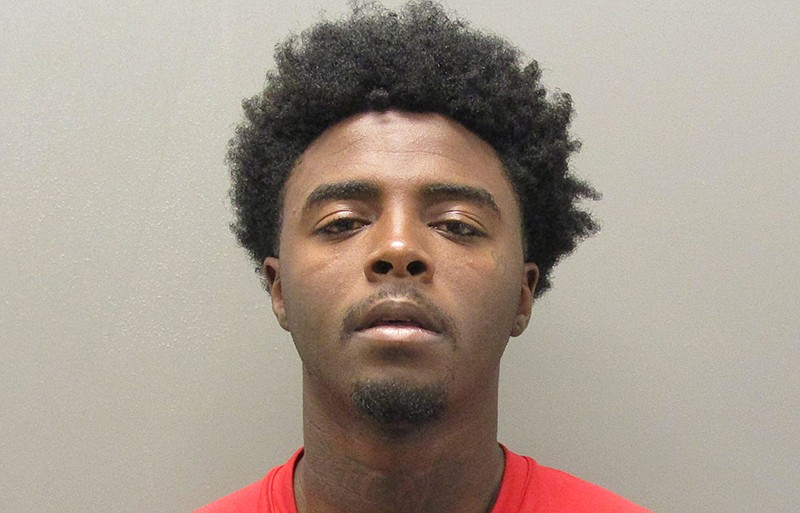 Wintrell Va'quint Coleman - Submitted photo
The second suspect, identified as Coleman, was reportedly located directly behind the victim's residence "lying on the ground in a field," trying to hide. Officers ordered him to surrender and he was taken into custody without incident. They noted Coleman was wearing a black hoodie and black athletic pants. He also had a blue bandanna around his neck.
The soles of Coleman's shoes reportedly matched the design of the impression found on the front door of the residence.
Detective John Hammons later interviewed Coleman at the police department where, after being read his rights, he allegedly stated he didn't know who lived at the residence, but they had heard he had "pounds of marijuana."
He reportedly admitted they kicked the door in and were confronted by the owner with a gun and fled.
Hammons also interviewed Johnson who, after being read his rights, claimed he was "just hanging out" at a family member's house on Westover when officers "flooded the area." He said he ran to the backyard of the residence to hide because he thought he had a warrant. He denied knowing anything about the handgun found where he had been hiding.
The resident at the Westover address Johnson hid behind was questioned and stated he didn't know Johnson.
Local on 09/26/2019