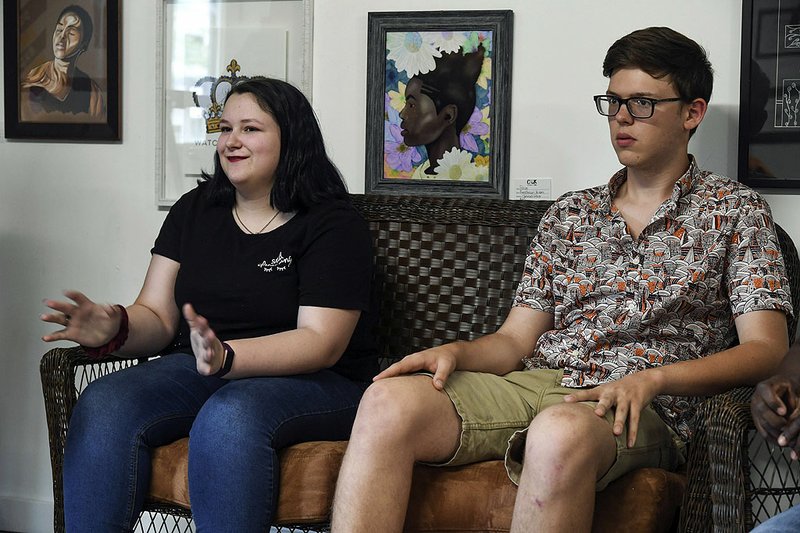 Youth Advisory Council members Izzy Saettele, left, and Robert Neilson recently discussed their group's purpose at Cutwell 4 Kids. - Photo by Grace Brown of The Sentinel-Record
The local chapter of the Youth Advisory Council recently held its first meeting of the 2019-20 school year and will soon begin the process of learning the art of "responsible grantmaking," leading up to the annual grant awards ceremony in April 2020.
Brad Burleson, the lead adviser, said the Hot Springs YAC chapter has been around for over 20 years. Arkansas has 20 chapters, which have collectively donated over $350,000 since 2003. The Hot Springs chapter is "responsible for about a third" of those donations, he said.
"Ours is definitely the most active," he said. "We have a good philanthropic base here. There are some people who are longtime donors."
A component of the Hot Springs Area Community Foundation, YAC membership consists of about 20 students grades 9-12 from multiple Garland County school districts and several home-schooled students who meet monthly to review grant applications associated with youth-related organizations and activities.
In order to join, students must submit an application, letter of recommendation and provide a compelling response as to why they want to join the organization. Students join for a variety of reasons.
"I'm involved in a lot of nonprofit organizations, so I just wanted to do something to help some of the ones I'm not involved in," 11th-grade member Izzy Saettele said.
For 10th-grade member Robert Neilson, joining was a family tradition, as his older sister was last year's YAC president.
"I like volunteering my time and giving back to the community. I'm in a couple of other organizations. I'm getting close to becoming an Eagle Scout. I'm in Young Men of Distinction. I just like doing things to give back to the community," he said.
In March, the students will review online grant applications and make decisions for awards to be given at a ceremony in April 2020.
Funds for the grants to be awarded come from the earnings of the Hot Springs Youth Advisory Council Endowment, created nearly 20 years ago through a grant from the Kellogg Foundation, and contributions from local individuals and businesses in the community.
This past April, the YAC group awarded $11,123 to nine groups and agencies in quantities ranging from $500 to $2,500.
Burleson said the group hopes to raise anywhere from $10,000 to $15,000 at this year's event.
Nielson said the group chooses its grant recipients based on "If the program has a significant impact or has the potential to, or it would be necessary for some people, or to help people who are in need out."
One such recipient was Cutwell 4 Kids, which received a grant several years ago.
"I was happy to be a recipient of that. It was pretty cool to see that the youth was using that and that the youth made that decision," Cutwell 4 Kids founder Anthony Tidwell said.
"They know hands-on, exactly where the money is going. They're on the front line. Instead of an adult picking where that money goes they let the kids do it."
Involvement in YAC teaches its members a number of valuable skills, including parliamentary procedure, the grant-making process and how nonprofits function, particularly how they obtain funding, and several former members have gone on to work for nonprofits as adults, Burleson said.
"I think it's good for people to learn about nonprofit organizations and what they do, because some people just don't know that much about them and they need to know more," Saettele said.
Membership also helps teach personal lessons.
"It builds character. Colleges look at things like this, and giving back to the community is very satisfying and emotionally fulfilling for me," Neilson said.
Burleson stressed that while adults supervise YAC, "They grant the money. They are completely student lead. I help coordinate the meetings, but from there, they run everything."
Local on 09/30/2019
Print Headline: YAC starts learning about 'responsible grantmaking'
Sponsor Content
Comments