A Royal homeowner allegedly caught a man and woman in the act of burglarizing his home Tuesday afternoon and held them at gunpoint until they were arrested by Garland County sheriff's deputies.
Joseph Wayne Newton, 34, who lists an Albert Pike Road address in Royal, and Julie Marie Lea, 31, who lists a Lakeshore Drive address, were both taken into custody shortly after 6 p.m. and each charged with residential burglary, a felony punishable by up to 20 years in prison.
Newton was later released on a $5,000 bond and is set to appear June 1 in Garland County District Court. Lea remained in custody in lieu of $5,000 bond and was set to appear Wednesday in district court.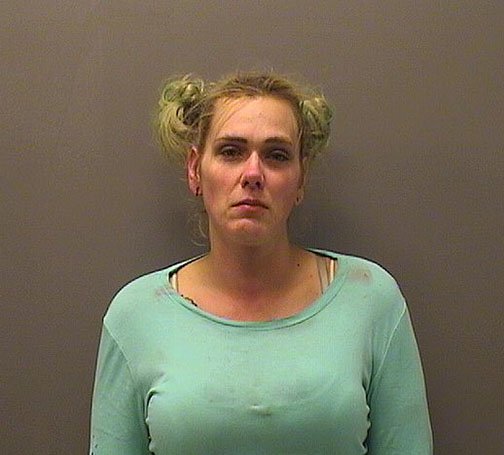 Julie Marie Lea - Submitted photo
According to the probable cause affidavit, shortly before 6 p.m., Sgt. Josh Cannon, Cpl. Fred Hawthorn and Deputies Matt Cogburn and Candice Stacks were dispatched to a residence in the 3200 block of Ragweed Valley Road regarding a burglary in progress.
Upon their arrival, they found the homeowner, 59, standing beside his truck and two suspects, later identified as Newton and Lea, lying on the ground. The homeowner said he came home to check his mail and saw a silver Dodge pickup truck by his shed "that did not belong there."
He said he pulled up and waited to see if anyone came out. After a few minutes, he loaded his .38-caliber revolver and began to check the property. He spotted Newton coming out of the shed and ordered him to get on the ground or he would shoot him. He asked Newton if anyone else was with him and Newton told him no.
A few minutes later, he saw Lea walking from the front porch of the residence with items in her hands. He had her lay on the ground and held both suspects there until deputies arrived and took them into custody.
Newton and Lea told the homeowner they were there to purchase a lawn mower from someone they knew. The homeowner identified a tote bag in the back of the suspects' vehicle that he noted had come from inside his residence and a piece of furniture with his daughter's name on the side of it.
Cannon and Arkansas State Police Sgt. Kevin Steed checked the residence and made sure no one else was inside. Cannon noted the front door appeared to have been kicked in and the homeowner noted a master lock that had been on the door was missing.
Local on 04/16/2020