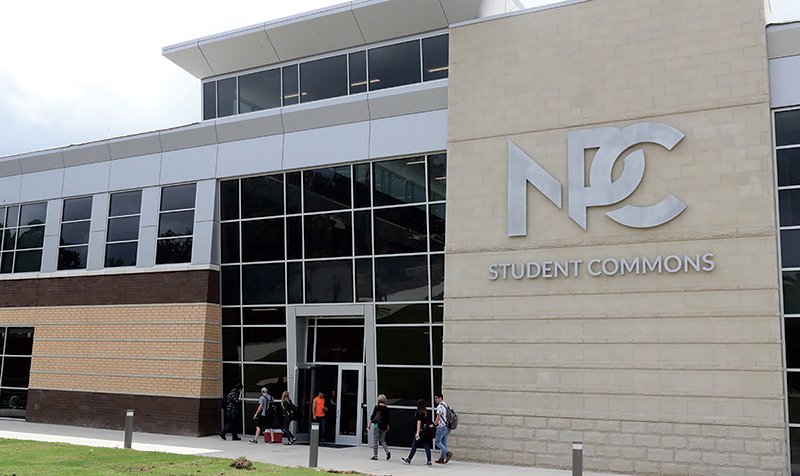 The National Park College Student Commons building. - File photo by The Sentinel-Record
National Park College Mental Health Professional and Social Sciences Instructor Susan Millerd recently discussed the sociological theories behind the resistance and divisiveness that are occurring during the COVID-19 pandemic, as well as possible solutions.
"We've had so much loss," Millerd recently told The Sentinel-Record. "A lot of people have lost their jobs, lost contact with family members and friends, lost freedoms to go out to eat. ... We are experiencing loss, and with loss I think humans cope by minimizing or denying the needed change, become irritated or angry about the needed change, do a lot of bargaining, ... and then get to acceptance. ... And I think we move back and forth into those stages."
The stages she describes are known as the stages of Five Stages of Grief and Loss, but it's noted that this coping -- and sometimes resistance to doing so -- doesn't mean it's a bad change from "old norm" to "new norm." Millerd said the changes of enforcing masking and social distancing in the pandemic could be compared to a time when automobile seat belts or public smoking regulations were enforced.
"I do think that people were resistant to that new norm ... and in many ways (public smoking restrictions), like COVID-19, was related to a health issue; and I think people knew that it was a health issue, but I think people by-and-large -- it's hard to change," she said.
One possible reason for a resistance to masking and social distancing, Millerd said, could be that it's a symbolic effort to accept the change of the "new normal," and is in some ways a defense mechanism. However, as more society members and influential leaders become more accepting of these changes, she said more people will follow.
"We, as a society, there's a response that we kind of follow each other; when it becomes more accepted among more people, we all change," she said. "Like here at the college: It is very, very clear that masks and face coverings is the norm here, and because everybody else is doing it everybody does it. ... We adapt and adjust to where we are ... (but) there will always be those people, I think. There are still those people who don't wear their seat belts, or try to smoke on campus. But I think the vast majority of people, it's just taking some time."
Another factor that contributes to the resistance to change the pandemic causes is the divisiveness political parties have created, and the "loyalties" society members feel to these parties, Millerd said.
"It's such a complicated topic; we talk about it from our own personal values about health and our own personal values about control," she said. "There's a lot of people out there who think it's taking away their right. ... Wearing the mask or not wearing the mask is in some respects a political statement."
A possible reason Millerd gave as to why political parties have such a strong presence in people's lives, even during a pandemic, is the intensity of, and frequency people have with, media.
"We're exposed to so much more media. ... Everything from social media; we're bombarded with that," she said. "Years ago, we might just have watched the nightly news and got up the next day and read the paper. Today, every time you pick up a phone there's a news blast from your news source on your phone."
Millerd added that society members feel that they almost have to "take sides" in the pandemic.
However, in the midst of a pandemic and divided political climate, there are some solutions offered in sociological teachings.
For example, a "sociological imagination" is being open to listening to "all sides," Millerd said.
"We teach (that) in sociology, and that is that kind of stepping back and viewing what's happening in the world from your own experiences and stepping into other people's shoes ... and I think that's harder for people to do today," she said.
Another sociological teaching is to have self-awareness and empathy for others, Millerd said.
"I think those are two very important sociological perspectives that as a society I think it's important for us to do," she said. "I think a lot of times in our society we think the way we do it is the right way, but it's maybe right for us, but it's maybe not necessarily right for another society. So I guess the development of a worldview. And, certainly, we teach a lot about cultures. People come from different cultures -- there's not a right one and a wrong one -- they're just different."
Above all else, Millerd said society is just doing things differently, which is OK in some respects, but when it comes to something like masking during the pandemic, "sometimes we have to sacrifice comfort for the good of society."
As for who determines what the "good of society" is, she said that's up to the "experts."
"Dr. Fauci tells me I need to wear a mask, and I'm going to believe him," Millerd said. "At the college we rely very heavily on the director of our nursing program to guide us in putting in place our procedures for keeping our campus safe, and we will require masks and screenings and temperature checks and all those things that the experts are telling us will help keep our campus, our little society, our subculture, safe."
Sponsor Content
Comments