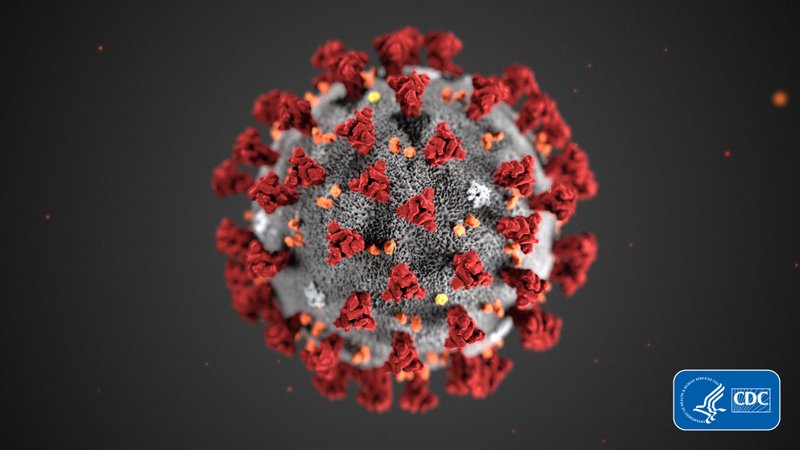 This illustration provided by the Centers for Disease Control and Prevention (CDC) in January 2020 shows the 2019 Novel Coronavirus (2019-nCoV). (CDC via AP, file photo)
EDITOR'S NOTE: As a service to our readers, The Sentinel-Record publishes updates released each weekday by the city of Hot Springs and the state of Arkansas. As of presstime Friday, not all of the daily updates had been released by the Arkansas Department of Health.
The following stats were shared Friday at Gov. Asa Hutchinson's daily COVID-19 news conference in Little Rock and posted on the Health Department's website:
• 42,511 cumulative cases, up 752 from Thursday.
• 6,645 active cases, up 65 from Thursday.
• 35,413 recoveries, up 676 from Thursday.
• 507 hospitalizations, up three from Thursday.
• 453 deaths, up 11 from Thursday.
• 100 cases on a ventilator, down one from Thursday.
• 2,138 cumulative nursing home residents infected, up 46 from Thursday.
Hutchinson said high school football teams can start no-contact practice in helmets Monday, and volleyball and cheerleading practice can also start Monday. The football season starts Aug. 28 for most teams.
He also announced the formation of an advisory group that will develop best practices for fall sports. The Arkansas Activities Association, which oversees high school sports, will be submitting a plan to the Health Department to have football, volleyball and cheerleading this fall.
Rules for school bands will be released next week, Hutchinson said.
"My message for the football players for Monday is to grab your helmet and be ready for practice," he said. "Then after practice, I want you to grab your mask, so that you can protect others that you might be around. And this is very important as we enter into this season that the risk is not just on the practice field, but the risk is also as we go about the community."
The Health Department's June 1 directive for community and school-sponsored team sports prohibited team practice.
Hutchinson said attendance at high school sporting events will be governed by the Health Department directive on large outdoor gatherings. Those rules require plans to be submitted to the Health Department if more than 100 people will be in attendance. Groups have to be at least 6 feet apart, and every other row of seating should be unoccupied.
Hutchinson said keeping alive the possibility of a high school football season should motivate players, students and parents to take measures to control the spread of the virus. He said without extracurricular activities too many students would be left to their own devices after school. The controlled environment of team sports makes it less likely they'll engage in behavior that could spread the virus, he said.
Department of Education Secretary Johnny Key said students involved in team sports have higher levels of academic achievement and attendance.
The 752 new cases reported Friday lowered the rolling seven-day average of new cases to the lowest point since July 23. Friday's 751.71 average was 8% lower than Wednesday's peak of 817.43.
"What is very significant to me is that our new cases were still flat even though our testing went up significantly," he said. "This is good news from a testing standpoint."
Hutchinson said 7,207 test reports were transmitted to the Health Department prior to Friday's briefing. About 5,000 reports a day have been transmitted the last few weeks. He said increased reporting from commercial labs led to Friday's higher numbers. Commercial labs accounted for 5,025 of Friday's reports.
The Health Department's public lab, which Hutchinson said is operating around the clock, contributed 1,885 reports.
Sponsor Content
Comments