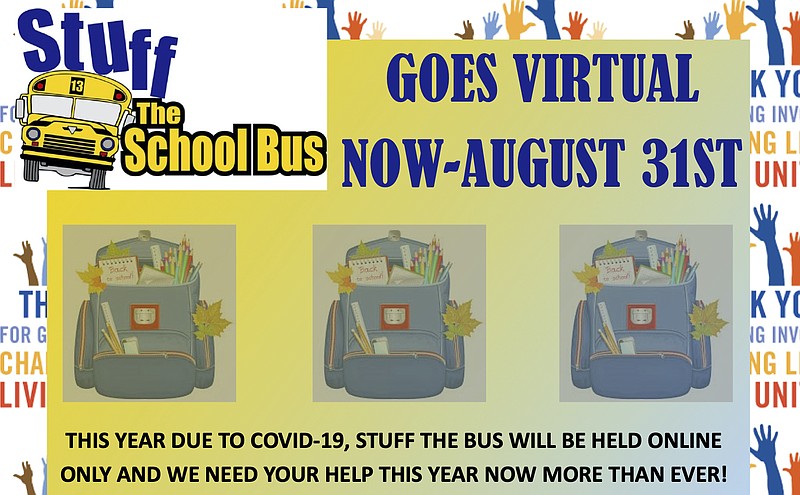 During a year when schools and students may need more assistance than ever before, United Way of the Ouachitas has decided to extend the deadline for its virtual "Stuff the Bus" event from Aug. 1 to Aug. 31.
This is the first year the event has been virtual, due to the COVID-19 pandemic. Community members are asked to make monetary donations or physical donations online to assist in supplying underserved students with what is needed to succeed in the school year.
"Normally all of our donations, whether it be school supplies or monetary donations, are received just the day of Stuff the Bus on that one Saturday, so our goal is for us to really try to ramp this up this year because we know that this is going to be a challenging school year," United Way Executive Director Sarah Fowler said.
"With school start dates being pushed back to (Aug. 24), much later in the month, we felt like this would be a great way for us virtually to be able to collect either monetary contributions, or we are also registered with Walmart so people could actually go online and make those purchases and school supplies are delivered straight to our office and then we will distribute those along with monetary contributions to the seven schools in Garland County," Fowler said.
She noted anyone who has already purchased supplies to be donated can also drop those off at the United Way office at 233 Hobson Ave.
Fowler said with most Hot Springs schools giving families three different options this year -- starting school all in-person, half in-person and half virtually, or all virtually -- no one knows what it's going to look like as children and young people go back to school.
"And if our schools end up going all virtual again," she said, "students need to have the necessary tools to be able to learn virtually and remotely. We know that's challenging for a lot of families, especially for those families whose parents or caregivers are essential workers and they have to be at their employer every day. ... So I think, for us, it was a really easy decision to extend (the Stuff the Bus event) to try to provide the most help for, not only our educators but our future leaders of our community, which is our young people, to have the best learning opportunity they can."
With the event being virtual this year, Fowler said it not only allows it to be conducted safely as it eliminates volunteers' presence at local Walmarts, but it also allows schools to have some leeway to purchase supplies they may need that aren't traditional supplies, "especially in this virtual time."
"If children need tablets, if they need internet access, this is a whole new world," she said. "Not every home has a computer or internet; so I think just ensuring that all children are set up to be successful, in itself, can be challenging for all school districts, just to ensure success. We want all of our kids to be successful in whichever platform for learning this fall is best for them."
For more information, or to donate to the virtual Stuff the Bus event, visit http://www.unitedwayouachitas.org/aboutstuffthebus.
Sponsor Content
Comments