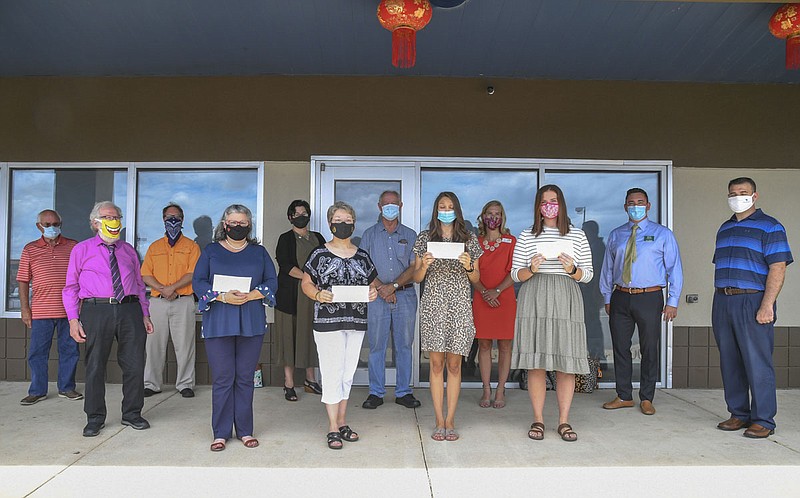 Members of The Greater Hot Springs Kiwanis Club, back, honored school personnel who go "above and beyond" on Tuesday, July 21, at Hibachi Sushi Buffet, 4334 Central Ave. Honorees included front, from left, Angela Arnaud, of Cutter Morning Star, Jan Sligh, of Park Magnet, Kaitlyn Hill, of Mountain Pine Elementary School, and Kaitlin Boles, of Lakeside High School. - Photo by Grace Brown of The Sentinel-Record
The Greater Hot Springs Kiwanis Club recently honored four local teachers and a community partner for going "above and beyond" to teach, support and protect students in the Garland County area during "challenging times."
"We hope that these awards bring hope and encouragement to the individuals in our community who are working tirelessly to care for area children, even during challenging times," said club President Brian Canales.
"We want to highlight the stories of these heroes, and continue being part of efforts across the Hot Springs area to support our kids, our schools, our educators, and our community volunteers and leaders," he said.
Kiwanis, at a special luncheon on July 21 at Hibachi Sushi Buffet, presented a Teacher Appreciation Award to Kaitlyn Hill, a first-grade teacher at Mountain Pine Elementary School, Kaitlin Boles, special education teacher for grades 8-12 at Lakeside High School, Jan Sligh, a first-grade teacher at Park Magnet, an IB World School, and Ji'Lana Heard, a media specialist at Lake Hamilton High School.
Angela Arnaud, director of dining services with Chartwells in the Cutter Morning Star School District, received a Community Partner Appreciation Award.
Arnaud said she was surprised, but felt she was selected because of her community service, noting the district fed children seven days a week through the end of June.
"We made sure that our students were taken care of (during) this whole pandemic," Arnaud said.
"I'm excited to give this opportunity to my students come this fall. Some things are going to be different when they start back, and this will help tremendously," Sligh said.
Sligh said she was nominated by her daughter, who sees first-hand how hard teachers work.
"She sees all of our hard work as teachers, and she wanted community members to help out with that," Sligh said.
Hill, who was nominated by her principal, said "She is awesome. She's a fantastic boss. It was because of her (that I was) nominated. She told me it was because she knew that I was having a rough year, and I still came to work with a smile on my face."
Hill said she became a teacher because of the love she has for her past teachers and kids.
"I always loved all my teachers growing up, and they had such an impact on me. So I want to do the same for kids," Hill said.
Boles said she's "always loved working with kids, and I want to be that positive influence. I've had teachers that inspired me to do what I'm doing today. So I want to be that inspiration for them."
Heard said her role at the high school is vital to education because not only is she a cheerleader for literacy, but she also makes sure students have the technology and resources they need to be successful.
"I enjoy working with the students of Garland County because this is where I grew up. I was a 13 (year) senior at Lake Hamilton and just completed my 20th year teaching there," she said.
"We have an awesome community that believes in our students and wants to give back to them. The money I receive for this award will be used to purchase books for my Teen Reads Book Club as well as for the Wolf Pack Reading Den, a mobile library that was generously funded by Kamo's Kids, various community vendors, and my district," Heard said.
Adriane Barnes, club secretary, said the recipients were nominated for going above and beyond to teach, support, and protect students in the Garland County area, as educators or as community servants in another professional role or civic group.
Recipients of the teacher appreciation awards received a $250 classroom check, written to their respective school districts, and a $100 personal check, she said.
The recipient of the community partner award received a $100 personal check. The money was made possible by fundraisers hosted by The Greater Hot Springs Kiwanis Club throughout the year, and donations from generous citizens in the Garland County area, Barnes said.
"Club members wanted to come up with a way to help our area educators and other partners dedicated to the service and care of students in the short term," she said.
"As a club, we implemented our first-ever teacher appreciation awards and a community partner award to help highlight local heroes for kids and provide funds to help cover COVID-19 related expenses, and to help awardees purchase supplies for the coming school year," Barnes said.
Sponsor Content
Comments