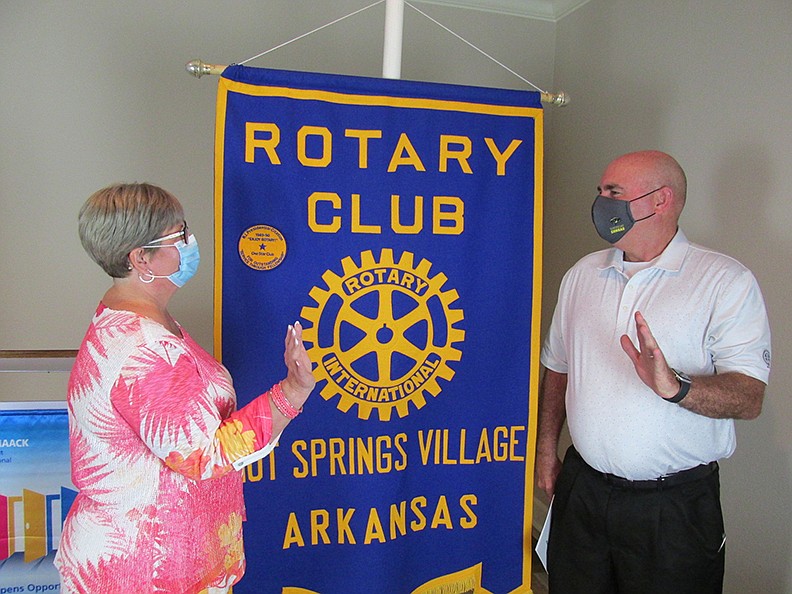 HSV Rotary president Susan Clark, left, welcomes Fountain Lake School Superintendent Michael Murphy. - Submitted photo
HOT SPRINGS VILLAGE -- Michael Murphy, superintendent of Fountain Lake schools, shared plans for reopening the schools amid the COVID-19 pandemic at the July 24 virtual meeting of Hot Springs Village Rotary Club.
Now in this 17th year as a school superintendent, Murphy is responsible for about 1,350 students and approximately 200 teachers and staff, said a news release from the club.
According to the release, Murphy said that Fountain Lake has to be ready for an unknown number of students when the schools reopen "at this unprecedented time."
"They have to plan for up to 100% of returning students and/or 100% who may stay at home for online learning, as well as any portion in between. They will also face a 14-day quarantine period for those who test positive at any time after coming to school," it said.
Activities such as band and athletics are still undetermined.
"Reentry will be different, and not anywhere near normal. Part of it is the sheer magnitude of what we will have to do," he said.
Murphy said that when the pandemic hit in March, his school system planned ahead for the worst, cleaning the buildings thoroughly as well as ordering supplies of hand sanitizer and personal protection equipment like masks before they became scarce.
They also sent out buses with food for the children and enabled students to connect with counselors at this difficult time. Murphy asked the community for patience as the schools respond to the ongoing situation.
For more information about HSV Rotary or to access the club bulletin, visit http://www.hsvrotary.org or at Facebook.com/hsvrotary.
Sponsor Content
Comments