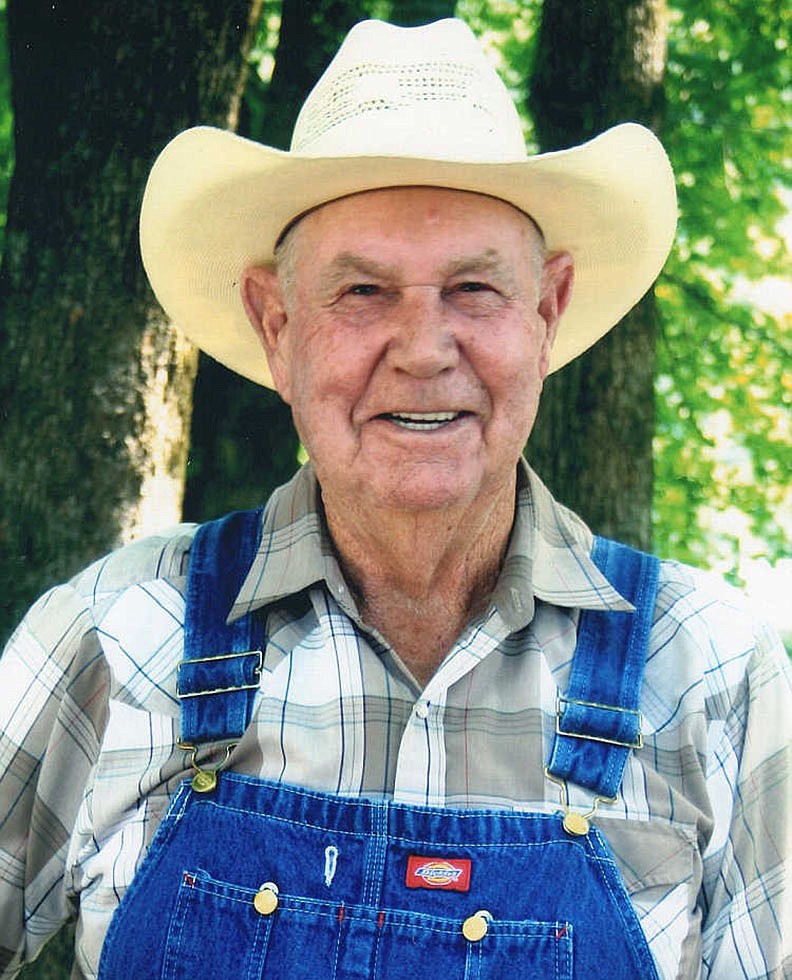 Kenneth A. Morris - Submitted photo
BLACK SPRINGS -- Kenneth A. "Shug" Morris, age 89, of Black Springs, went to be with his Lord and Savior on Thursday, July 30, 2020.
He was born on Oct. 25, 1930, in Finley, Okla., the son of Paul Morris and Ester Hinsley Morris. On Aug. 5, 1950, he was married to Rosa Lee Stone Morris. In October of 1957, they moved to Black Springs, where they raised their four children.
He was predeceased by his wife; four brothers; and one sister.
Survivors include four children, three daughters and one son, along with their spouses, Sue (Bill) Ray, of Mount Ida, Dorothy (Doyce) Cogburn, of Glenwood, Patricia (Tom) Lynn, of Black Springs, and Buster (Melinda) Morris, of Black Springs; 13 grandchildren, Chris Ray, Jeremy Ray, Candice Simmons, Michael Cogburn, Jarrod Cogburn, Damon Cogburn, Derek Brown, Stephanie Cruz, Jennifer Goessman, Rachel McFarland, Daniel Lynn, Brandon Morris and Jason Morris; 21 great-grandchildren; nine great-great-grandchildren; one brother, Tom (Virginia) Morris, of Caddo Gap; one sister, Della Mae Ramos, of Trinity, Texas; one sister-in-law, Vivian Gibson of Fort Towson, Okla.; and many nieces and nephews.
Shug was a member of the Black Springs Baptist Church. He was a retired timber buyer and worked with all of the sawmills and area loggers. He never met a stranger. The Norman and Black Springs communities were his family. He loved driving country roads, trips to Oklahoma, Colorado to buy Adobe Pinto Beans and looking at his grandsons' cattle, as well as, giving them advice. He enjoyed his round table buddies and girls at Budger's. He loved his children, grandchildren and great-grandchildren, and he lived life to the fullest.
Services will be 2 p.m. Sunday in the Davis-Smith Funeral Home Chapel, Glenwood, with Brother Brian Hill officiating.
Visitation is 4-6 p.m. Saturday at the funeral home.
Social distancing directives will be in place. At all services, you must avoid all physical contact. Attendees 10 years of age or older must be wearing a face covering the mouth and nose at all times.
Interment will be in Black Springs Cemetery.
Pallbearers will be Chris Ray, Jeremy Ray, Derek Brown, Brandon Morris, Jason Morris, Jarrod Cogburn, Damon Cogburn and friend, Shane Black.
Honorary pallbearers will be Jody Bissell, Buzzy Graves, Jimmy Roberts and Johnny Roberts.
Memorials may be made to the Black Springs Cemetery Association, 1095 Hwy 8 East, Norman, Arkansas 71960.
Guest registry is at https://www.davis-smith.com.
Sponsor Content
Comments