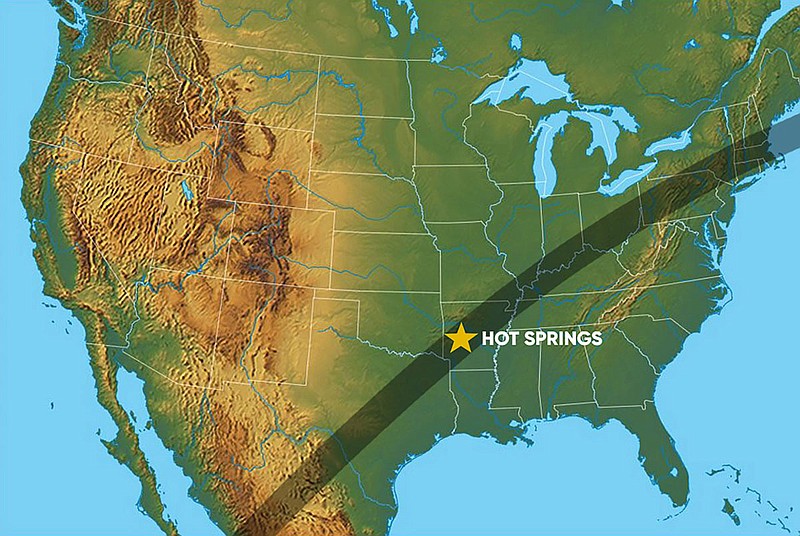 This graphic, courtesy of Visit Hot Springs, pinpoints Hot Springs as being in the path of totality for the 2024 solar eclipse. - Submitted photo
Even though April 8, 2024, is more than three years away, Visit Hot Springs is already planning for the day that will bring Hot Springs into the path of totality for a solar eclipse and, potentially, a "million" visitors, VHS Marketing Director Bill Solleder said Monday.
In a time such as the COVID-19 pandemic, when the economy isn't at what would be described as its peak, the words "a million visitors" may sound too good to be true to some. So where did VHS get this immense number of anticipated visitors for the solar eclipse event? It all started with the reaction both Hot Springs and a town called Casper, Wyo., received after the last total solar eclipse in 2017.
"Back, directly following the 2017 solar eclipse, (VHS) had posted an event for the 2024 event on our Facebook Page ... and we had immediately got an overwhelming response from people who were interested in it, or said they were going to that event. I mean we're talking like, at that time, 71,000 people said they were interested being in Hot Springs for the 2024 solar eclipse," Solleder said.
"And then fast-forward," he said, "a few months later, I was at the Destinations International Conference, and it so happened that one of the CVBs (Convention and Visitor Bureaus) from Casper, Wyo., was presenting on" their experience with the total solar eclipse. "So I went to it and I learned that in Casper they were not ready for what happened."
Although Hot Springs only experienced 87% coverage during the 2017 solar eclipse, Casper experienced totality as well as an enormous crowd that came to watch the phenomenon.
"At that time of year, Casper wasn't a ski town; it was pretty much quiet, but they had calculated over a million people descended on Casper," Solleder said. "So, I mean that sounds amazing and fun and whatnot, but what I had learned from the Casper presentation is that there's a lot that goes into successfully hosting a million people in one small place."
He said a town anticipating such an influx in visitors should plan for everything from accommodations to traffic organization to benefit everyone, which is why the planning has already begun.
"So I learned a lot from Casper, and it really made me think about, well, we really need to be way ahead of the ball for Hot Springs," Solleder said. "Because ... the national park itself is an attraction, and ... a lot of people believe Hot Springs is a magical place because of the thermal water and because of the presence of the crystals here, so now add a solar eclipse occurrence on top of that and I believe that Hot Springs will be a major draw for those who want to be here for the solar eclipse, being that we are in the direct path of totality."
In an effort to market the big day, VHS has launched a "micro-website" that has a countdown clock and links that can be used to connect with Visit Hot Springs to locate lodging and other information to begin planning for a trip to the city for the eclipse, according to a news release. The micro-website is at http://www.totaleclipsearkansas.com/.
"So, with putting the website together and I already presented on the event at the Arkansas Governor's Conference back in March to not only let Hot Springs know about this, but the whole state to know about it," Solleder said. "The whole state can come up with a plan and everyone doesn't come to Hot Springs and we can spread the solar eclipse watchers across the state and kind of ease the burden on us."
He added that Hot Springs will go so far as to have a "Solar Eclipse Path of Totality Committee."
"I think someone like myself from Visit Hot Springs, someone from the National Park, someone from the city of Hot Springs, probably Oaklawn, as well, should be involved in that committee," Solleder said, "so that we can just plan for what could be a million tourists in Hot Springs on a single day, such as what happened in Casper back in 2017."
Sponsor Content
Comments