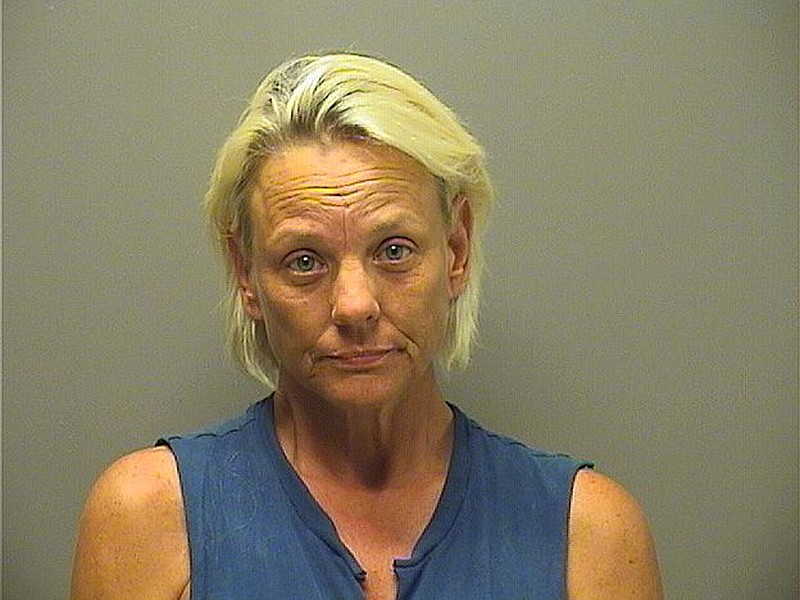 Lisa Renee Whited-Boisdrenghien - Submitted photo
A Hot Springs woman was arrested Sunday night after allegedly chasing her husband and another woman with a baseball bat, making repeated threats to kill them both.
Lisa Renee Whited-Boisdrenghien, 53, of 117 Green Ridge Lane, was taken into custody at her residence shortly before 7:30 p.m. and charged with felony counts of aggravated assault on a family or household member, aggravated assault and two counts of first-degree terroristic threatening, each punishable by up to six years in prison, and a misdemeanor count of public intoxication.
She was being held on a $10,500 bond and was set to appear Monday in Garland County District Court.
According to the probable cause affidavit, shortly after 6 p.m., Garland County sheriff's Deputies Richard Garrett and Charles DeLaHunt were dispatched to the Walmart Neighborhood Market, 1640 Airport Road, regarding a man who had called saying a woman was chasing him with a baseball bat and making threats to kill him.
They made contact with the man, 43, who stated that his wife, identified as Whited-Boisdrenghien, had chased him down the road from their address on Green Ridge Lane with a bat and made threats to kill him with the bat.
A male witness, 22, stated he was trying to help the victim and had the altercation on video. He noted the bat was dark-colored with "an old military style logo" on it.
A second alleged victim, 51, told deputies she had gone to the Green Ridge Lane address to pick up the victim when Whited-Boisdrenghien "came at her vehicle" armed with the baseball bat and was making threats to kill her, as well.
Sheriff's Cpl. Jon Lane and Deputy Shane Tatum met up with Garrett and DeLaHunt on Green Ridge Lane where they made contact with another witness, 43, who stated he had seen Whited-Boisdrenghien chasing the victim down the road with a bat "making verbal threats to kill him" and also saw her chase the woman in her vehicle, making threats.
After gathering all the statements, DeLaHunt and Tatum went to the residence to try to make contact with Whited-Boisdrenghien, noting as they arrived they could hear screaming coming from inside the house.
They said they tried to make contact several times, but could hear the woman inside screaming "go away you (expletives)." Whited-Boisdrenghien finally came to the door and they noted a small cut on her left wrist that looked self-inflicted. They also noted a strong odor of intoxicants on her breath and that she had bloodshot, watery eyes.
They took her into custody and called for LifeNet to come check her out. As Garrett put her in his unit, she allegedly made the spontaneous statement, "I want to kill those (expletives) and I kicked that (expletive's) door in, and if I get a chance I'm going to kill that (expletive) because she's (expletive) my husband."
DeLaHunt reportedly checked the residence and located a dark-colored bat in the doorway that fit the description of the bat given earlier and took it into evidence.
Sponsor Content
Comments