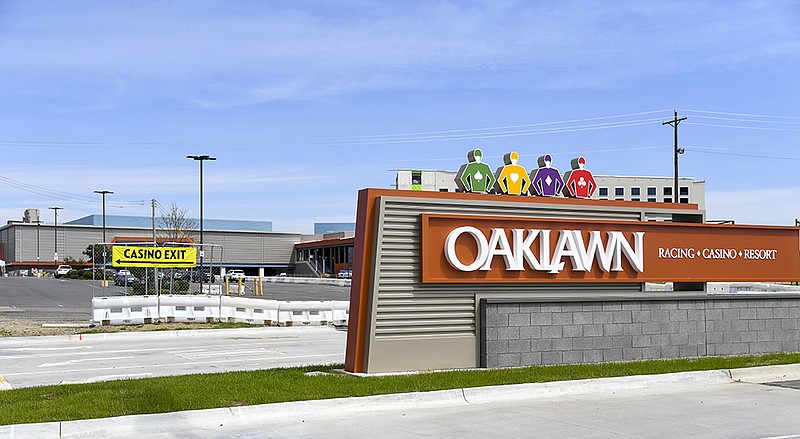 A file photo showing the temporary entrance to Oaklawn Racing Casino Resort on April 1. - Photo by Grace Brown of The Sentinel-Record
A gay Bryant man who went to Oaklawn Racing Casino Resort on Friday night says he was denied entry because he was carrying a purse, leading to him alleging "discrimination, sexism and bigotry" in a Facebook post that prompted a response from Oaklawn on Sunday.
While Jordan Kirk and his husband, Justin, were eventually able to enter the casino, Jordan Kirk said it took speaking to the security guards, a manager and a supervisor, as well as having his bag checked. He also clarified Sunday that he doesn't feel discriminated against because he was gay, but because he was a man carrying a purse.
Media Relations Manager Jennifer Hoyt questioned some of Kirk's allegations in an email on Sunday. "As you will see in our statement, we want to make it very clear that Jordan Kirk was allowed to enter with his bag unlike what he has posted on his social media pages."
According to the email from Hoyt, Oaklawn offered the following statement on Sunday:
"First and foremost, anyone and everyone over the age of 21 are welcome at Oaklawn Racing Casino Resort as long as they adhere to our security requests and guidelines, as well as our COVID-19 precautions and have a valid ID. Safety is and always has been one of our top priorities at Oaklawn -- for both our guests and our team members.
"In keeping with our policy and commitment to provide the highest level of safety precautions, our personnel reserve the right to inspect incoming bags, backpacks, satchels, etc. regardless of form or size. It is essential we reserve this right in light of Oaklawn being a large public venue.
"As an important point of clarification, the General Manager of Oaklawn Racing Casino Resort was not present during this incident, but our regularly scheduled security team and casino floor manager were there and did permit Mr. Kirk to enter the facility with his bag where Mr. Kirk stayed for almost an hour."
Kirk's Facebook post alleges he was denied entry because he was carrying a bag. "I was told my 'bag' was too large, and I could put my wallet in my pocket, return my bag back to the car, and then I could come in. I informed the security guard that this is my man purse (murse) and I would not be putting it back in the car, to which I was told men do not carry purses they carry bags and because it goes over my shoulder it is considered a bag."
Kirk said a woman behind them in the line to enter the casino agreed that it was his purse and argued that her own purse was much larger.
"She told the security guard that he was discriminating against me for having a purse," he said. "We requested a floor supervisor to come and 'resolve' the issue. The floor supervisor agreed men do not carry purses and I was not allowed on the floor unless I returned my bag to the car."
This was followed with the question of "If a woman was to carry my bag through the door as a purse, would it be allowed?"
Kirk said the floor supervisor responded with "yes."
"I was just infuriated, and determined to make my point that I was getting inside with my murse or going to cause a much larger scene," he said. "While this was happening we pointed out at least 10 women carrying bags large enough to carry small toddlers, and three backpacks. Their reply? 'Women need their purses, your's is just a bag.'"
"I asked the floor supervisor," he continued, "if I had vagina, would you have a problem with me carrying a purse. He told me if I was a woman, I could carry a purse inside Oaklawn onto the casino floor."
Kirk said a general manager was eventually called to get his "view" on the situation, and it was determined that if he allowed the security guard to search his purse, he could carry it in and on the casino floor.
"They were worried that a man carrying a 'bag' may have explosives," he said. "EXPLOSIVES? You're kidding me? Because I'm gay, I'm carrying a man purse; now I may carry explosives? I agreed to having my bag searched because I have nothing to hide, but I did inform them how I felt unfairly treated because the women are not being searched as they enter with much larger bags which could be better at hiding explosives."
Kirk told The Sentinel-Record Sunday that he's never had an issue in the past entering Oaklawn while carrying a purse, and describes the situation on Friday as being "hurtful."
"If you want to search (my purse) to make sure it's not something that's in the facility, that's fine, I'm not carrying anything I shouldn't (and) I have no problem with you asking to search it before I go in, like feel free," he said. "But telling me that I can't, like I can just put my stuff in my pockets, like why can't a woman just put her stuff in her pockets? That's just not right. It needs to be fair all the way across the board," he told the newspaper.
Kirk did receive an apology via a Facebook direct message from Oaklawn's director of marketing, Joan Botts.
"On behalf of Oaklawn, I'd like to apologize for the incident and the (in)convenience last night. The situation has been addressed with our team members. Thank you," Botts' message stated.
Kirk said Sunday that while he doesn't think the incident was a result of discrimination against him being gay, rather just for being a man carrying a purse, he does hope Oaklawn will review its policies.
"If you're not going to allow bags and purses inside then you don't allow them period. ... I hope that they can review their policies and be more inclusive," he said. "Because while I was looking for the policies online to see if you could even find them, their visions and their statements are wanting to be inclusive and give everyone a family friendly atmosphere and blah blah blah, and I just don't feel like that was something they provided for us on Friday."
As for the Kirks venturing to Oaklawn on their next date night, Jordan said he "doubts" that they will be back anytime soon.
Sponsor Content
Comments