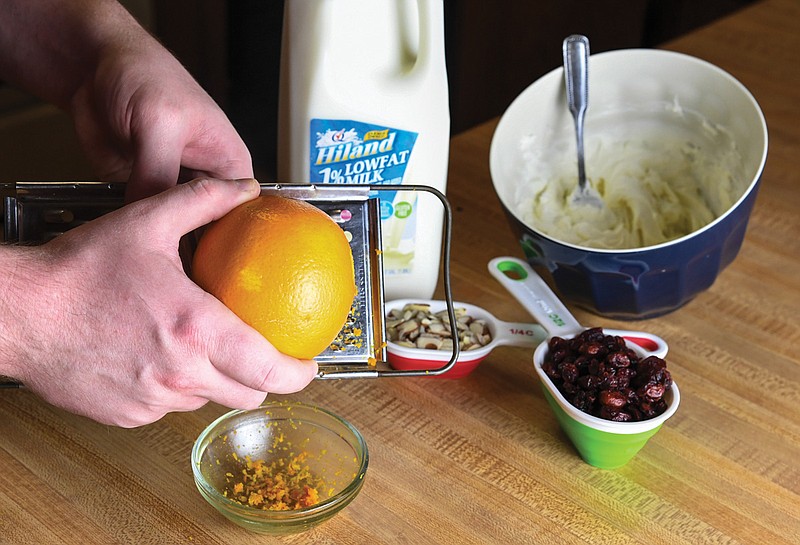 An orange is zested for the December installment of HER Around the Table.-Photo by Grace Brown of The Sentinel-Record
One of my earliest memories of childhood is standing in a chair beside my mom as we made chocolate chip oatmeal cookies. When I was small, she did most of the measuring and then I would "help" her pour the ingredients in the bowl. We would always test the chocolate chips to make sure they were good enough to go in the cookies and she would explain what the ingredients were and why they were important for the recipe. We would stir the dough together with her hand over mine to provide strength to my energy. Of course, we always had to sample them just as soon as they were cool enough.
I know that she could have made the cookies a lot faster without my assistance. There certainly would not have been as much mess, but the value of the experience was not based on convenience. Whether she was instructing me on how to hold the spoon or demonstrating how to level the flour in the measuring cup, the time spent together in the kitchen contributed to making me the adult I am today. It is the same reason why I had my kids in the kitchen with me.
Cooking with kids has lasting benefits and can make for some pretty interesting stories. When children spend time cooking in the kitchen, they gain skills in math, reading, and science. Toddlers and preschoolers practice following instructions, colors, and shapes. Children gain competency in basic tasks and life skills when they cook, serve, and clean up afterward. Trying new recipes is a good way to get the whole family to try new foods.
A child's self-esteem grows when he or she is able to proudly say, "I made that." Plus, time in the kitchen working together on a common goal is quality time. Working side by side on a task can often create an atmosphere that can help a child to be open about feelings or ask questions. That time is good for sharing family history and memories can be made that last a lifetime.
Maybe you have more time at home this holiday season and you would like to spend some time making memories in the kitchen with your child, here are some tips to consider before you begin:
Food safety is a must! Always begin each cooking session with hand-washing and be sure to model good food safety practices.
Choose developmentally appropriate tasks for your child to do when preparing the recipe.
Be realistic about what your child can do and remember this is not a photo shoot for a magazine. There will be messes, but even a mess can be OK when you stay patient.
Provide adequate supervision and encouragement. Remember a child has a lot more energy and enthusiasm than skill. Giving them progressive opportunities by building on the tasks they have previously accomplished provides encouragement to continue to develop skills.
I'm grown and have grown kids, but when I have a big amount of cooking to do, I still call on my mom to come to cook with me in the kitchen. If you would like to read more about cooking in the kitchen with kids, try this link for Healthy Holiday Cooking with Kids or contact the Garland County Extension office for more information on cooking as a family or opportunities for your child to cook through 4-H. Call 501-623-6841 or email [email protected]
The recipes included in this article are easy to prepare with your child for a tasty and healthy holiday treat. I've also included a healthier version of the chocolate chip oatmeal cookies that are delicious and full of nutrition. I even learned to like cranberries when I first made this recipe. Now my whole family eats them!
Alison Crane is a Family and Consumer Science Agent with the Garland County Extension Service. Follow her on Facebook at GarlandExtensionHomeLife.
Chunky Cranberry Spread
Ingredients:
½ tsp. orange zest, preferably fresh
1-2 tbsp. low-fat milk
¼ cup chopped blanched almonds or other nuts
½ cup chopped dried cranberries
1 cup low-fat cream cheese
Directions:
Place cream cheese in a medium bowl and soften at room temperature. Mash and work with a fork until the texture is light enough to combine easily with other ingredients.
Gradually add just enough milk so cheese becomes soft and easy to spread.
Mix in remaining ingredients.
Cover and refrigerate up to 2 days ahead. Flavors will blend and mellow if this recipe is made ahead of time and allowed to refrigerate at least a few hours before serving.
Spread on slices of whole-grain bread or Melba toast.
Nutritional Information: 36 calories per serving, fat: 2g (1 g. saturated fat), carbohydrates: 3g, protein: 1g., dietary fiber: less than 1g., and sodium: 29mg.
Recipe is adapted from Alison Crane.
Orange Cranberry Delight
Ingredients:
¼ cup orange juice concentrate
¼ to ⅓ cup granulated sugar or sugar substitute
½ cup chopped pecans (optional)
½ cup dried cranberries
1 cup low-fat or fat cream cheese, softened
Directions:
Beat cream cheese until fluffy with an electric mixer and add in the orange juice concentrate.
Stir in pecans, cranberries, and sugar.
Refrigerate overnight and serve with assorted wheat crackers.
Nutritional information: 1 serving is equal to 2 tablespoon, 60 calories per serving, Total fa:t: .3g, sodium: 85mg, carbohydrates: 11.8g, sugars: 10.6g, protein: 2.7g, calcium: 35mg, and potassium: 159mg
Recipe is adapted from Alison Crane.
Healthier Dark Chocolate Oatmeal Cookies
Ingredients
½ tsp. baking soda
2 tsp. vanilla extract
¼ cup nonfat plain yogurt
¼ cup carrots, shredded or finely chopped
¼ cup dried cranberries
½ cup softened butter (1/4 cup butter & ½ cup applesauce can be substituted)
½ cup white sugar
½ cup dark chocolate chunks
¾ cup packed light brown sugar
1 cup chopped walnuts
2 eggs
3 cups quick-cooking oats
Directions:
Preheat oven to 325º F.
Beat butter, yogurt, brown sugar, and white sugar with an electric mixer in a large bowl until smooth. Add eggs one at a time. Beat in vanilla extract.
Mix in flour and baking soda until just incorporated.
Fold in quick oats, walnuts, chocolate chips, carrots, and cranberries.
Roll dough into walnut-sized balls and place 2 inches apart onto ungreased baking sheets. Use parchment paper if you reduced the amount of fat.
Bake in the preheated oven until cookies are golden brown. It takes about 12 minutes. Allow cookies to cool on a baking sheet for 5 minutes before transferring to a wire rack to cool completely. These freeze well for making ahead.
Yields about 3 ½ dozen
Nutrition Facts: 119 calories per serving; protein: 2g; carbohydrates: 16.7g; fat: 5.3g; cholesterol: 14.7mg; sodium: 37.3mg.
Recipe is adapted from http://www.Allrecipes.com.
Sponsor Content
Comments