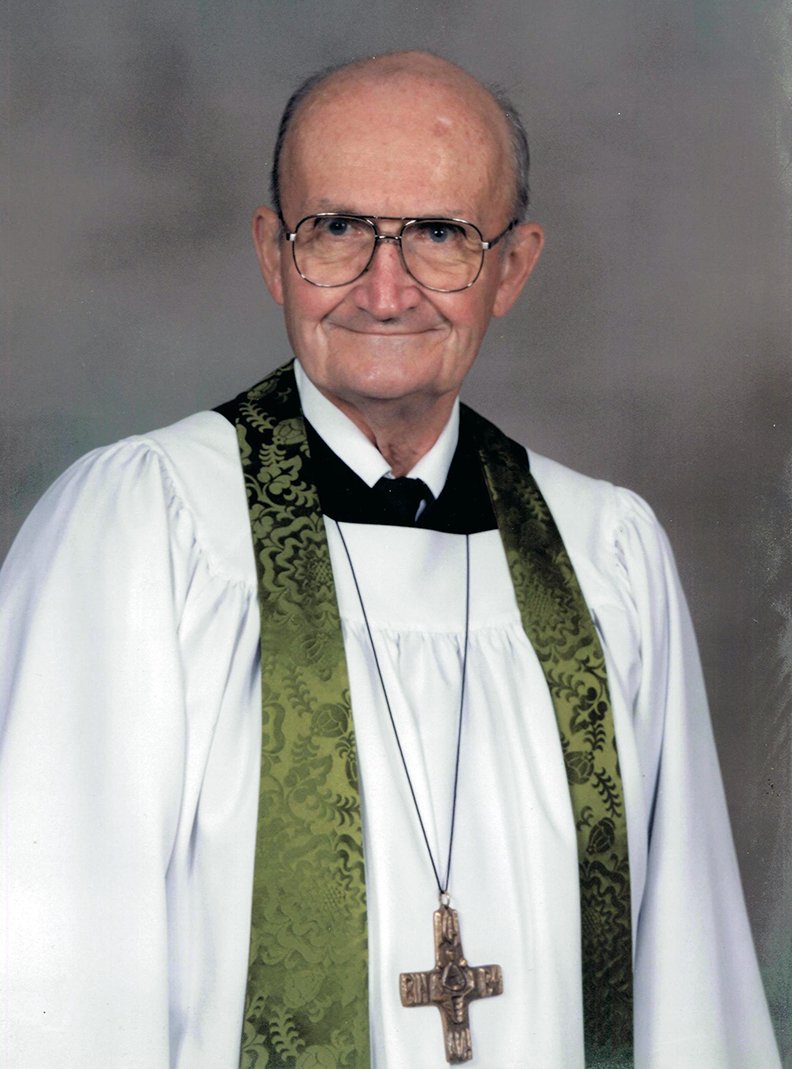 Roy A. Jacob - Submitted photo
Rev. Roy A. Jacob, retired pastor of First Lutheran Church went to be with his Lord on Dec. 30, 2019, one day before his 89th birthday. He was married to Geraldine Brohn Jacob on Aug. 12, 1955. They were blessed with four children: Paul (Shannon) Jacob, sons, Matthew, Andrew, and granddaughter Layla Grace. Deborah (Mark) Straud, son Schuylor (Kaysey) and twin daughters, Ayden and Kaitlyn and Mackenzie. Jenni (Ryan), daughters Bayley and Rowan, Ryan (Katie), son John (Martha) and two children, Jeremiah and Erin Kay, his twin sister Jane who is known as the greatest aunt any child could dream of.
Pastor Roy was born in Milwaukee and raised in Beloit, Wis. where he met Gerri, his future wife. He returned to Concordia High and prep school in Milwaukee and then on to Concordia Seminary in St. Louis, Mo. During this time he received experience in several community churches in Wisconsin and Kansas City, KS.
Following their marriage, Pastor Roy and Gerri moved to their first mission congregation, Faith Lutheran Church in Greenville, Miss. where he was ordained and installed as their first resident pastor. He worked in a mission field which included Cleveland and Clarksdale, Miss. They built a new church in Greenville and they both were on bowling teams as well as Pastor Roy serving as Lt. Gov. for the Civitan International. He accepted a call to Zion Lutheran Church in Bogalusa, La. He established a mission church in Picayune, Miss. Pastor Roy served on the board of directors for The Little Red School House, a school for children with mental retardation. He was active in bringing peace to the schools and community during turbulent times before accepting a call to St. Paul Lutheran Church in Vernon, Texas. It was here that his enjoyment of deer and dove hunting and golf was established. His final call was to First Lutheran Church here in Hot Springs which was first located on Central Avenue, in September of 1977. First Lutheran Church grew and relocated with a new church on Village Road, where he continued to serve until his retirement. Following his retirement, he served several churches who were without a pastor: El Dorado, Magnolia, and Malvern. He volunteered with Civitan International, Lake Hamilton group, in their annual fruit cake sales and in teaching rifle safety to hunting students of Lake Hamilton schools. He belonged to the local coin club.
Services will be held at Caruth-Hale Funeral Home at 10 a.m. on Saturday, Feb. 8.
The family extends their appreciation to: Dr. John Featherston, St. Vincent Hospital, AR Hospice and Palliative Care. Our appreciation goes to Pastor Amos Gray for serving as the family pastor during his homebound years and in leading the Celebration of Life Service.
Online condolences at http://www.caruth-hale.com.
Obits on 02/06/2020
Print Headline: Roy A. Jacob
Sponsor Content
Comments