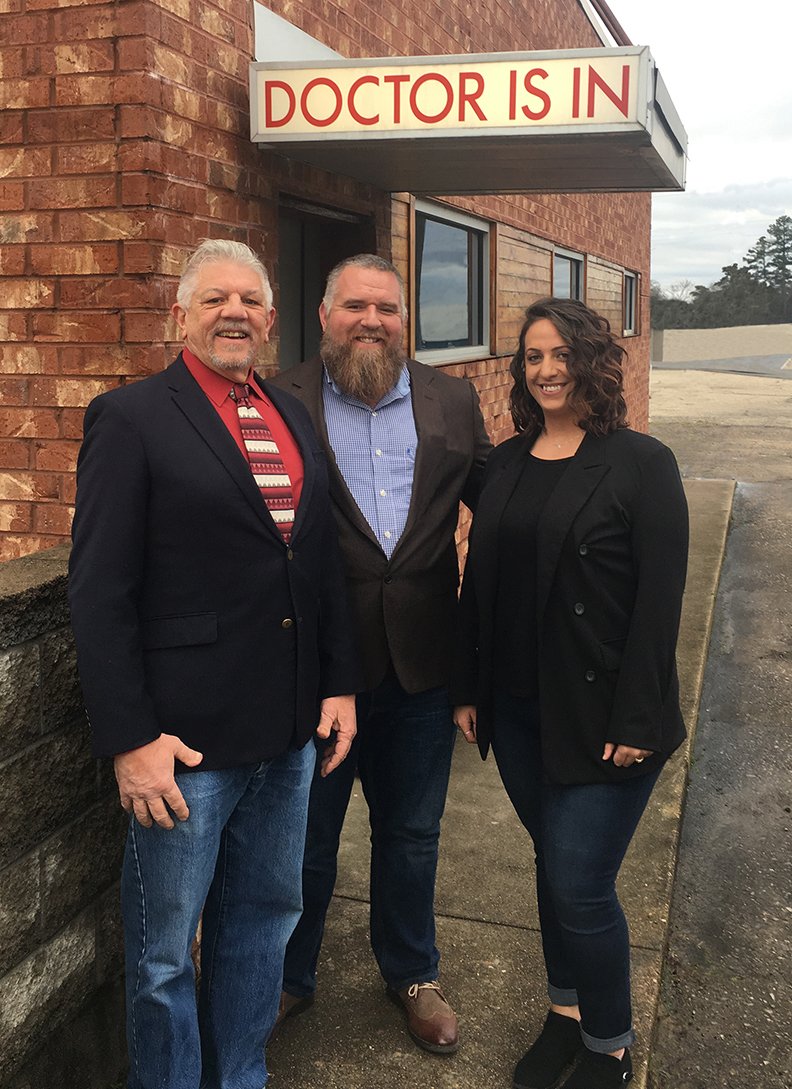 From left, Dr. Brian D. Reilly recently announced the addition of Drs. Matthew Nickerson and Dana Grenman to the practice. - Submitted photo
Family Care Chiropractic Center, directed by Dr. Brian D. Reilly, recently announced the addition of Drs. Dana Grenman and Matthew Nickerson to the practice, with extended hours of 7 a.m. to 7 p.m. Monday through Friday.
"These excellent chiropractors are graduates of Palmer College of Chiropractic West and have chose Hot Springs as their home," a news release said.
Grenman is a 2003 honor graduate of Hot Springs High School, and of Sam Houston State University in Huntsville, Texas, where she earned her B.A. in Criminal Justice.
"After much encouragement from Dr. Reilly, she attended and graduated from Palmer College of Chiropractic West in San Jose, Calif., in 2017," the release said. She was nominated by her peers for the Student Fellowship Award and received the Outstanding Tutor Award from Student Services. She has spent the past few years in northern California teaching Clinical Diagnostics and Ethics at Palmer College of Chiropractic, while simultaneously practicing at a multidisciplinary clinic.
"She has fallen in love with functional holistic care for the entire family and body balancing. She has special interest in caring for tailbone pain, pelvic pain, low back pain, headaches, perinatal care, and pediatrics," the release said. She is a member of the International Chiropractic Association of Pediatrics and the Women's Chiropractic Association of America. She has additional certification in Webster Technique, Manipulation Under Anesthesia, and SacroOccipital Technique.
Grenman "prides herself on patient education which includes the importance of stress relief and natural approaches to common ailments. When she isn't in the office or furthering her education, she enjoys the outdoors, reading, cooking, and hunting for rocks for her rock collection. Her most favorite way spend her weekends is eating with her loud Israeli family, dancing with her adoring husband, and cuddling her two tiny princess puppies," the release said.
Grenman and Nickerson met at Palmer College while volunteering at Homefirst Homeless shelter and were married in August 2019 on the Seaside Beach in California. They share a passion for travel, dance, volunteering, art and eclectic food.
Nickerson is a 2019 graduate of Palmer Chiropractic College West, San Jose. He is a multifaceted provider who specializes in IASTM, soft-tissue release, facial distortion model, and spinal stenosis. While a Palmer College, Nickerson "developed a love for serving at-risk youth and persons facing homelessness volunteering with city and county services weekly. He also has a distinct knack for helping patients beyond the office with nutritional education and exercise counseling as a way to bring about whole-body balance," the release said.
Nickerson hails from northern California and has athletic backgrounds in football, rugby, and competitive powerlifting. He has competed in SPF in both geared and raw divisions in the 275, 308 and SHW divisions. When he's not in practice, he likes taking dance lessons with his wife, teaching himself Hebrew, glass blowing/fusion, watching soccer with his father-in-law, and taking his Yorkie, Daisy, on walks.
Reilly has been practicing the art of chiropractic at Family Care Chiropractic Center at the same location for 37 years. "His dream has been to have the clinic open and available for patients to be treated 7 a.m.-7 p.m., five days a week," the release said, and "with the addition of Dr. Grenman and Dr. Nickerson this is possible."
Reilly continues to see patients four days a week, with either Grenman or Nickerson working with him to get to know patients, and share knowledge.
Call 321-BACK (2225) to make an appointment or for more information, or stop by any time between 7 a.m. and 7 p.m. at 711 Albert Pike, near the corner of Richard Street and Albert Pike.
Weekend hours will be available by appointment and emergency treatment is available.
Business on 02/10/2020
Print Headline: Family Care Chiropractic Center adds two doctors, extends hours
Sponsor Content
Comments