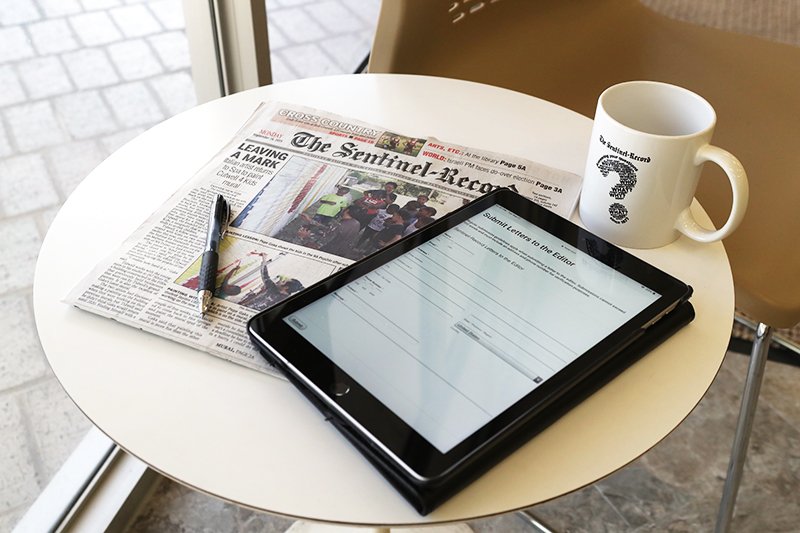 File photo
Advice for the future
Dear editor:
Now the question is how do we deal with a president who has been unleashed and knows nothing of decency and fairness? I suggest we draw upon the wisdom of the ages and "let justice roll down like waters, and righteousness like an everflowing stream." (Amos 5:24)
John S. Polk
Hot Springs
Blessed again
Dear editor:
This is a response letter to Gary Vogt (Wednesday, Feb. 5).
Mr. Vogt stated that I "try to use Bible verses to justify his (my) obviously prejudiced opinions." You conveniently failed to acknowledge that much of what I wrote were quotations from one of the most respected pastors in America -- Dr. Irwin Lutzer, who has served as senior pastor of the Moody Church in Chicago for over 30 years. He is also a renowned theologian and the author of numerous books.
What I write regularly is certainly not my opinion alone but is based on the most universally respected Christian authorities as well as Bible verses that are honestly and sincerely offered to make my points.
Vogt was not just attacking this one recent letter, written on Wednesday, Jan. 29 (which had been a response to Gary Grogan), but was also an attack upon all of my past letters when he said it was "similar to all his (my) letters."
I've been writing letters for many years that represent the Orthodox Christian viewpoints and I am honestly standing up for my Lord and Savior, Jesus Christ. It is unfortunate that God's side is not heard more frequently in our culture which is continuing to become much more secular and less Christian!
Gary Vogt ended his letter by saying (with obvious sarcasm) "May God bless you."
Actually, I want to thank you, because without realizing it, you have caused me to be blessed! One of my favorite longtime pastors is Dr. Charles Stanley (In Touch Ministries) who said from the pulpit that whenever he gets attacked for standing up for Jesus Christ, he just says to himself, "Thank you! Thank you! Thank you! You've just blessed me again!"
He (not I) then gave the Bible reference to support his claim -- "If you are insulted because of the name of Christ, you are blessed, for the Spirit of glory and of God rest on you." (1 Peter 4:14) " ... if you suffer as a Christian, do not be ashamed, but praise God that you bear that name." (Verse 16)
It is always my hope that God will bless my efforts to help as many people as possible to see the Light. Each one of you who reads God's Words has a personal responsibility to either accept or reject His truth.
" ... Evidence alone cannot convince someone to become a Christian. Some atheists and non-Christians may reject Christianity, not because the evidence is inadequate, but because they don't want to accept it. Some people choose to suppress the truth rather than live by it. In fact, we humans have a fatal tendency to try to adjust the truth to fit our desires rather than adjusting our desires to fit the truth." (quotes from: "I Don't Have Enough Faith to be an Atheist" by Norman L. Geisler and Frank Turek; Page 32)
Again, may God bless you as well as many others.
Lloyd Hoffman
Hot Springs
Editorial on 02/12/2020
Print Headline: Wednesday's Letters to the editor
Sponsor Content
Comments