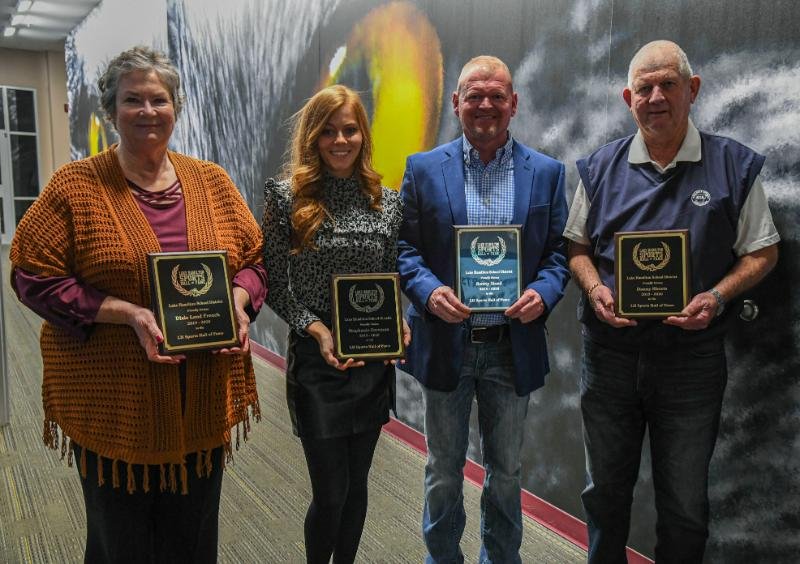 Four Lake Hamilton graduates, from left, Dixie Land French, Stephanie Foreman, Scotty Steed and Danny Sheets, were inducted into the school's sports hall of fame Tuesday night. - Photo by Grace Brown of The Sentinel-Record
PEARCY -- Stephanie Foreman, Dixie Land French, Danny Sheets and Scotty Steed were the members of the second class of inductees into the Lake Hamilton Sports Hall of Fame at Alumni Hall inside Wolf Arena on Tuesday night. The inductees received plaques to recognize their achievements as student-athletes.
A 2008 graduate, Foreman reached many highs as she established records in pole vaulting that were unmatched by other Lady Wolves until Edie Murray, a freshman at the University of Arkansas, broke Foreman's school record of 13 feet, 6.25 inches, setting a new high of 13-6.50.
"I didn't think that I would get in this soon because I'm one of the youngest ones in there," Foreman admitted. "It's awesome just to have made such a big difference here. To set that bar and have girls look up and be like 'I wanna do that. I wanna reach that, I wanna beat that, I wanna go.' Edie broke my record last year, and everyone was like, 'I'm so sorry,' and I said, 'No, that's awesome. That's exciting to see people reaching for it, doing better and going places.'"
Morry Sanders and Karl Koonce were two of Foreman's mentors during her athletic career that also included volleyball and track and field. The eight-time undefeated Sunbelt Conference Champion in women's pole vault, Foreman attended college at Arkansas State University.
"[Sanders] was almost like a father figure to me," she explained. "He was there every step of the way, making sure I got as far as I could possibly go with it. Those two were really big supporters."
French, a 1971 graduate, earned All-District honors for five straight years in basketball.
"[The induction] means a lot," she said. "It's been almost 50 years and then it brings back a lot of memories, being able to see my coach [Tommy Barret] here, too.
"I had neighbors who would come watch and tell me how good I was -- whether I was or not. I'm proud of what I was able to accomplish here. I loved basketball."
Before coaching at Lake Hamilton from 1983 to 1988, Sheets set a school record of free throws made in a single game, making all 25 of his attempts, earning All-District and All-State honors.
One of his most memorable moments while at Lake Hamilton was helping the Wolves earn the team's only state basketball title at Barton Coliseum in Little Rock.
"The year we won the state championship, 1963, I was playing with four seniors -- starting with four seniors," he recalled. "Eventually, ended up all five of us went to college on full scholarship. ... I ended up playing at Ouachita Baptist at Arkadelphia.
"It's always nice to come back to the high school you attended and be honored for maybe some achievements you accomplished. I don't know if I only made but one shot in my sophomore year as a starter, but it was at a pretty critical time. Fifty-four feet and end of the second overtime, tipped over the game."
Steed, a member of the class of 1986, was a three-sport athlete -- basketball, track and field, and football -- setting multiple records, including 3,400 career receiving yards and 54 touchdowns.
"Coach [John] Welch, coach Koonce, Bill Koen was my head coach," Steed recalled. "Those guys kept us straight and going in the right direction.
"...We had a close knit group of kids. The student body wasn't near as big. People seemed to be a lot closer, and we hung out in summer. Hunt and fish in the winters and played a lot of good football, a lot of good sports."
Sports on 02/13/2020
Print Headline: Four inducted into LH Hall of Fame
Sponsor Content
Comments