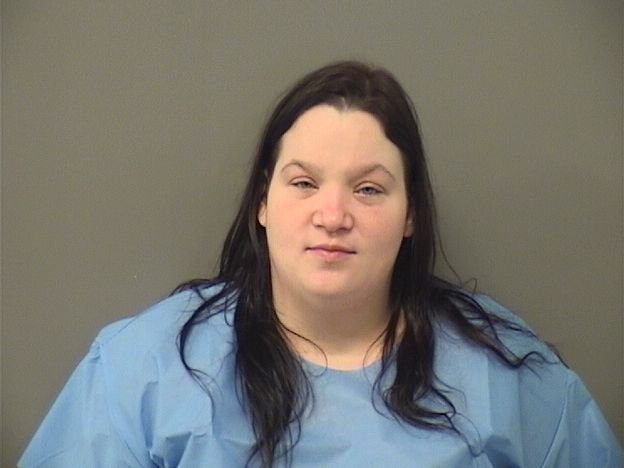 Rebecca Marie Navarro - Submitted photo
A Hot Springs woman was arrested Tuesday morning after she allegedly pepper-sprayed and then stabbed her ex-boyfriend during a confrontation at his residence.
Rebecca Marie Navarro, 34, who lists a Malvern Avenue address, was taken into custody around 9:30 a.m. at National Park Medical Center and charged with a felony count of second-degree domestic battery, punishable by up to 10 years in prison.
Navarro, who lists no prior criminal history, was being held on zero bond and was set to appear Wednesday in Garland County District Court.
According to the probable cause affidavit, around 9 a.m. Tuesday, Hot Springs police responded to NPMC, 1910 Malvern Ave., regarding a stabbing and spoke to the victim, Scott Lacy, who said his ex-girlfriend, identified as Navarro, had come to his residence on Hollywood Avenue earlier that morning.
He said they were in the kitchen talking and began to argue. During the argument, he said Navarro shoved him and he shoved her back, causing her to stumble back toward the sink.
At that point, he said he suddenly felt some type of substance hit him in the face and it started to burn and he could not see. Then he felt a sharp pain in his right arm, he said.
Navarro helped him into his pool room where there was a cold shower and helped rinse him off. He said she then left the residence and his son arrived and drove him to the hospital.
While police were still talking with Lacy at the hospital, Navarro arrived there and told officers she and Lacy got into an argument and that she pepper-sprayed him, but she denied stabbing him.
The officers noted Lacy had red, swollen eyes and reddened skin about his face consistent with being pepper-sprayed. He also reportedly had a small laceration to his left shoulder and a large laceration to his right forearm that required multiple staples.
Navarro also had reddened skin about her face and neck consistent with being exposed to pepper spray and a small cut on her left index finger. After questioning, Navarro was taken into custody.
According to court records, Navarro had filed a petition for an order of protection against Lacy on Jan. 17. In the petition, she alleges that in November 2019 she and her two sons, ages 11 and 13, were living with Lacy at his Hollywood Avenue residence.
She said one day in mid-November, Lacy came home around 1 a.m. and told her he wanted her and her children to leave. She said she refused to wake her children who were sleeping and Lacy "proceeded to get a gallon of juice and pour it all over my children while they were in their beds asleep."
Navarro said she attempted to call police at that point and alleges that Lacy grabbed her by the throat and slammed her to the floor. She said he left and police came and took her statement. She said she took her children and moved back into her husband's place.
She said Lacy showed up at her residence about three weeks later "banging on the doors and windows" until she called police again. She said he began texting her repeatedly after that, threatening and harassing her.
A hearing on the petition was scheduled for Feb. 6, but was continued until March 5.
Local on 02/13/2020
Print Headline: Hot Springs woman allegedly stabs former boyfriend
Sponsor Content
Comments