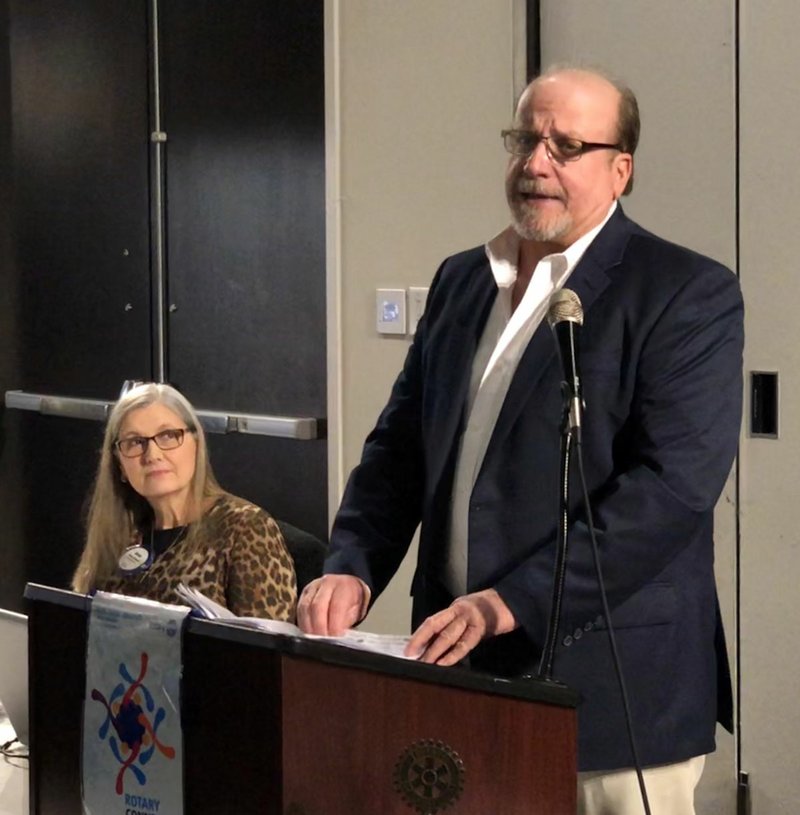 County Judge Darryl Mahoney shares county operations update with Oaklawn Rotary Club on Monday at The Hotel Hot Springs & Spa. - Submitted photo
With the April 1 Census Day drawing near, local leaders are emphasizing that the constitutionally mandated decennial count isn't a pretext to target undocumented residents or share personal data.
Close to $700 billion in federal money will be allocated annually over the next 10 years according to where people are residing April 1. Making sure everyone in Garland County gets counted, from inmates being held at the county detention center to newborns birthed on or after April 1 and people living on the backside of Oaklawn Racing Casino Resort during the live race meet, is critical, County Judge Darryl Mahoney told the Garland County Quorum Court earlier this week.
"Everyone needs to be counted," he said. "This is not an effort to locate where you're living so that we can come get you later. It's a good, honest effort to get a good count on the number of people we actually have in Garland County. I hope we're getting close to 100,000 people here in Garland County."
The U.S. Census Bureau's American Community Survey estimated the county's population at 99,154 in 2018.
Kevin Peppard, a partnership specialist with the U.S. Census Bureau, told the quorum court that the 68% of Arkansans who filled out census forms in 2010 represented one of the country's lowest response rates.
"That's almost a third of the population not being counted," he said. "Usually it deals with indifference, ignorance, fear and also people who are suspicious of the government. People worry what they're going to do with their data.
"I like to remind people if you're really worried about domestic spying, you should probably be more worried about your cellphone. Any information we do gather and collect, it's not shared with (Immigration and Customs Enforcement) or other federal agencies. The information and data sets are aggregated into block information, so specific information is not going to be released."
Peppard said people will be encouraged to fill out census forms online. Invitations to respond online will be mailed next month. Those who don't will receive response forms in the mail.
"If you don't fill in that, that's when you get the enumerator knocking on your door with an iPad asking questions," he said.
Peppard said Arkansas census workers will be paid $17 an hour. Employment applications can be submitted online, at http://www.2020census.gov.
"We're looking at hiring tens of thousands of people in Arkansas," he said. "We're even recruiting high school seniors if they're 18 by the time of employment. It's good money, and they will reimburse you for travel as well."
District 3 Justice of the Peace Esther Dixon, chair of the Hot Springs Local Complete Count Committee, said 26 people applied for census work at the recruiting drive held last week at the Webb Center. The government prefers to assign census workers to areas where they live.
"We've been trying to enlist community members to be census takers because we want community members who are familiar with the community and community members," she said. "That way you're more apt to opening the door to someone who's familiar and who knows the area."
Peppard said the area stands to lose $2,000 to $3,000 a year in federal funding for every person who doesn't get counted. Medicaid, the government insurance program for the poor, is most affected by the census, according to information from the Census Bureau.
More than $300 billion in 2015 Medicaid funding was distributed based on census data. The $71 billion in Supplemental Nutrition Assistance Program, or SNAP, funds was next, followed by $70 billion for Medicare Part B, which provides medical coverage for elderly people, and $38 billion in highway planning and construction. Overall, funding for 132 programs was apportioned according to census data.
Local on 02/13/2020
Print Headline: Upcoming census critical to area's federal funding, officials tell quorum court
Sponsor Content
Comments