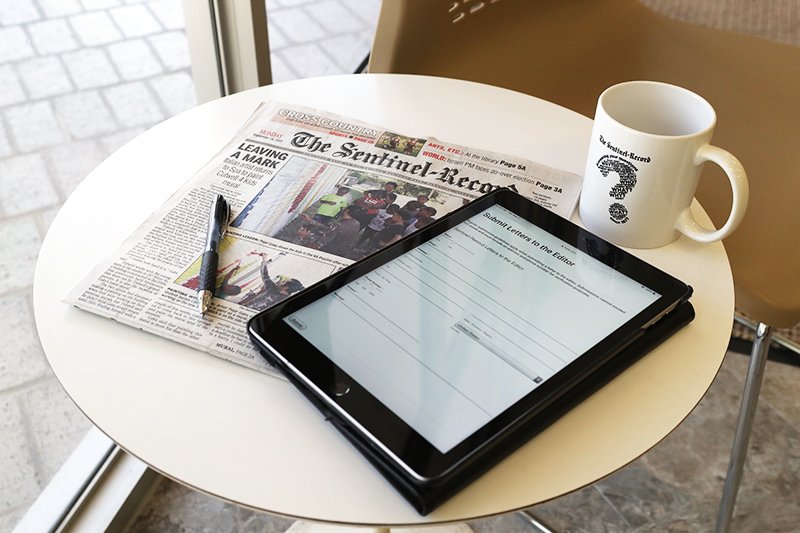 File photo
Questioning motives, not faith
Dear editor:
Apparently Mr. Hoffman was upset that I failed to mention his mentors in my latest submission. Sorry, Lloyd, I didn't and still don't see the relevance. As far as my supposed attack on his faith, that was not my intention. I have respect for many people of many faiths. I sometimes question motives.
Speaking of attacking one's faith, I would like to ask Lloyd, as a very devout Christian, a question. How do you feel about Trump attacking the faith of his perceived enemies at the National Prayer Breakfast? That was a new low even for him.
Lastly, I find it ironic you accused me of being sarcastic when I closed with "May God bless you." Although I did not mean it that way I will defer to your expertise on the subject.
Gary Vogt
Hot Springs Village
'Misleading' statements
Dear editor:
Two letters in the Feb. 11 issue demonstrate strong misleading statements, the kind that pervade social media currently.
Dr. Sternberg suggests that those who do not like President Trump are all followers of Saul Alinsky, whom he quotes as having written "look in the mirror and whatever you see, blame your opponent." In the first place, thousands who dislike the president have no idea who Alinsky is. And further, that concept quoted could apply to the president and other GOP who like to blame President Obama for almost anything they feel wrong. It is common stock that the "in" party blames the previous one for ills that are troublesome.
Dr. Sternberg, in defending President Trump over the Ukraine affair, fails to mention that a respected military man and an authority on Ukraine, as well as the U.S. Ambassador to Ukraine appointed by the president both testified that President Trump did issue a "quid pro quo," and both have now been fired for telling the truth. Regardless of the guilt or innocence of the Bidens in that matter, facts are facts and should be admitted.
Mr. Grillo's letter condemning Democrats is full of generalities and misleading statements. According to him, all Democrats are dishonest, self-dealing and money-grubbing. He calls Schumer and Schiff liars and power-hungry men, spreading scandalous accusations. The accusations were proven valid by two important men testifying, and a number of GOP Senators agreed the actions of President Trump were inappropriate regarding the Ukraine affair, just not on the level of removing the President from office. And many of us were moved by the speech of the senator from Utah.
My favorite Republican president of the past was Theodore Roosevelt, a man of action who was ahead of his time in conservation issues and defending the ordinary citizen. He had a motto I like: "Speak softly, but carry a big stick." I wish some of the writers would follow that adage, and if anyone needs to heed it closely, it is the president himself. His harshness and mere rudeness often lessen any positive actions accomplished. Have a good day!
John W. "Doc" Crawford
Hot Springs
The CALL to foster care
Dear editor:
One way to help children in foster care is to become a foster parent. You can learn about becoming a foster/adopt family by attending The CALL information meeting. Our next info night will be Feb. 18 at Oaklawn Baptist Church at 6 p.m.
The CALL holds info meeting almost every month at different churches in Garland and Hot Spring counties. Check our Facebook page at The CALL in Garland and Hot Spring counties to find dates and locations, or email [email protected]
Phil Ellis
Church partnership coordinator, The CALL
Garland and Hot Spring counties
Editorial on 02/14/2020
Print Headline: Friday's Letters to the editor
Sponsor Content
Comments