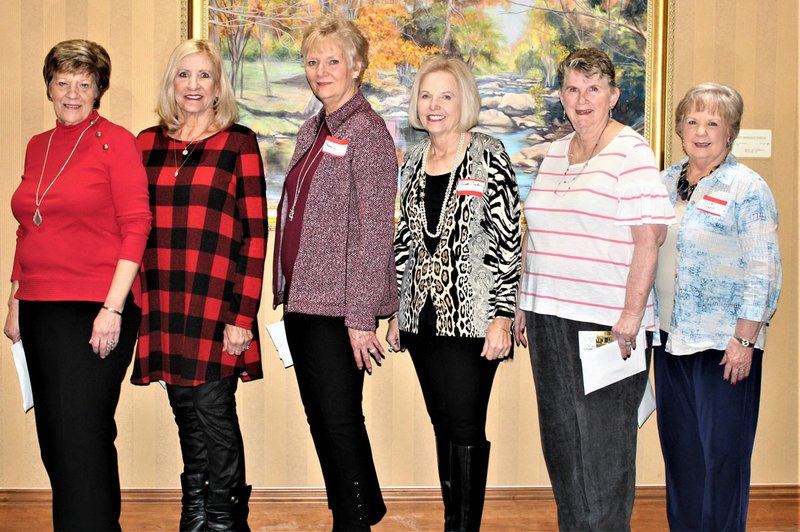 Hot Springs Women's Welcome Club welcomed new members for February, from left, Carol Robinson, Kathleen Godwin, Nancy Pequignot, Linda Fisher, Linda LaPointe and Joyce Divers. For club membership requirements and information, call club President Cindy Brown at 870-550-4851. - Submitted photo
TEA Party to host judicial, House candidates
The Garland County TEA Party will host Administrative Judge Barbara Webb, candidate for Arkansas Supreme Court associate justice Position 4, and Justice of the Peace Richard McGrew, candidate for state representative, District 22, at its weekly meeting at noon Wednesday at Hibachi Sushi Buffet, 4334 Central Ave.
The public is welcome to attend. The TEA Party will hear from local candidates for office through Feb. 26. Early voting begins Tuesday and the primary is March 3.
Republican meeting rescheduled
The Republican Party of Garland County's monthly meeting, originally planned for Feb. 6, has been rescheduled for 6:30 p.m. Tuesday in the Family Center of the First Church of the Nazarene, 3804 Central Ave.
The public is welcome to attend and admission is free.
State Sen. Alan Clark, R-District 13, and his opponent, Jeff Crow, will discuss their candidacies during the meeting following the RPGC February meeting. Other candidates seeking to address the RPGC will be allowed to speak.
The RPGC normally meets monthly during the first Thursday of every month.
Lupus Foundation offers health fair in March
The Lupus Foundation of Arkansas Inc. and GlaxoSmithKline will sponsor the Education Can Make a Healthier You Health Fair from 10 a.m. to 2 p.m. March 12 in the Mercy Room of CHI St. Vincent Hot Springs, 300 Werner St.
The public is welcome to attend the free event, which will include free health screenings and free educational fact sheets relating to various illnesses. Attendees will also have an opportunity to talk with various vendors regarding many illnesses. There will also be prize drawings.
Call Jamesetta Smith, president of the Lupus Foundation, at 525-9380, email [email protected], or visit http://www.lupus-arkansas.com for more information.
Toastmasters holds open house
The Hot Springs Toastmasters will hold an open house during this week's club meeting at 8 a.m. Saturday at National Park Medical Center, 1910 Malvern Ave.
Any interested members of the public are welcome. Refreshments will be offered.
Toastmasters is a supportive, inexpensive way to learn speaking and leadership skills. Visitors will be able to see a sample of how it works at the open house. Training resources for speechmaking are part of Toastmaster support available to members. Toastmasters International's materials and programs also offer leadership development. New members are offered mentoring, either assigned or a chosen match. Meeting roles rotate from one week to the next.
All former Toastmasters, as well as interested guests, are welcome. There is no charge to come see what the club is about. Meetings normally are one hour long. Visit https://7643.toastmastersclubs.org/, or call 501-617-4777, for more information.
Society on 02/14/2020
Print Headline: Items of interest
Sponsor Content
Comments