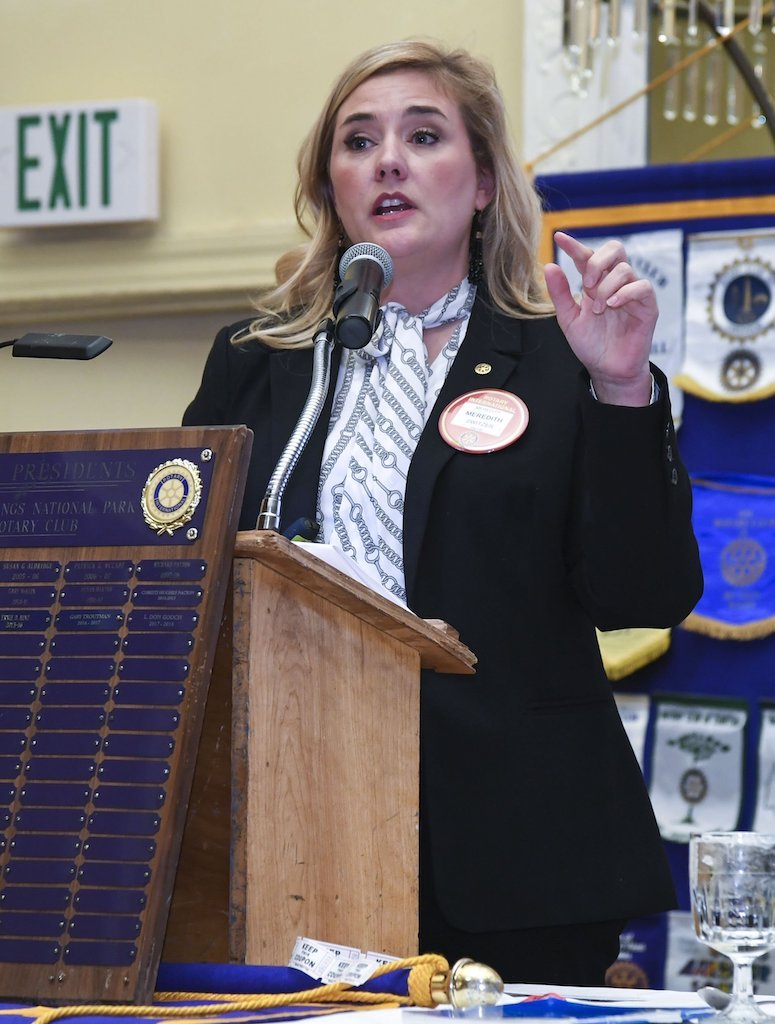 Judge Meredith Switzer speaks to the National Park Rotary Club on Jan. 22. - Photo by Grace Brown of The Sentinel-Record
Appeals Court Judge Meredith Switzer said presiding over Garland County District Court isn't her birthright. It's her calling.
She told the Garland County TEA Party Wednesday her vocation didn't reveal itself until she started serving the first half of the Division 1 district court term her father, the late David Switzer, was elected to in March 2016. She had worked in private practice and in state government, but district court is where she found her purpose.
The governor appointed her in December 2016, and her dad died the next day following a long battle with cancer.
"When dad decided to retire at the end of 2016, I asked to be appointed to dad's position and carry on his legacy and make sure the court continued to operate smoothly and carry on the DWI court and veteran's court," she said. "Two weeks after he passed, I was on the bench, and I began the process of becoming a district court judge. It's a very public learning process. I did it for two years. I think I served you well for those years."
She hopes to expand on the caretaker role she filled in 2017 and 2018 and begin her own legacy. She's running against Mark Steven Fraiser for the Division 2 district court seat in the March 3 nonpartisan general election. The winner will begin serving a four-year term in January, presiding over what will be District 41 State Court and receiving a $150,761 salary.
Switzer's Court of Appeals appointment expires at the end of the year. She was chief legal counsel for Quapaw House in between her two appointments to the bench. Her district court appointment proceeded from her work as deputy attorney general for state agencies, she said.
"I think there's some confusion about how I came to be on the bench here in Garland County," she said. "It was the result of a lot of hard work. It was a result of me advising people using my sharp legal mind, using my resources, using my intuition and my innovation to solve problems at the state level."
She said her district court experience, coupled with the problem solving she displayed working in the executive branch of state government, could be brought to bear on the crowding problem at the Garland County Detention Center. Intake restrictions implemented at the $42 million facility that opened in June 2015 require inmates to be released before new ones can be booked.
Switzer said it's a complex problem demanding an interdepartmental approach. Prosecutors and circuit courts could expedite adjudications of pretrial felony inmates held at the jail, she said, and district courts could rethink how failure to appear violations are addressed.
Defendants cited for failure to appear represent a sizable portion of the inmate roster, taking up space Switzer said could be put to better use.
"Does it serve society to book somebody in for approximately a $1,000 cash or secured bond and resetting the matter for trial and the time and resources it takes to process all of those versus having that space for someone who beat their kid or beat their wife or drove drunk?" she said.
Switzer said the court could also reconsider the $100 monthly minimum defendants are required to pay toward fines and fees, an amount she called "unreasonable."
"It is a vicious cycle for individuals to be charged with a crime, be fined, not pay their fine, lose their driver's license," she said. "Because they lose their driver's license, they can't go to work. Because they can't go to work, they can't pay their fine."
Switzer said it's a judge's job to determine which defendants are amenable to correctives such as rehab, counseling, job training and other community-based services.
"What resources are available to those people to divert them from jail," she said. "We're going to hold them accountable, but we're going to try and help them.
"We've got to be attacking these problems at every single level. We cannot say any longer 'we're doing it this way, because that's the way we've always done it' or 'that it is not my responsibility.' It's all our responsibility."
Early voting begins Tuesday.
Local on 02/14/2020
Print Headline: Switzer looks to return to county district court
Sponsor Content
Comments