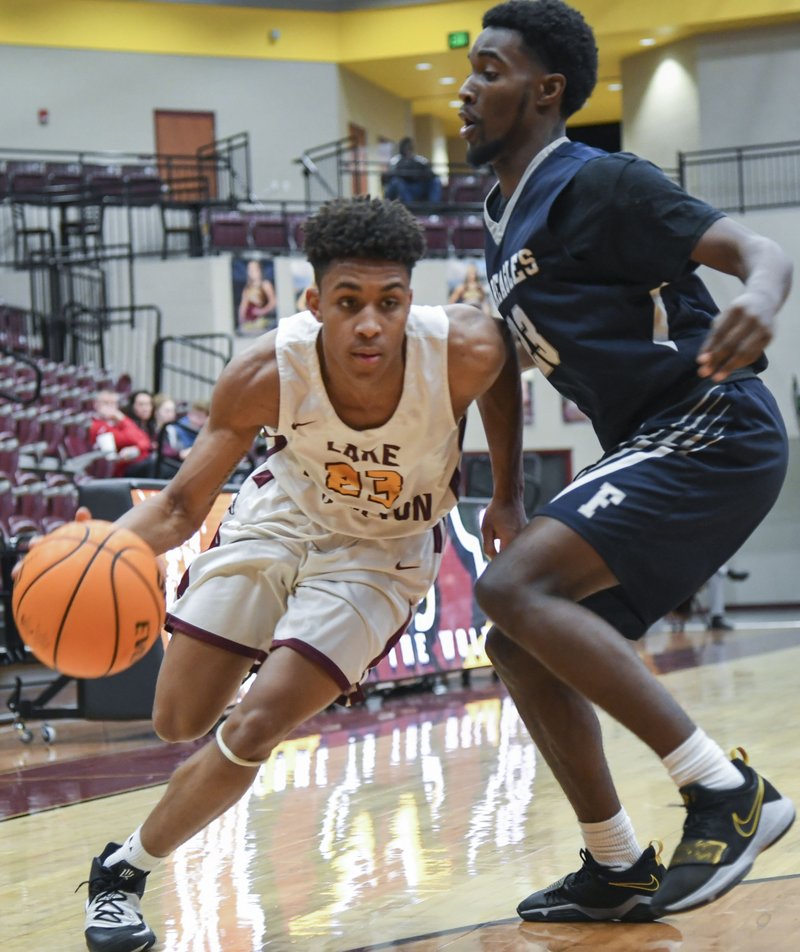 Lake Hamilton senior Adjani Winston (23) drives in past J.A. Fair junior Nolan Young in Wednesday's game at Wolf Arena. - Photo by Grace Brown of The Sentinel-Record
PEARCY -- Lake Hamilton needed four extra minutes to put away J.A.Fair Wednesday night with a 42-41 win at Wolf Arena.
"They say good teams find a way to win even when they don't play well, so maybe we're a good team because we played about as poorly as we could play," Lake Hamilton head coach Scotty Pennington said. "We seemed very uninterested at times, and I get that it's a dead arena for the most part. It's a Wednesday night, and we have a lot people at church. The crowd wasn't as big as usual with the Little Rock school not bringing as many people.
"But there's no excuse. When both teams are 6-3, and you're fighting for a playoff spot -- you're fighting for seeding -- you've gotta get up to play. I didn't think that we did, but we did enough."
Trailing the Wolves (17-6, 7-3 5A South) going into the final period, the War Eagles (13-9, 6-4) picked their energy back up on the court as senior James Lawrence executed a layup and classmate Jamison Bracy kissed the rim from a teammate's missed bucket to knot the score at 27-all.
Lake Hamilton senior Adjani Winston converted from the free throw line twice, and classmate Malique Hill drove in for a layup to take a 33-27 Lake Hamilton lead. Bracy knocked a pair of field goals, and senior Trivez Polite secured an offensive rebound before burying a 3-pointer with 1:20 left to knot the score and send the game into overtime.
"[We did enough] mostly at the free throw line," Pennington said. "That was the key. ...We made 20 free throws. That's almost half of our points. Making free throws won us the game and getting some key defensive stops."
Snaking a steal from the Wolves, junior Kamal Polite drove down for a fast-break layup with 24 seconds off the clock, and seconds later classmate Nolan Young made 1 of 2 from the charity stripe to grab a 3-point edge, but Hill sank a shot from behind the arc to tie the game up again at 37-all.
With the game on the line, the teams resorted to fouling each other before a layup from Young gave the War Eagles a slight edge. With 21.8 seconds remaining, Winston converted twice from the line to knot the score at 41 before sophomore Cade Robinson was fouled while stealing the ball, sending him to the line with 5.1 seconds on the clock.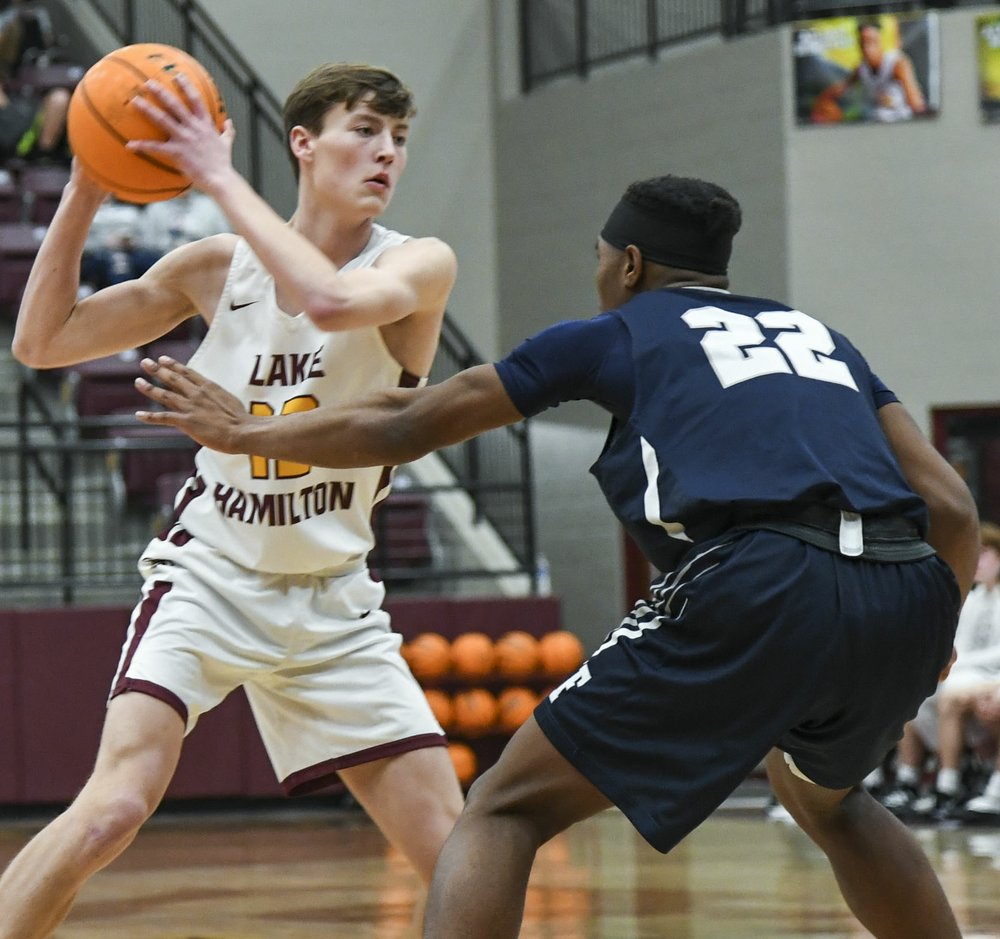 Lake Hamilton sophomore Cade Robinson (12) looks for an open teammate while J.A. Fair senior Jailon Tyson defends in Wednesday's game at Wolf Arena. - Photo by Grace Brown of The Sentinel-Record
Missing the first, Robinson cuffed the second shot to set the final as the War Eagles were unable to execute before the buzzer.
"We weren't trying to turn them over, but Cade just pressured and they kinda gave it to us," Pennington noted. "It worked out. Give God the glory because he probably had a little hand in that."
The game was close from the start, but Fair took an early 9-5 lead before a steal by sophomore Gavin Robbins evolved into Hill knocking back a trey with 40 seconds on the clock to pull within 1 heading into the second.
The Wolves took back the lead as Winston sank four free throws for a 12-9 advantage. Lawrence drove in the paint, hitting a short jumper as Winston matched the shot with another set of free throws. Lawrence helped the War Eagles inch closer with another field goal and a 14-13 deficit.
With Trivez Polite dishing out to Kamal Polite on the outside, the visitors elbowed their way back to a lead that was cut short as the Wolves secured a field goal for 16-all at halftime.
The back-and-forth continued into the second half with the Wolves taking a 20-18 lead before senior Alex Milstead broadened the spread with a field goal, missing the and-one, while the War Eagles countered with two buckets to lunge ahead their opponent. A Milstead putback and Winston profitting off an inbounds pass pushed the Wolves lead out to 27-23 at the end of the third.
Winston led Lake Hamilton with 23 points, Hill added 13, Robinson had 3 and Jessup put up 2.
The Wolves will matchup today at Hot Springs (20-5, 10-0).
"Especially against Hot Springs, we have to get better with pressure," Pennington said. "They're going to press us, buzzer to buzzer. We play six or seven kids most of the time, and they're gonna play 10 or 11. They're gonna put them in in waves, and they're gonna press, press, press. We can't turn the ball over like we did tonight. If we do, it'll be very tough to win over there. We're going over there like we've got nothing to lose and everything to gain."
Sports on 02/14/2020
Print Headline: Wolves hold on to top War Eagles in overtime
Sponsor Content
Comments