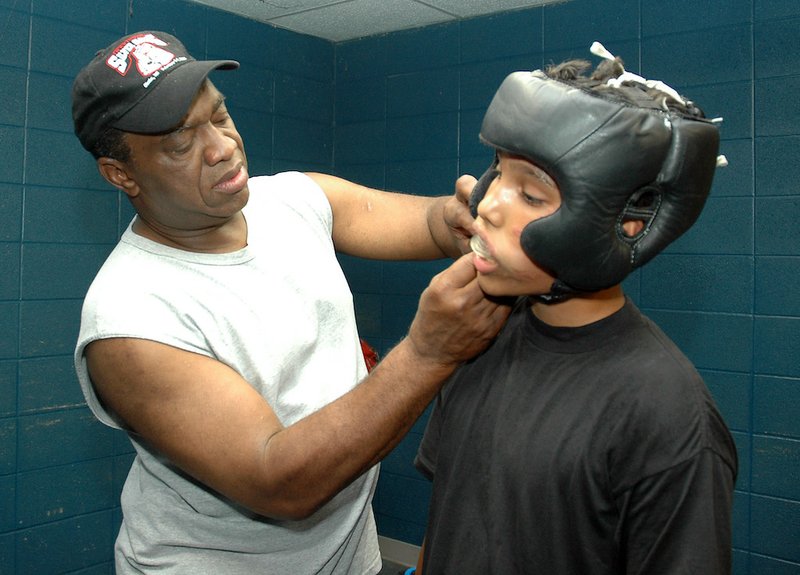 The late boxing coach Willie McCoy adjusts a fighter's headgear before practice in 2006. - File photo by The Sentinel-Record
Young boxers will get to show off their boxing skills in multiple bouts this Saturday as part of Willie McCoy Legacy Day at Champion Community Center, 109 Belding St.
Marsalis Weatherspoon, public relations chair for Arts Academy of Learning, said that the boxers, who are fifth-graders or older, began training in August. While it will not be their first matches, these will be the first matches hosted by AAL.
AAL coaches trained the boxers, and Weatherspoon said he is excited to see how the boxers will perform after months of training.
Weatherspoon calls the boxing lessons a tool for these kids. "It instills sportsmanship. It instills teamwork. It instills resilience," he said. On that last part, Weatherspoon added that when someone is "getting hit in the face," it takes resilience to "keep going."
Weatherspoon said that people "from all over the state" are planning on attending the show.
Professional boxer Dominick "Southern Disaster" Guinn will be a special guest at the event.
Prior to the boxing matches, the event will also feature a "Jump Party." Weatherspoon said that this will feature jump houses, and it is free to attend.
The event is being held in memory of the late Willie McCoy. "Mr. McCoy passed away last year. He was a prominent person in the community," Weatherspoon said, noting that McCoy was both a captain in the police department and a boxing coach. AAL was founded by McCoy's wife, Janice McCoy.
The "Jump Party" will start at noon and will go until 3 p.m. The boxing matches will begin at 6 p.m. Admission is $8 for adults, $5 for youths between 8 and 17 years old, and free for those 7 and younger.
Local on 02/14/2020
Print Headline: Youth boxing matches set for Saturday night
Sponsor Content
Comments