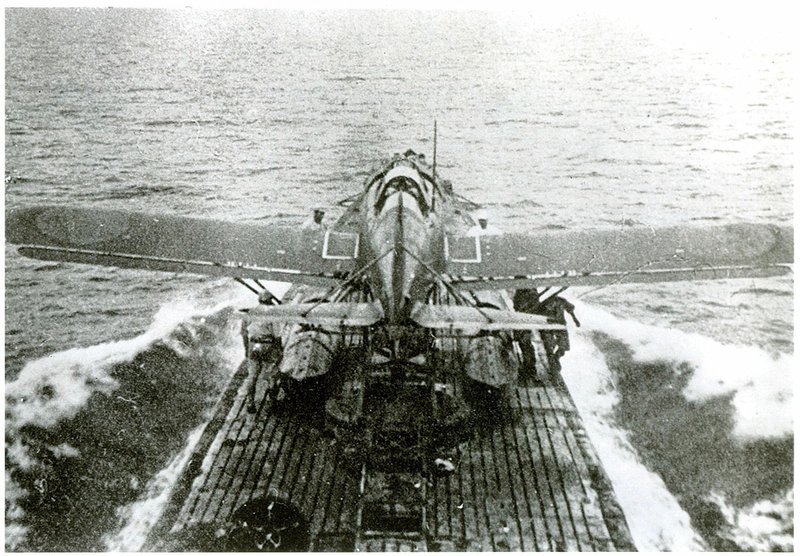 Fujita's plane on deck, ready for takeoff. - Submitted photo
The Garland County Library, in partnership with the Hot Springs Sister Program, will show "Samurai in the Oregon Sky," a documentary surrounding the only bombing of the United States mainland in World War II and the surprising friendship that blossomed after the war had ended, at 1:30 p.m. March 1 in the library auditorium.
On Sept. 9, 1942, a Japanese submarine surfaced in the Pacific Ocean just off the coast of Oregon, and from that submarine, a collapsible floatplane took flight and conducted the only manned aerial bombing of the United States mainland in World War II. The pilot who took on this dangerous and unique event was Nobuo Fujita, and what happened next spawned a 35-year-long friendship between Fujita and the town of Brookings, Ore., a news release said.
According to the film's website, "Fujita flew past the small town of Brookings, Oregon, and dropped incendiary bombs on the nearby forests. But recent Oregon rainfall prevented any serious fire from starting as Fujita and the plane returned to the submarine. The event was largely forgotten as WWII raged on."
"Samurai in the Oregon Sky" tells the story of Fujita, the Brookings-Harbor Junior Chamber of Commerce, better known as the Jaycees, and the friendship that resulted in their meeting.
"In 1962, the Jaycees invited Mr. Fujita and his family to the town of Brookings, Ore., where he once flew, and in doing so, they stirred up controversy around the country," the release said.
The filmmaker, Ilana Sol, is an archival researcher living in Portland. "Samurai in the Oregon Sky" is her second film. Her first film, "On Paper Wings," also dealt with World War II and the Japanese balloon bomb in 1945 that resulted in the only deaths on the United States mainland. The film won seven awards. Sol has conducted archival research for the Smithsonian and the Oregon Historical Society, and for numerous documentaries including "Big Joy," "Queen of the Sun" and "The Winding Stream."
For more information about the Garland County Library and its services, visit http://www.gclibrary.com, call 623-4161, or visit the library at 1427 Malvern Ave.
Entertainment on 02/26/2020
Print Headline: Library, Sister City program to present 'Samurai in the Oregon Sky'
Sponsor Content
Comments