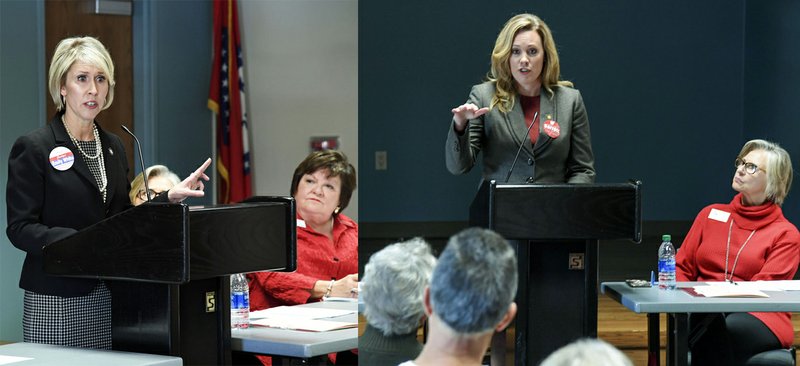 The Sentinel-Record/Grace Brown BARRETT'S ADDRESS: Arkansas Court of Appeals District 4, Position 2, candidate Stephanie Potter Barrett addresses the Garland County Republican Women at the Garland County Library on Monday.
Two of the candidates for the Arkansas Court of Appeals, District 4, Position 2, Emily White and Stephanie Potter Barrett, spoke to the Garland County Republican Women on Monday, introducing themselves personally and politically to a crowded room at the Garland County Library.
White, a district court judge for the 33rd Judicial District, said her balance of "advocacy and judgment" on cases is what qualifies her for the position.
"Not only have I been a prosecuting attorney, tried criminal jury trials all over the state both as a prosecutor, and I did a few as a defense attorney," White said, "I have been a judge, I have served on the Arkansas Supreme Court ... I am seeking to be on the Court of Appeals because this position requires a judge who has not only advocated, but has sat in judgment of cases, and I have done that."
Barrett, who is currently prosecuting attorney for the 8th Judicial District South, said her current position puts her "in the trenches doing work the Court of Appeals sees."
"I'm seeking a position at the Arkansas Court of Appeals and I promise I will make my decisions based on the law and the facts and not let politics get involved with the type of decisions that what we call are result-based opinions," Barrett said. " ... The way it should be done is everyone should be treated the same, justice is blind, you look at the law and you look at the facts and you apply them equally to everyone."
White said she has learned "firsthand" that not all lawyers should be judges.
"Being a judge is much different from being a lawyer," she said. "For 17 years I was an advocate; I chose a side and I argued it to the best of my abilities, but now I'm the neutral. Now I the one who has to apply the law fairly and neutrally and impartially and detached."
Barrett said she is the only candidate who has argued before a Court of Appeals in an oral argument.
"I think that's one of the things that helps me be the better candidate for this position, but also the well-rounded experience that I obtained from not only private practice, but from being a prosecuting attorney as well," she said. "In 2007 I became a deputy prosecutor, And in 2014 I ran for that office and was elected, and am currently serving in my second term. Being a prosecuting attorney means I'm in the trenches."
Barrett said she "believes in our Constitution."
"I believe in the rights that were given to us by our Constitution, and I think activist courts are a threat to that," she said. "As a parent, I have two children, and I want them to be raised in the same great state and country that I grew up in and that means that if you sit on the court of appeals or if you have your case go before the court of appeals, you want those judges to hear that case isolated from the politics that surround, oftentimes, the things that go on locally in circuit courts."
A crowd member addressed Barrett in saying the country was "founded on our rights being given to us by God."
"You said again today that our rights are given to us by the Constitution, may I ask, if I could show you a light example of why that's important?" he said. "I'm unarmed today because the sign out there says I cannot bring my gun in here. That is a result of somebody who believes our rights come from the Constitution."
Barrett retorted in saying although she believed the Bible is the "word of God," she also views the Constitution as a legal document that was written by "our forefathers."
"I do not think that (the Constitution) is the word of God," she said. "I think that our rights to bear arms is derived legally from the constitutional document, which is based on liberty and liberty is something that is God-given. So I understand that the argument that the right to bear arms is God-given because it's based on liberty. I'm a member of the Methodist Church, I've been in Bible study my whole life, I'm not going to say I'm a scholar, but I don't recall anywhere in the Bible where it gave us the right to bear arms."
Barrett was interrupted by GCRW President Linda Lambert, asking if White had a retort.
"Some of you may know this, some of you may not, but I have officially said a few times that I believe our basic human rights and basic freedoms are given to us by our creator," White said. "Now to me that's Jehovah, or Jesus, but to others it may be Buddha. But to me I can tell you it is Jesus ... I believe that the Constitution serves as a buffer to keep those basic freedoms from being removed from us. That's my position, I've stated it very clearly many times, I believe that document is a legal document and it is the supreme law of the land."
Another crowd member addressed both candidates in asking how they each "feel about criminal justice reform ... and the shortened sentences."
White said she has judicial discretion with "certain standards" in her courtroom.
"We use something in Arkansas called our sentencing guidelines when a person is sentenced," White said. " ... Depending on habitual offenders and if I'm under the opinion that maybe they didn't learn their lesson, I'm not anti-incarceration by any means. I do think we have a problem with overcrowding as a state and probably as a nation, but I believe in personal accountability and personal responsibility."
Barrett said crime has "gone up" since the criminal justice system has changed and "emptied out the prisons."
"One of the biggest problems is the governor found that we have an overcrowding problem, but instead of building new prisons he actually shut down two prisons last year," Barrett said. " ... There was a huge change in the criminal justice system. The effect it had is it emptied out the prisons, which meant everyone came out on probation and parole ... crime has gone up ... There is an issue and the Legislature needs to address that."
The election for the Arkansas Court of Appeals is March 3.
Local on 01/14/2020
Print Headline: Court of Appeals candidates address GCRW meeting
Sponsor Content
Comments