National Park's men's and women's Nighthawk basketball teams split with ASU Mid-South Saturday as the college celebrated its homecoming.
The women (5-4, 2-0 Region II-Division II) used a strong defensive press to control the Lady Grayhounds and take a 65-61 win while the men (6-5, 2-1 Region II-Division II) fell 83-69.
Leading 53-40 after three quarters, the Nighthawk women had a battle on their hands in the final 10 minutes of the game. The Lady Greyhounds intensified their defense while drawing fouls and hitting a 3-pointer late to pull within 64-61, and with 42.6 seconds remaining, the visitors took control of the ball, but the shot bounced free. The team forced a turnover, but it could not convert, resorting to fouling as the Nighthawks sank 1 of 2 from the free throw line to secure the final.
ASU Mid-South jumped out to an early 6-0 lead, but NPC managed to pull within 11-8 at the end of the first quarter. Freshman Nya Moody, a Lake Hamilton grad, and sophomore Grace Crawford, a South Side Bee Branch product, took control offensively as the Nighthawks outscored the visiting team 22-14 to take a 30-25 lead into the break.
The Nighthawks improved their free throw shooting in the second half to 12 for 13 after an apalling 2 for 10 in the first 20 minutes. Crawford and freshman Imani Honey, of Mountain Pine, combined for a perfect 9 for 9 at the charity stripe in the second half.
Crawford led the Nighthawks with 19 points while pulling down 6 rebounds with 2 steals. Honey and Moody added 16 points each with Honey registering a double-double with 12 rebounds while also dishing out 8 assists with 1 steal, and Moody had 6 boards, 3 steals, 2 blocks and an assist. Sophomore Logan Keener, a Lake Hamilton grad, finished with a game-high 4 steals.
Freshman Aaliyah Lee led the Lady Greyhounds with 19 points, 11 rebounds and 3 blocks against 7 turnovers. Freshman Adrianne Chambers finished with 16 points, 12 rebounds, 6 assists and 2 blocks, and classmate Alindavia Lockett scored 11 points off the bench with 9 rebounds.
The No. 19-ranked and NJCAA Region II Division II champion Greyhounds dominated the boards while shooting 38.5% from behind the arc to take down the Nighthawks Saturday evening.
With just 3:33 off the clock in the first half, ASU Mid-South sank a pair of 3-pointers to take an 11-8 lead. Sophomore Reyhan Cobb, of Decatur, Ga., used aggressive shooting to keep the Nighthawks in the game, tying it up with 10:58 to go in the half.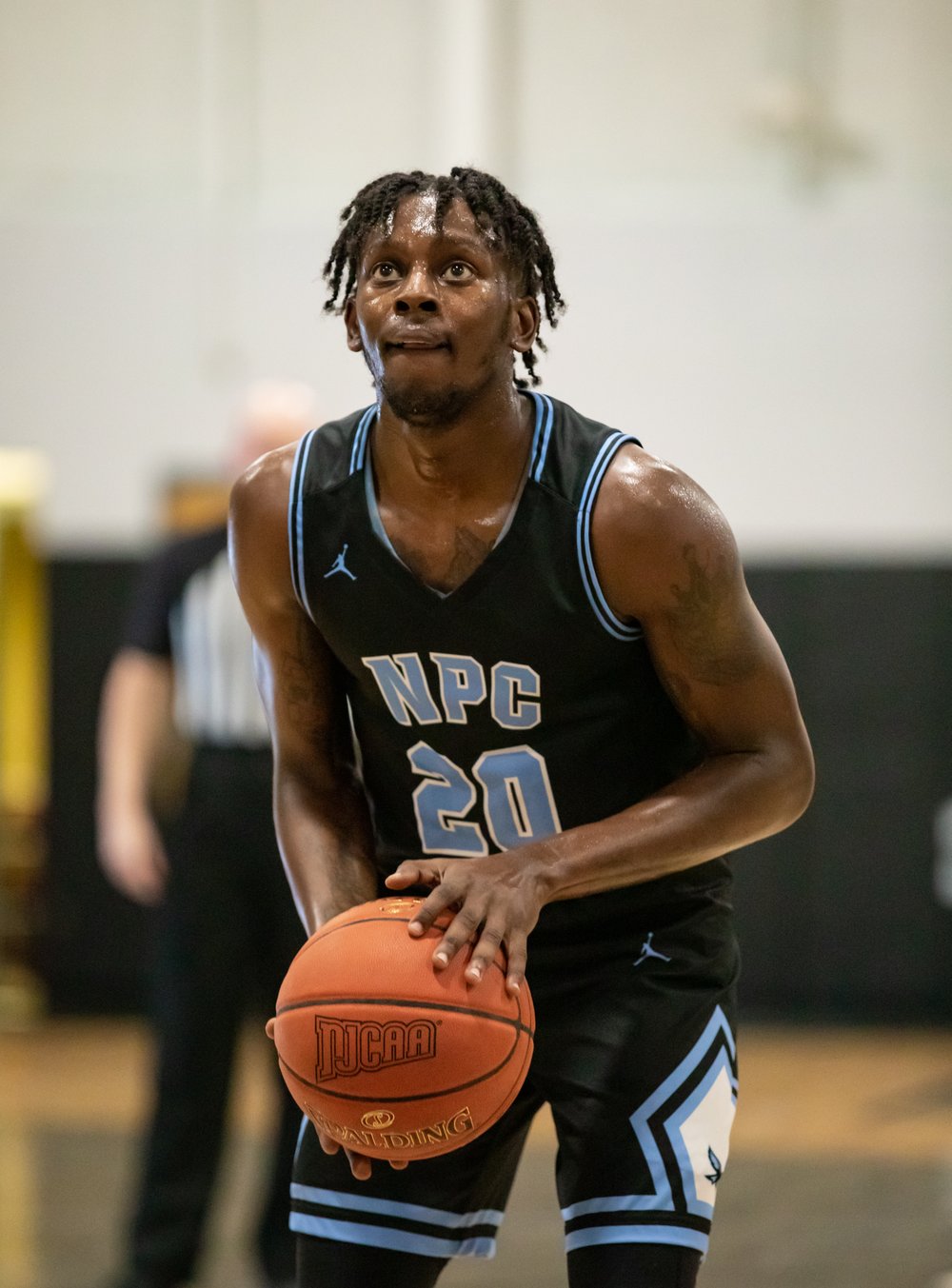 National Park freshman KaJuan Christon prepares to take a shot from the free throw line in Saturday's 83-69 loss to ASU Mid-South Saturday. Christon scored 20 points to lead the Nighthawks. - Photo courtesy of Aaron Brewer
Sophomore KaJuan Christon, of Hot Springs, led NPC with 11 first-half points in his debut with the team as the Nighthawks pulled within 39-35 at intermission.
The two teams traded blows early in the second half, but the Nighthawks could not keep up with the Greyhounds. Leading 51-47 with just 4:30 off the clock, ASU Mid-South hit a 6-0 run to stretch its lead into double digits, and the Nighthawks could never catch back up. Christon and freshman Joe Ramey, an El Dorado product, put up 9 points each in the second half as NPC's five-game winning streak was snapped with its lowest total of the season.
"I really thought we were ready," Nighthawk head coach Jason Hudnell said. "I felt good about our week of practice. I liked where we were at halftime and I felt like we were in good shape. They just hit some shots. They make shots and that's why they're ranked where they are. We weren't able to make a big shot when we needed to, and they were. But we're going to be OK. We talked to our men and we're going to see those guys again. We see them again at their place and I have a sneaky feeling that we'll see them again in the regional tournament."
Christon led the Nighthawks with 20 points off the bench. Ramey added 17 points with a pair of assists, Cobb had 13 points with a team-high 11 rebounds and 2 blocks, and Terry Clardy Jr., of Conway, finished with 8 points and a team-high 4 assists.
Sophomore Ike Moore led the Greyhounds with 25 points, 6 rebounds and 4 assists. Classmates Christian White added 16 points with 6 rebounds, 3 assists and 3 blocks, Zach Byrd finished with 11 points, 6 boards and a game-high 6 assists, and Jalen Lynn added 10 points.
The Nighthawk men play host to Rhema Bible College Wednesday at "The Kettle" at 7 p.m. The Nighthawk women return to action Saturday against North Arkansas College in Harrison.
Sports on 01/14/2020