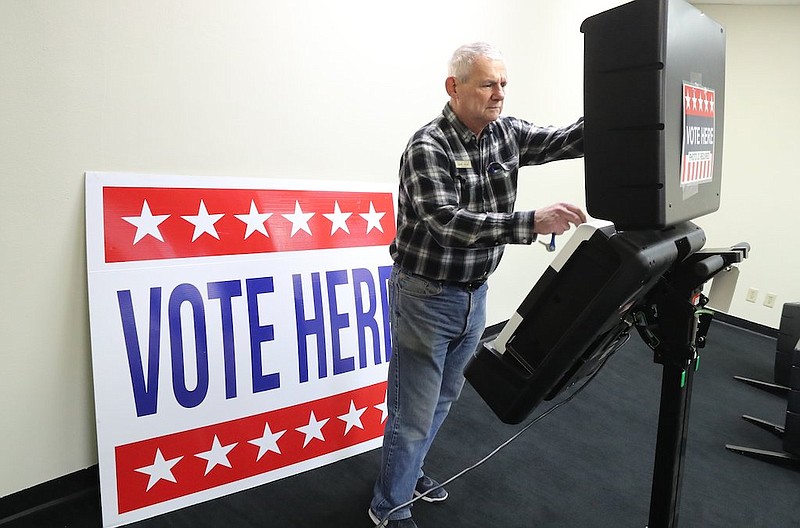 Garland County Election Commission Chairman Gene Haley sets up one of the county's voting machines at Hot Springs Mall in February. - Photo by Richard Rasmussen of The Sentinel-Record
Uncertainty caused by the coronavirus pandemic has complicated planning for the Nov. 3 general election, making it difficult for the Garland County Election Commission to decide how best to allocate the county's election resources.
The three-member panel will have a work session Wednesday, its first since the public health emergency the governor declared in March and extended last month. It's scheduled to hold a formal meeting July 22 at 10 a.m. at election headquarters, 649-A Ouachita Ave.
The county's unofficial results may not be available on election night if as many people vote absentee as the commission has projected. The state election code doesn't allow ballot envelopes to be opened until 8:30 a.m. on Election Day. Poll workers will need time to feed tabulating machines with the 10,000 to 15,000 absentee ballots the commission is expecting.
Separate envelops containing voter statements and copies of voter IDs can begin being opened a week before Election Day.
"We can start checking the envelopes and make sure everything is signed and so forth," Election Commission Chairman Gene Haley said. "We decide at that point if we're going to count that ballot. The ballot is in another envelope. We don't know how they voted. It goes into a box, so we don't know whose it is.
"We can't open those envelopes that have the ballots in them until Election Day. We have to get enough people to do all that."
Poll workers to count absentee ballots and operate vote centers could be at a premium. Most of the county's poll workers are in the older age group most at risk of developing complications from the coronavirus. Haley said it's possible all of the more than two dozen vote centers the county typically opens for primaries and general elections can't be staffed.
Some locations may not be available, and the ones that are won't be big enough to handle large volumes of voters and maintain social distancing. About 13,000 people voted on Election Day in the last presidential election. About 900 people a day cast ballots during the two weeks of early voting at election headquarters.
"Am I going to get all 25 locations to agree to let us hold an election there during the middle of this?" Haley said. "The same thing with poll workers. Are they willing to wear a mask all day?"
The state will be sending counties protective equipment and other resources to help reduce the spread of the virus at polling sites. Federal coronavirus relief funds earmarked for elections will pay for masks, gloves, face shields, cleaning supplies and other equipment.
The state and county's disbursement estimates included 530 KN95 reusable face masks, 60 to 85 gallons of hand sanitizer, 1,530 pairs of disposable gloves, 174 to 200 face shields and 100 Plexiglas shields to place between poll workers and voters.
Secretary of State John Thurston said earlier this month that counties will also receive disposable styluses for voters to use at the polls.
"So when you come to the polling sites, technically you should not have to touch a single thing other than that stylus pen," he said.
Haley said it's unclear if the 42,300 styluses the county will receive will work on both tablets voters use to check in at polling locations and touch screens used to mark ballots.
"The stylus for the tablet does not work on the ExpressVote," he said. "They're two different technologies. The one you sign the tablet with has to have a soft tip, and the one for the ExpressVote has to have a hard tip. You can actually vote on the ExpressVote with a Q-tip, but you can't do it on the tablet."
Sponsor Content
Comments