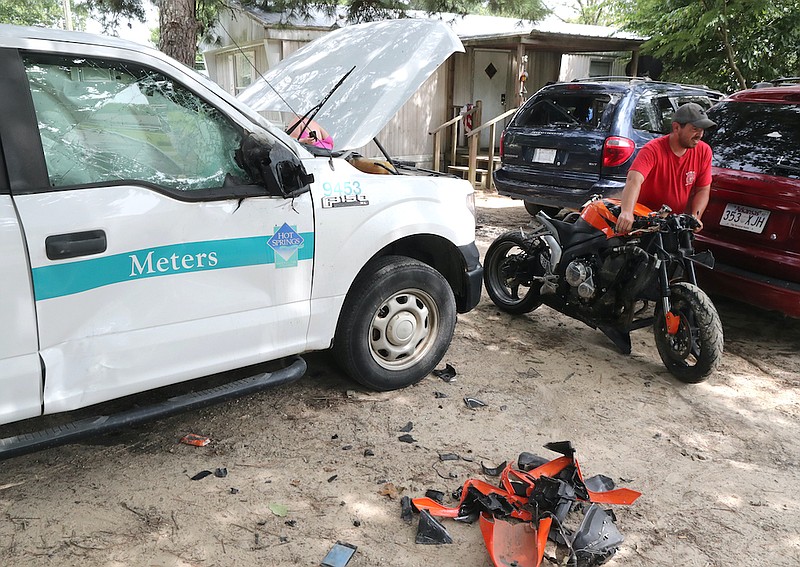 Burks & Mahoney wrecker service employee Mike Shaffer rolls a Honda CBR motorcycle to a waiting flatbed at 173 Charming Heights Drive Friday.
An unidentified city of Hot Springs employee was injured and a motorcycle driver was airlifted from the scene after a collision between the motorcycle and a parked city vehicle in the 100 block of Charming Heights Drive Friday afternoon, Arkansas State Police said.
The driver of the motorcycle, a Honda CBR, was traveling east on Charming Heights Drive at around 2 p.m. when he lost control, traveled several hundred feet, and at some point came off the motorcycle before it struck a city-owned Ford F-150 pickup truck on the passenger side, according to ASP troopers at the scene.
The meter truck was parked in the driveway of 173 Charming Heights Drive, with the driver in the driver's seat, at the time. The motorcycle hit the truck first then flew into a blue Dodge van before coming to rest next to it, the troopers said.
The driver of the truck was transported to an area hospital by LifeNet and the driver of the motorcycle was airlifted from the scene.
The Garland County Sheriff's Department and 70 West Fire Department also worked the scene.
Sponsor Content
Comments