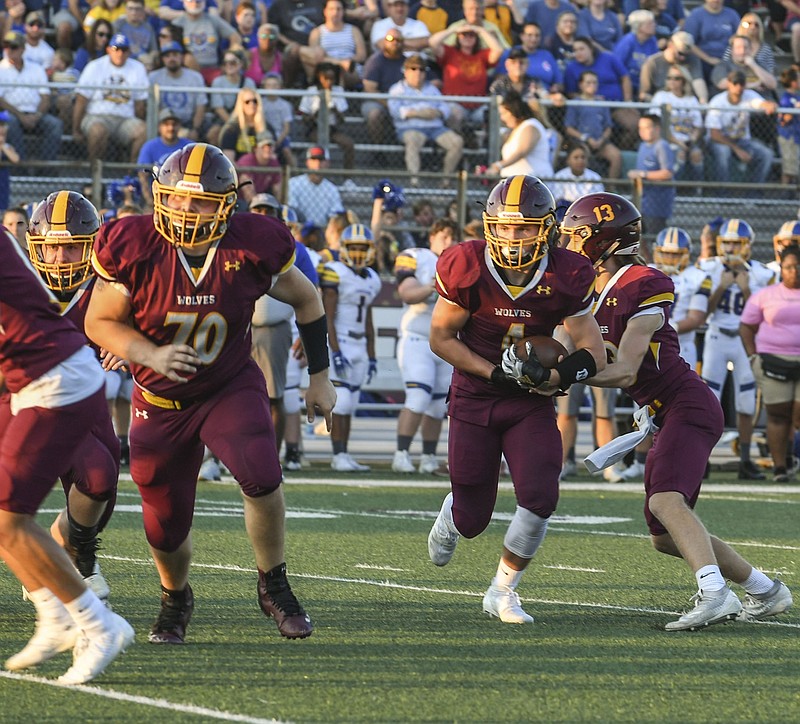 Lake Hamilton's Owen Miller (4), right, runs the ball during a game against Lakeside on Sept. 5, 2019. The high school football season could see adjustments in the coming weeks. - Photo by Grace Brown of The Sentinel-Record
A statewide change to the start of the school year could create issues for the state's high school football season.
Gov. Asa Hutchinson announced Thursday that school will begin the week of Aug. 24, but no later than Aug. 26, which also marks the start of Week Zero, the first week varsity teams can compete.
"It's for the safety of the kids," Hot Springs head football coach Darrell Burnett said. "Give everything a little more time to be settled."
Burnett said that while the change does not affect anything as of yet, any additional changes could create issues.
"I think if you start pushing it farther and farther back, then yes it will affect football," he explained. "It will affect any of your fall sports. As of right now, if we're able to start school on the 24th or through the 26th, we'll be alright because that's our first football game that week on Thursday -- Week Zero against Fountain Lake."
Lake Hamilton head coach Tommy Gilleran said that the delay will only be better for the students in the long run.
"Our actual first game is Aug. 28 against Lakeside and so the first week of school, we'd have a game which doesn't happen very often, but we could do it," he said, noting that the team has a scrimmage against Arkadelphia scheduled for Aug. 17. "I'm hoping maybe the AAA (will) say, 'Hey, let's move everything back a week to help with pushing the schedule back but also helping it to not lose the season.' I think if they push it back a week or two then you have a chance for the decline of COVID-19. Maybe it'll peak at the end of July and then August, it'll start going down."
Coaches are still in the dark as to what the actual plans will be for the season.
"As of right now, they haven't told us that we won't (be playing)," Burnett said. "We hope that we'll hear something within a week so we can have a little more insight on what we need to do as far as planning -- whether we're going to cancel the scrimmages, cancel the first two games, eliminate non conference. We don't know."
Gilleran said that he is glad to see that American Legion baseball has not created any additional cases.
"They've been playing baseball since June, and now it's July," he said. "They're playing all the time, and they're playing different schools, and I know it's a non-contact sport, but still they're running by each other and touching the same ball. There's a lot of the same factors. ... They're kind of helping us out. Them being healthy helps us have a season. You can move the season to spring and still I'd have it.
"There's theories out there that some places have tried to switch seasons, and I don't think they are. I think they'll keep it as it is. Nobody knows how long this thing's gonna go and then how many sports and stuff are going to be affected by it. I wish I could say that we're playing no matter what, but in the back of my mind -- if it surges really bad, there's a chance they'll come in and say 'Hey, let's back off here and look at it.'"
Cutter Morning Star head football coach Matt Kinsinger said that with major college conferences canceling games, anything is possible.
"There's always a chance that adjustments will need to be made, that they could occur this year," he said. "We just have to proceed as always and continue to do what we do -- control what we can control and adjust the things that we don't have control over. I think there is always a possibility with the NCAA making changes and adjustments to their schedules. It's not uncommon. Just like whenever the COVID hit, you saw a lot of colleges quickly cancel spring sports, so everybody else followed that pretty closely with canceling spring sports as well."
Burnett has talked with coaches in other states, and he is intrigued by some of the things those states are doing.
"At this point, you've gotta be prepared for anything," he said. "I was talking to a few coaches this morning out of state in Tennessee, and they've been discussing options such as eliminating their nonconference, playing seven weeks of conference and having a four-week playoff. Another option was flip-flop the spring or fall sports and then the third option ... which is playing football in February. Nothing has been put in play yet for a few states. Georgia has a plan, and they're sticking to it. Just trying to figure out which way we're gonna go here right now."
Kinsinger acknowledges both the positives and the negatives that could come from a delayed season.
"Without having 7-on-7 and team camps this summer and then obviously having a limited non-conference schedule, it could be challenging -- not being able to see my kids and move places and put people around where they need to be and fill up positions, see who can play and who can't," the new coach explained. "Then again, depending upon what that looks like if I have the ability to get together and practice, it'll give me a little more time to practice before our games, too. There's also a give and take in these situations. You can look at just the negative, but there's positives in a situation like that too where I'd have a little more time as a new coach to be able to spend a little more time with my kids and get everything more installed than what I'd be able to this summer."
While most teams will have three non-conference matchups before the start of the conference season, Hot Springs and Lakeside both have four due to the loss of McClellan in their conference, leaving a total of six teams. The Trojans and Rams anticipate playing four straight weeks of non-conference games. If those games were to be canceled, the Trojans would go the first five weeks of the season without a game in their book while Lakeside's bye week comes near the end of the season.
"Should be injury-free, wouldn't be banged up," Burnett said. "Just gotta make sure the kids understand the bigger picture. Let's just say for instance that they canceled the non-conference games -- everybody would be playing that fourth week. We won't. That's the game against Lake Hamilton if you count Week Zero, then the next game would be a conference game for most teams, and we'll have a bye. If they cancel non-conference, there'll be two weeks where we won't be playing and everybody else will."
Gilleran said that it could create issues for teams that make key adjustments during the non-conference part of the season.
"Usually, you're in shape by the third game," Gilleran said. "You work your way in. You can practice all you want and run 'em for long periods of time, but when you get in the game, you exert as much energy as you can. I think the big thing would be how good of shape you're in because you're not going to be ready. There's no way you can simulate playing a game in practice. I know you can say you can. The kids go hard, but when you get in a game -- adrenaline's flowing. It's just different. It'll have an effect on our kids, on everybody.
"Those three games -- you can kind of get everything worked out, but also you have a chance to move people around and adjust your lineup based on who plays well the first three games."
Sponsor Content
Comments