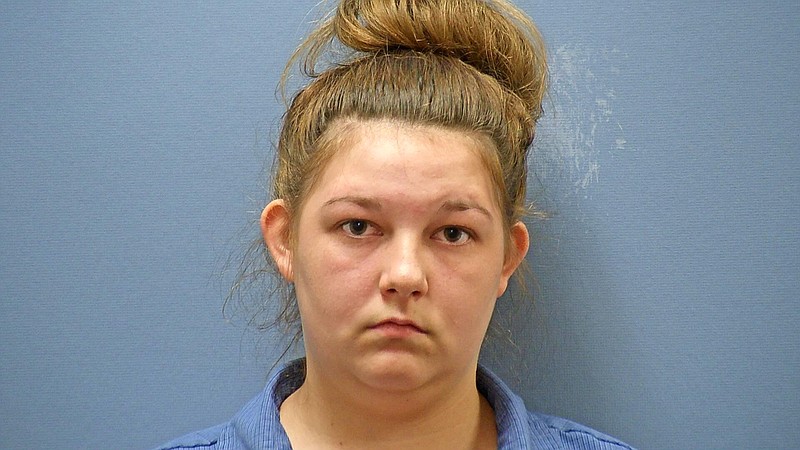 Alisa Kay Andry - Submitted photo - Photo by Submitted photo
A second local teen was arrested Friday in connection with the March 14 shooting of a local man whose body was found in Hollywood Park, Hot Springs police said in a release.
Alisa Kay Andry, 19, of Hot Springs, is charged with first-degree murder and aggravated robbery, each punishable by up to life in prison, for the death of Joshua Severns, 20, of Hot Springs. She was being held on a $100,000 bond.
Payton Jason Mann-Douthit, who turned 18 last month, was arrested around 11:30 a.m. Thursday near the corner of Spring and Palm streets, and charged with capital murder, punishable by the death penalty or up to life in prison, and aggravated robbery in connection with Severns' death.
Mann-Douthit, who remains in custody in lieu of $500,000 bond, pleaded not guilty to both charges Friday morning in Garland County Circuit Court and denied the allegations in a felony firearm enhancement filed by prosecutors which could potentially add an additional 15 years to his sentence.
Garland County Public Defender Tim Beckham appeared with Mann-Douthit for the purposes of Friday's arraignment, but court documents note Mann-Douthit told Judge John Homer Wright "he understood his family was attempting to arrange for private counsel."
A hearing to determine the admissibility of any statements Mann-Douthit made to Hot Springs police after his arrest is now set for Sept. 14 and an attorney review hearing is set for Aug. 3 to see if private counsel has been obtained.
Wright had issued a gag order Wednesday limiting pretrial publicity in the case and had ordered the cases sealed for both Mann-Douthit and Andry at the request of prosecutors on Tuesday. Both cases had been filed direct to circuit court on Tuesday, the same day warrants were issued for both suspects.
According to HSPD news releases, at around 11:38 p.m. on March 14, police responded to a report of shots fired in the area of Hollywood Park, 411 Hollywood Ave., and found Severns deceased from a gunshot wound, behind the restrooms.
During the course of the investigation, it was determined Severns left his residence on foot to meet someone and was directed to certain locations prior to making it to the park.
A Crime Stoppers reward of $1,500 had been offered for information leading to the arrest of the person or persons involved in the murder of Severns. Information about what led police to Mann-Douthit and Andry has not been released.
Sponsor Content
Comments