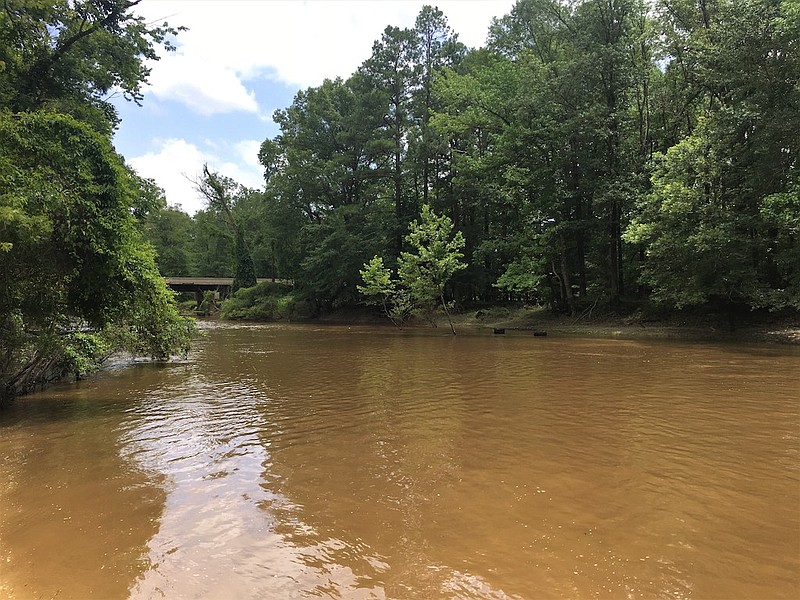 Jenkin's Ferry Battleground is situated on the banks of the Saline River near the small town of Leola. - Photo by Corbet Deary of The Sentinel-Record
Outdoor writer and photographer Corbet Deary is featured regularly in The Sentinel-Record. Today, Deary writes about taking "a drive through history."
The past couple of months have proved strange, to say the least, as COVID-19 has literally changed our lives. Businesses have changed their protocols, jobs have been put on hold, or lost, and even something as simple as going to the grocery store is far different from what we have been accustomed to. Even church services are strange in comparison to the way we have worshipped our entire lives.
Well, the pandemic has affected my occupation, as well, in the sense that many are uncomfortable with visiting destinations where they are apt to share air space with others, who might be carriers of the virus. In turn, I am not comfortable with unknowingly sending folks to a location where they might contract the disease.
That all being said, people are also starting to get a little stir crazy. So I have decided to focus on auto excursions for the next few weeks, lending to the opportunity for our readers to strike out and enjoy this great state from the safety of their vehicles.
Of course, one might still want to get out and get a better look at a few destinations along the way. But at the least, they can choose their stops and monitor the number of people that might mosey within an unsafe distance of them prior to leaving their vehicles.
I chose an excursion for this week's article that will lead people to three different Civil War battlegrounds that are situated in the southern section of the state. The entire journey consists of in the neighborhood of 300 miles and can easily be completed in a day, with time to spare.
These three destinations differ from a majority of the state parks throughout Arkansas in the sense that they cover very little acreage. They do not sport visitor centers or staff, and they have little to offer to those who are looking for an action-packed day in the midst of Mother Nature.
But their stature, or lack thereof, and lack of diversity are not indications that they should be ignored. In fact these three sites have an extremely rich history. And those who allow their imaginations to carry them back to another era of time will find themselves engulfed in a battle that truly changed this great nation.
Although beginning our journey in Hot Springs, I will not begin sharing mileages until we reach the town of Malvern, as we will all be beginning the excursion from various locations.
So load your rig with a picnic basket, ample snacks and drinks and let's strike out along a journey back into yet another time when this country was suffering through uncertainties and unrest.
From Hot Springs, take Highway 270 east to downtown Malvern and take a left at the light onto Paige Street. From the light, travel 2.7 miles and take a right onto Highway 270.
Remain on Highway 270 for 13.3 miles and take a right onto Highway 291. This stretch of road lends to a pleasant drive, as traffic is light in comparison to the main highway that we just left behind.
Veer to the right to remain on the highway at 1.3 miles and remain on 291 for 4.8 more miles to the Highway 46 junction. Take a right at the intersection and travel 2.3 miles, were you will turn right into the Jenkin's Ferry Battleground State Park entrance.
It won't take long, upon entering the parking area, to recognize that this particular facility was recently hit by a storm, as trees were uprooted and what appeared to be a pavilion was blown down.
The park is still accessible, however, and the interpretive signs are still intact. Although many years have passed since the historical event occurred, I could still imagine an ominous cloud of fear hovering in the air along the banks of a swollen Saline River in April of 1864, when the Union and Confederates neared confrontation. And as the victors proceeded ahead, one might imagine an eerie silence that had been left behind, with the casualties.
From Jenkin's Ferry, simply return to the highway and turn left onto Highway 46. We will backtrack for a short distance. However, remain on 46 at the 291 intersection and continue for about 7 more miles to Highway 167 and turn right.
Follow 167 for 32.8 miles and remain straight onto Morrow Street. Travel through Fordyce for eight-tenths of a mile and turn left onto East Fourth Street/Highway 8 at the light.
Travel for 9.5 miles on Highway 8 and the second of our three destinations will be situated on the left hand side of the road at the Highway 97 intersection.
This particular battleground differs from Jenkin's Ferry in the sense that there is no waterway in the vicinity. Instead, Mark's Mills is situated in the midst of huge towering pines. However, it is likely that the scene was different more than 100 years ago.
Regardless of the scene, one can rest assured that fear and uncertainty also reeked in the air at this location as the conflict neared. And I once again found my mind wandering into the past upon reading the interpretive signs that shared details of the days leading to the battle and of the confrontation.
There is a picnic table located on site, in the event one chooses to stop and break bread, or simply needs a break from the drive. However, there are also several picnic tables at the upcoming battleground, as well.
Speaking of the upcoming battleground, let's strike out in the direction of Poison Springs. From Mark's Mills, we will simply backtrack to Fordyce. However, we will remain straight at the light and follow Highway 8 for 2.2 miles, where we will take a left onto Highway 79.
Veer right at 1.6 miles to remain on 79 south, and follow the highway for 30.6 miles where we'll take a left onto Highway 278 west.
Go 1.6 miles and veer right to remain on Highway 278. Go 6.4 more miles and take a left onto Highway 76 west. Travel 2.7 miles on 76 and the entrance to the Poison Springs Battleground State Park will be on the right.
This particular facility is noticeably larger than the previous two, and is a great location where one can enjoy the surroundings while gathering worlds of interesting information pertaining to the battle that took place at this location.
There are a number of interpretive signs situated beneath the roof of a pavilion at this site. And several picnic tables are shaded beneath the canopy of towering pines. A short hiking trail is also situated within the park's perimeters.
Poison Springs is the final scheduled stop of the excursion. However, we can still plan to experience a pleasant drive back to Hot Springs. There are several routes one can choose. However, I'll share the one we chose during our most recent journey.
From Poison Springs, turn right onto Highway 76 and travel 3.9 miles to where we turned right onto Highway 57. Go 3.7 miles and take a left onto Highway 24. Go 2.6 miles and turn right onto Highway 368. Travel 6.9 miles and take a right onto 24 west.
Go 1.9 miles and take a right onto Highway 53. Follow the road for 11.1 miles and turn right onto Highway 167. Remain on 167 for 15.5 miles to Arkadelphia and turn left onto Caddo Street. Go two-tenths of a mile and take a right onto Highway 7 north. Remain on Arkansas Highway 7 to Hot Springs.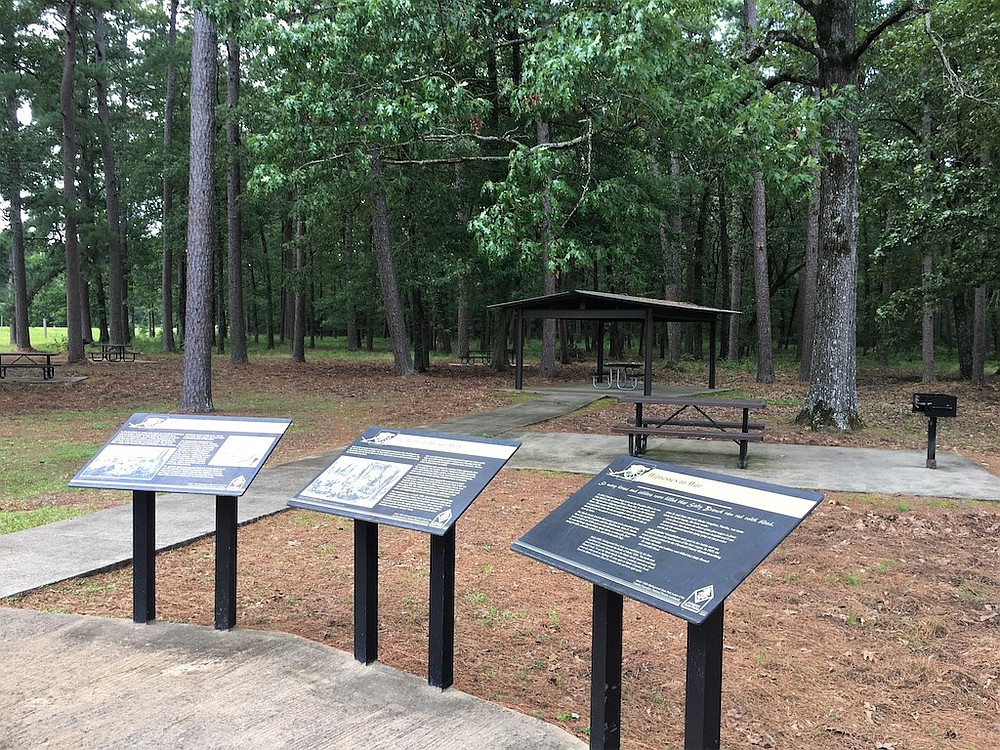 Marks Mills Battleground State Park is one of three locations where Union and Confederate soldiers battled during the Red River Campaign of the Civil War. - Photo by Corbet Deary of The Sentinel-Record
Sponsor Content
Comments