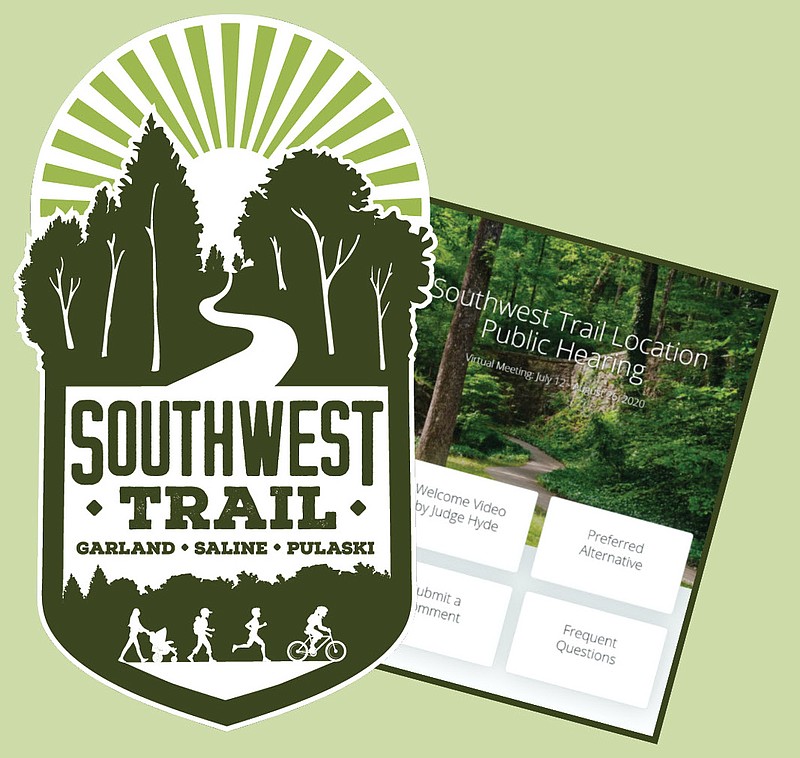 Part of a social media graphic publicizing the Southwest Trail meeting. - Submitted photo
The public can begin weighing in today on the proposed route for the 60-mile pedestrian and bicycle trail connecting downtown Little Rock and Hot Springs National Park.
The 45-day virtual public involvement session opens today at http://SWTrail.TransportationPlanRoom.com. Comments can be submitted until Aug. 26.
"The public is invited and encouraged to visit the virtual site anytime during the scheduled dates to view the project information and offer comments," a news release issued by Garver Engineers, the firm overseeing the project spanning Pulaski, Saline and Garland counties, said. "The virtual location public hearing (no in-person meeting) will include a pre-recorded presentation, the environmental assessment, study information, exhibits, an interactive map and comment form."
Comments can also be submitted by phone at 501-823-0730. The sessions would normally be held in person, but the coronavirus pandemic requires the virtual setting.
"In each county we would have a location we'd set up to have a public involvement session," County Judge Darryl Mahoney said. "They would look at the trail path, see where the alignment is going to be, get their comments, get their concerns and have any questions answered they might have.
"With today's world everything is virtual now. We're doing it in this manner. There's places on the site where you can ask your questions, and then you can also call the number if you don't have computer access and someone will call you back."
Pulaski, Saline and Garland counties were awarded a Federal Lands Access Program grant in April 2017 for preliminary engineering and an environmental assessment of the route, part of which is expected to parallel the Highway 70 east corridor. The 20% match will be shared by the three counties, which have applied for another grant to pay the FLAP grant match.
"The three counties together have applied for a (Better Utilizing Investments to Leverage Development) grant to get started on it," Mahoney said.
The downtowns of Little Rock and Hot Springs bookend the route. In between, it will traverse historic Little Rock Central High School and the Old River Bridge spanning the Saline River. The proposed route follows Highway 70 east until east of Lonsdale, where it tracks Highway 88 into Hot Springs.
It crosses East Grand Avenue and follows Convention Boulevard to Malvern Avenue, where it veers north into the national park.
"The purpose of the (environmental assessment) is to identify a preferred trail alignment that minimizes the negative impacts to the natural and social environment while addressing the needs of the project to the greatest extent possible," according to information provided for the virtual hearing.
The route will be approved in the fall if the Federal Highway Administration approves the Finding of No Significant Impact.
Sponsor Content
Comments