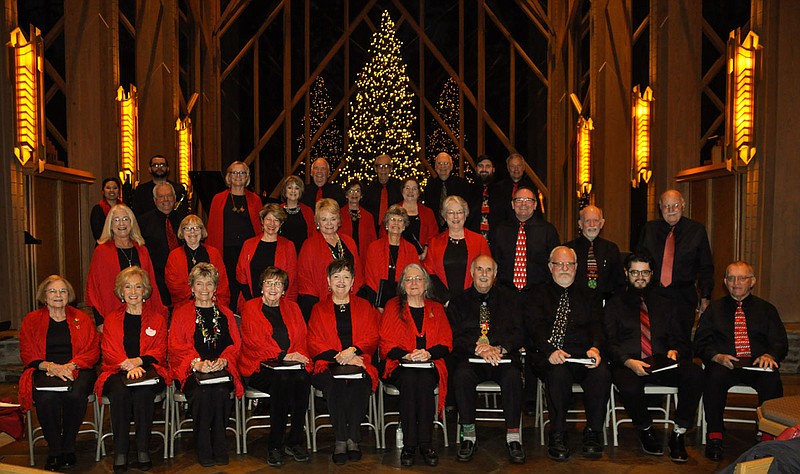 The Village Chorale is shown at its 2019 Garvan Woodland Gardens Christmas concert. Photo is courtesy of Lydia Vidanage. - Submitted photo
HOT SPRINGS VILLAGE -- The Village Chorale is taking a break from its rehearsal schedule during the COVID-19 pandemic.
"According to medical experts, choral singing is especially difficult in terms of infection spread because of the breathing dynamics used by an individual to produce a vocal sound. So to be in an environment where we are singing close together in order to achieve the quality vocal blend that we produce during our concerts is not realistic at this point," the chorale said in a news release.
"Many of our members are filling the time with vocal exercises in order to keep our vocal cords in shape during this break. Some in our group play other musical instruments, so we keep the music that we love present in our lives in many ways," it said.
"However, we all miss sharing our music with you, and we look forward to a time when we can see you once again from the Woodlands stage. We will keep you informed of our schedule as we progress through the recovery stages."
The Village Chorale is an auditioned mixed choral ensemble of 35 to 40 voices. The director, Thomas Bolton, has an "extensive background as a choral director and lifetime music educator. Our concerts are audience pleasers as we present music from a variety of genres -- light classical, religious, Broadway, jazz, and pop," the release said.
For more information on joining the choral ensemble, call Bolton at 502-889-1520 or email [email protected]
"In the meantime we hope that you all will stay safe and remain in good health, and we look forward to seeing you again at a Village Chorale concert."
Sponsor Content
Comments