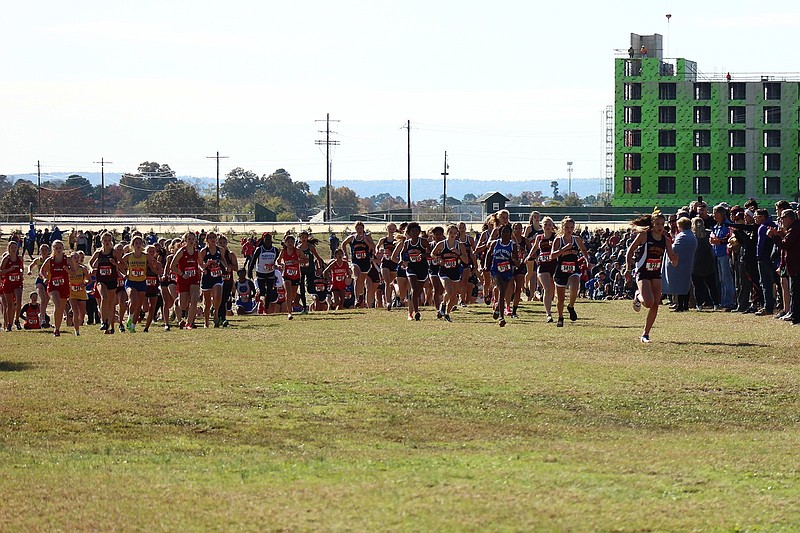 Runners in the Class 5A girls state cross country meet, led by Lake Hamilton's Olivia Pielemeier (922), crest the initial hill in the race on the infield of Oaklawn Park on Nov. 9, 2019. While cross country runners in Garland County have been able to train on their own during the shutdown this spring and summer, they have been limited in what they can do since team practices were allowed starting June 1. - Photo by James Leigh of The Sentinel-Record
Editor's note: This is the conclusion of a two-part series on how area cross country teams are coping with the new workout guidelines due to the coronavirus pandemic.
While cross country runners in Garland County have been able to train on their own during the shutdown this spring and summer, they have been limited in what they can do since team practices were allowed starting June 1.
Lake Hamilton's standard summer training and team-building activities were canceled after COVID-19 protocols discouraged large get-togethers.
"We've been practicing three days a week throughout the week leading up to today," head coach Brandon Smith said. "One thing that's been kind of significantly a little bit different for us, compared to what we've done in the past during the summer time with our workouts, is trying to get away from school, to be off campus and run together off campus.
"What we would do in the past a lot of times is we would go to someone's house, they would design a course for us to run on and then we would get together, kinda socialize and basically kinda have like a little mini potluck -- like a mini church potluck because we have food and they might have swimming or something like that. Unfortunately, that's something that we have not done obviously due to the virus concerns that are going around, so pretty much right now, we've been strictly limited to practicing at the school so far this summer."
Smith said that during normal practices, the junior high and senior high would work together, which helps to encourage the younger runners, but early on the two groups were kept separated.
"Practice is a little different, but I feel like it really hasn't affected us too much with all the restrictions," he admitted. "The main thing we kind of set off summer practices with was junior high and senior high kids strictly apart from one another, and that was just to kind of see how many we were going to have showing up initially because in the past we've had some very, very large crowds of kids show up for summer practice.
"It's kind of gravitated now to where we're kind of feeling a little bit safer being able to have both junior high and senior high practicing at the same time. That's important for us because we really feel like our senior high kids become mentors to our junior high kids, so it's really good to have them working out as much as possible together."
Smith said that social distancing "can be a challenge at practice," but that the athletes understand the reason for the guidelines.
"The kids have really come in and understood what we're trying to do with those guidelines. It's a unique group of kids across the board -- very high academic-type kids, so you really don't have a lot of trouble with them following directions and doing things that you ask them to do.
"It's been a pretty smooth transition to have to do a lot of social distancing with warm-ups (and) post-run. We do a lot of injury-prevention activities (like) stretching in the fieldhouse, and they have to be so many feet apart. ... One thing we require them to do with guidelines is if we're not outside, and we're not working out as far as running goes, they have to have a safe mask. Even when they're stretching (and) doing the injury prevention, we have them masked up, so they're not spreading any airborne germs or anything like that."
With the older and younger athletes training at different distances -- high school competes at 5 kilometers (3.1 miles) while junior high competes at 2 miles -- the runners end up spacing themselves out naturally during their training.
"Our older kids are higher mileage kids so they're going to run further and longer, and then our junior high kids are on that lower mileage level," Smith said. "If we just do something like a distance run, it's going to naturally kind of space them out so that whenever they come back in from a run, we may start at the same time but within 45 minutes, they're already well spaced out from one another, and they're going to be staggered when they come back in."
Smith said that allows the coaches to work with the individuals.
"That really allows us to work one-on-one with them," he said, "but also it kinda keeps them in small groups to where if we have like last night we had 35 for the evening session, not all 35 are showing up at one time and doing the exact same thing. ... I kind of feel like we don't necessarily have to plan a whole bunch for because that's just how we naturally do practice, and it already does it for us the way it falls."
Hot Springs head coach Geoffrey Hedrick said that the Trojans have not started training for cross country yet. They are scheduled to start practices next week.
Sponsor Content
Comments