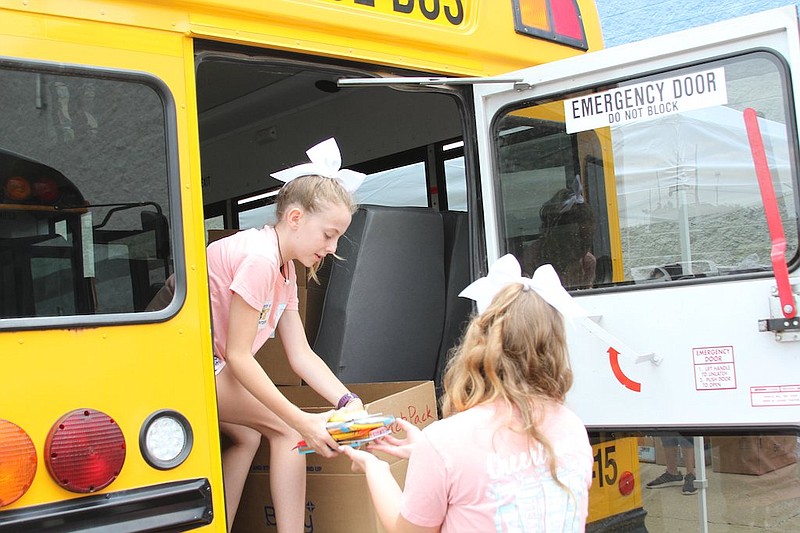 Students help pack donated supplies into a Cutter Morning Star school bus at the United Way of the Ouachita's Stuff the Bus event at the Walmart on Central Avenue in August 2019. - File photo by The Sentinel-Record
Midway through the summer, there are typically school supply donation bins at the entrances of local Walmarts placed by the United Way of the Ouachitas.
This year, the COVID-19 pandemic has transformed the annual in-store fundraiser into its first virtual fundraiser.
The "Stuff the Bus" event is currently taking virtual financial donations, which will be donated to participating schools to purchase the needed supplies themselves. Donations can be made at http://www.unitedwayouachitas.org/aboutstuffthebus.
"United Way of the Ouachitas provides services to seven counties within the Ouachita region: Clark, Garland, Hot Spring, Montgomery, Pike, Polk and Saline," Cora Easterday, UWO Community Outreach and Marketing Director, said.
"The donations raised from 'Stuff the Bus' are returned to schools within the county of which the donation was generated. For example, if we receive a donation from an individual who resides in Malvern, those funds would be distributed within Hot Spring County. United Way will disperse in the form of a check and charge no administration fee."
Easterday said the United Way is trying to supply a demand to a need for students.
"We try hard every year to meet the needs for the students in the schools from the districts that we support, and obviously because of COVID-19 those are going to be adding some additional obstacles for this next year," she said. "So what we're trying to do is fill that gap so that way we can provide every student with the opportunity to succeed."
Donations will be taken between now and Aug. 1.
"Providing students with the (necessary) supplies promotes learning, encourages self-esteem growth, and helps kids stay in school," a news release said. "It's more than just necessary supplies. ... It's setting a foundation to prepare students for a fulfilling, successful future. ... By joining us for our virtual campaign, you can set children up for success by equipping them with the supplies they need to learn!"
According to the release, the impact of a financial donation would provide the following:
• $5 could give 10 children a box of 24 crayons.
• $10 could give five students a composition notebook.
• $15 could supply an entire elementary school classroom with No. 2 mechanical pencils.
• $20 could give two middle school or high school students their own TI-30x calculators.
• $40 could give four elementary school students a backpack for school.
• $50 could pack a backpack full of supplies.
• $60 could give 15 students a 2-inch binder.
• $80 could give tab dividers to 40 middle school or high school students.
• $100 could give glue sticks to 10 elementary school classes.
With Arkansas classes being pushed back to an Aug. 24-26 start-date due to COVID-19 by Gov. Asa Hutchinson, Easterday said the change could potentially allow the fundraiser's Aug. 1 end-date being pushed back as well, but no decisions have been made yet.
Sponsor Content
Comments