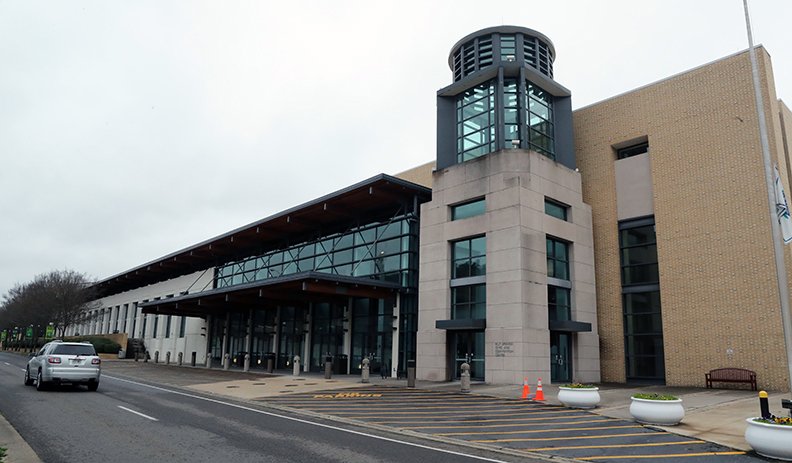 A motorist passes the Hot Springs Convention Center on March 17, 2020. - Photo by Richard Rasmussen
Masks or other face coverings will be required, with the exception of children younger than 10, to attend any event or activity at the Hot Springs Convention Center and Bank OZK Arena, Visit Hot Springs said Wednesday.
"People attending any events at the convention center must wear a mask or other face covering to be allowed entry. No mask -- don't come," Visit Hot Springs CEO Steve Arrison said in a news release.
"We are following the (Arkansas Department of Health) directives regarding graduation ceremonies and all other events -- with no exceptions," Arrison said. "No mask -- no entry."
Gov. Asa Hutchinson issued an executive order last week mandating that masks or facial coverings be worn in public to help prevent the spread of COVID-19.
The mandate requires every person in Arkansas to wear a face covering completely over the mouth and nose in all indoor environments, excluding private residences, where they are exposed to non-household members and distancing of 6 feet or more cannot be assured, and in all outdoor settings, excluding private residences, where there is exposure to non-household members, unless there exists ample space of 6 feet or more to practice physical distancing.
There are a number of exceptions, including people with a medical condition or disability that prevents wearing a face covering.
"I cannot ask our staff to try and make a medical determination on people who say they cannot wear a mask due to a medical condition," Arrison said in a follow-up statement released Wednesday afternoon.
"It would be in the best interest of those people who cannot wear a mask or face covering to stay away from events because obviously they must be at a higher risk to catch the virus.
"In turn, without a mask they pose a greater risk to our other guests and employees," he said.
Beginning this weekend, the convention center is hosting the Hot Tub & Swim Spa Blowout Expo, the South Hot Springs Lions Club Semi-Annual Gun & Knife Show, and has multiple high school graduations ahead. Because thousands of people will be attending these events, the convention center will not be handing out free masks at entry points, Arrison said in the release.
"If you, for some reason, cannot wear a mask, stay at home," he said. "The convention center has received multiple advisories from the health department regarding the mandated face-covering regulations, and we must enforce those directives to ensure the health and safety of our guests, event organizers and our own staff.
"If you can't wear a mask for a medical reason you need to stay at home," Arrison reiterated.
Sponsor Content
Comments