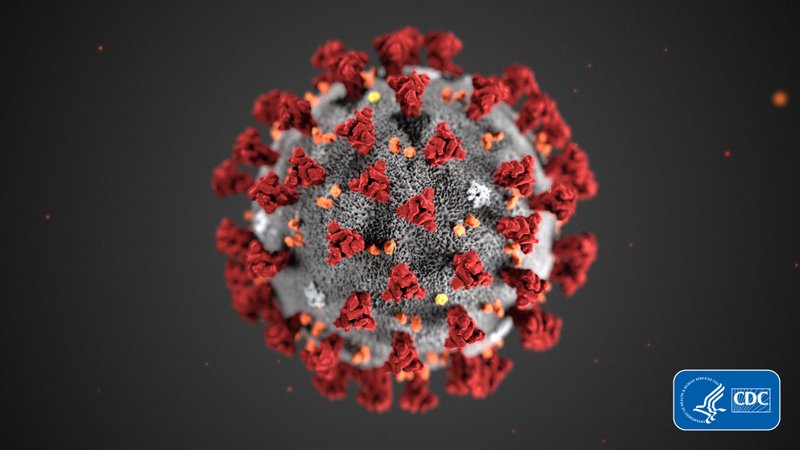 This illustration provided by the Centers for Disease Control and Prevention (CDC) in January 2020 shows the 2019 Novel Coronavirus (2019-nCoV). (CDC via AP, file photo)
EDITOR'S NOTE: As a service to our readers, The Sentinel-Record publishes updates released each weekday by the city of Hot Springs and the state of Arkansas. As of presstime Wednesday, not all of the daily updates had been released by the Arkansas Department of Health.
The following stats were shared Wednesday at Gov. Asa Hutchinson's daily COVID-19 news conference in Fayetteville and posted on the Health Department's website:
• 35,240 cumulative cases, up 591 from Tuesday.
• 6,876 active cases, down 122 from Tuesday.
• 27,990 recoveries, up 707 from Tuesday.
• 474 hospitalizations, down 14 from Tuesday.
• 380 deaths, up six from Tuesday.
• 107 cases on a ventilator, down three from Tuesday.
• 1,068 cumulative nursing home residents infected, up 39 from Tuesday.
The 591 new cases reported Wednesday raised the rolling seven-day average of new cases to 707, more than Tuesday's 703.14 but less than the July 14 peak of 745.86. Wednesday's reported cases were the fewest since the 564 reported July 15, but Hutchinson said the 3,933 test reports the Health Department received in the 24 hours prior to Wednesday's briefing were lower than normal.
Active cases fell for a second-straight day for the first time since May 8.
Speaking at Washington Regional Medical Center in Fayetteville, Hutchinson highlighted how the Health Department's Northwest Public Health Region has bent its curve of new infections. Information he shared showed the curve falling from its late June peak of more than 350 new cases a day to fewer than 200. Hospitalizations have fallen 25% since the end of last month.
"This is the beginning of a success story," he said. "It's not a completed success story. Everybody in northwest Arkansas has worked as a team. We've worn masks. We've done our social distancing. We understand what's at risk. Everybody took it seriously and is trying to get the job done."
Dr. Jose Romero, acting Health Department secretary, said people 44 and younger have accounted for almost three-quarters of the infections in Washington County, the second-largest county in the northwest region. It has a 22% cumulative rate of infection.
"It points to the fact that these are individuals who are engaged in work and are acquiring the virus in the community or possibly spreading it at work," he said.
Romero said children make up 18% of Washington County's new cases but noted that children haven't proven to be effective at spreading the virus.
"That's particularly true in children under 10 years of age," he said. "Newer data suggests that those children 10 years or older may be more capable of spreading it. In essence, they're not a high risk for spreading it in their classroom environment the younger they are."
Commerce Secretary Mike Preston said the $600 a week enhanced federal unemployment benefits provided by the CARES Act expires Sunday. He said the state's continuing unemployment claims peaked at 122,000 in early May but have fallen to 92,000.
The Health Department's nursing homes and congregate settings report listed 577 actively infected inmates and five inmate deaths at the Ouachita River Unit of the Arkansas Department of Correction in Malvern.
Sponsor Content
Comments