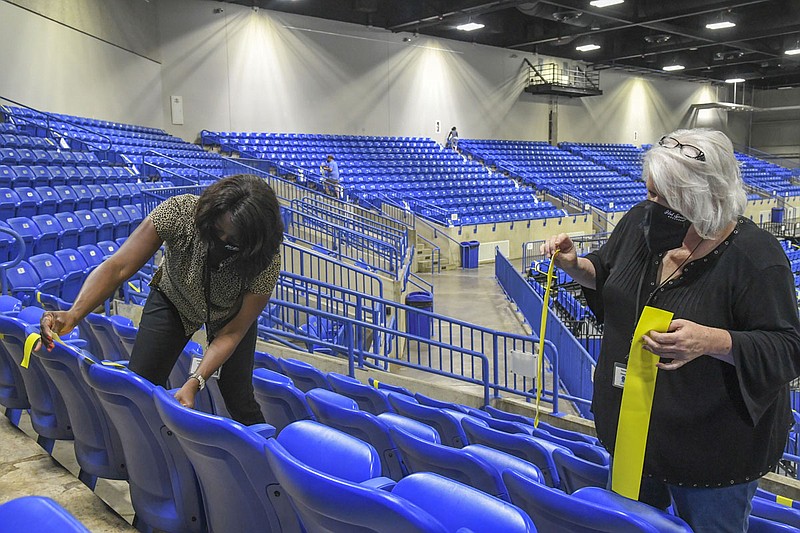 Aundrea Crary, a sales manager in convention and group sales at the Hot Springs Convention Center, left, and Tammy Clampet, director of sales, put tape on seats Wednesday to socially distance Bank OZK Arena for an upcoming graduation ceremony. - Photo by Grace Brown of The Sentinel-Record
Masks or other face coverings will be required, with the exception of children younger than 10, to attend any event or activity at the Hot Springs Convention Center and Bank OZK Arena, Visit Hot Springs said Wednesday.
"People attending any events at the convention center must wear a mask or other face covering to be allowed entry. No mask -- don't come," Visit Hot Springs CEO Steve Arrison said in a news release.
"We are following the (Arkansas Department of Health) directives regarding graduation ceremonies and all other events -- with no exceptions," Arrison said. "No mask -- no entry."
Gov. Asa Hutchinson issued an executive order last week mandating that masks or facial coverings be worn in public to help prevent the spread of COVID-19.
The mandate requires every person in Arkansas to wear a face covering completely over the mouth and nose in all indoor environments, excluding private residences, where they are exposed to non-household members and distancing of 6 feet or more cannot be assured, and in all outdoor settings, excluding private residences, where there is exposure to non-household members, unless there exists ample space of 6 feet or more to practice physical distancing.
There are a number of exceptions, including children 10 years old and younger, and people with a medical condition or disability that prevents wearing a face covering.
"I cannot ask our staff to try and make a medical determination on people who say they cannot wear a mask due to a medical condition," Arrison said in a follow-up statement released Wednesday afternoon.
"It would be in the best interest of those people who cannot wear a mask or face covering to stay away from events because, obviously, they must be at a higher risk to catch the virus.
"In turn, without a mask they pose a greater risk to our other guests and employees," he said.
Beginning this weekend, the convention center is hosting the Hot Tub & Swim Spa Blowout Expo, the South Hot Springs Lions Club Semi-Annual Gun & Knife Show, and has multiple high school graduations ahead. Because thousands of people will be attending these events, the convention center will not be handing out free masks at entry points, Arrison said in the release.
"If you, for some reason, cannot wear a mask, stay at home," he said. "The convention center has received multiple advisories from the health department regarding the mandated face-covering regulations, and we must enforce those directives to ensure the health and safety of our guests, event organizers and our own staff.
"If you can't wear a mask for a medical reason you need to stay at home," Arrison reiterated.
When the convention center closed mid-March, it began working on a "health and sanitation plan" in April and was able to reopen at 33% occupancy in mid-May. Under Phase 2 guidelines, effective June 15, its occupancy increased to 66%.
The center's six-page public health plan released in May covers employee and guest health; employees' responsibilities; cleaning products and protocols; and physical distancing. It also covers department-specific sanitation policies, which include front offices and back-of-house, public areas, housekeeping and event setup.
The summarized plan includes the following:
• Employee and guest health involves physical distancing, hand sanitizer dispensers, signage for health and hygiene reminders. Employees or guests who are exhibiting COVID-19 symptoms while at the facility are instructed to immediately notify their manager or event coordinator.
• Employees' responsibilities include hand washing, training on COVID-19 safety and sanitation protocols, appropriate personal protective equipment being worn by all employees based on their role, and sanitizing hands after clocking in.
• Cleaning products and protocols include the cleaning of public spaces and communal areas, elevators and escalators, employee areas, shared equipment, and air filter and HVAC.
• Physical distancing includes any area where guests or employees line up and will be clearly marked for appropriate physical distancing, as well as employees ensuring separation between themselves and the guests they are serving during receptions and registrations.
The requirements in the state's Phase 2 directive include lines or cues for entrance, exit, purchases, or other reasons must be marked or monitored for maintaining a distance of 6 feet between people; seating must be arranged to maintain a 6-foot distance between members of the audience; family groups may sit together, but 6 feet should be maintained between groups; every other row of seating should be unoccupied to provide for 6 feet of physical distancing; and face coverings are required for all persons present, except for children under 10 years of age, who are exempt.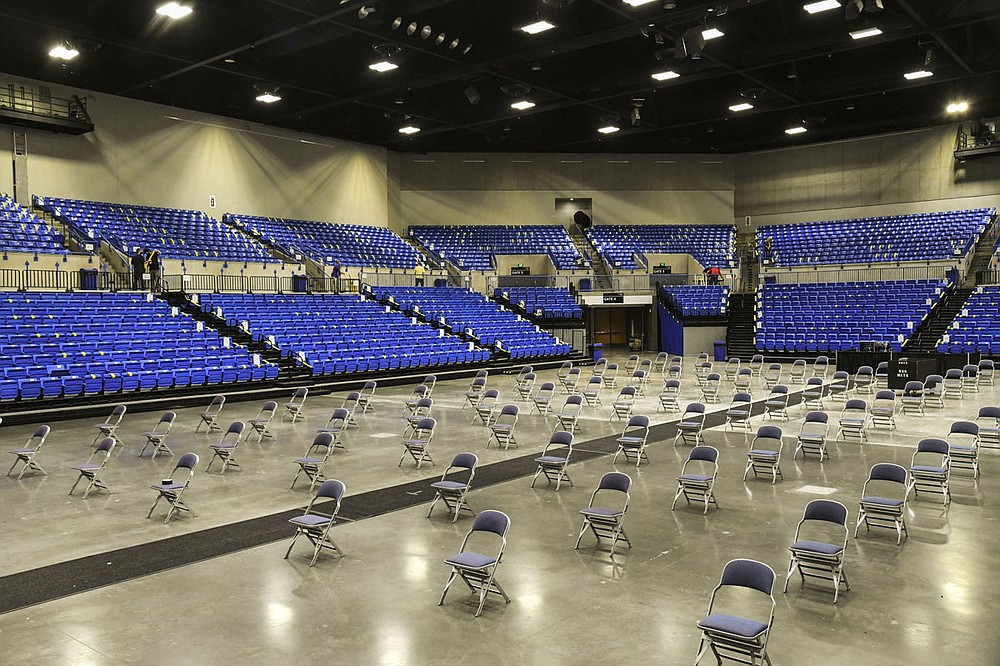 The floor of Bank OZK Arena is set up for a graduation ceremony in keeping with Arkansas Department of Health directives. - Photo by Grace Brown of The Sentinel-Record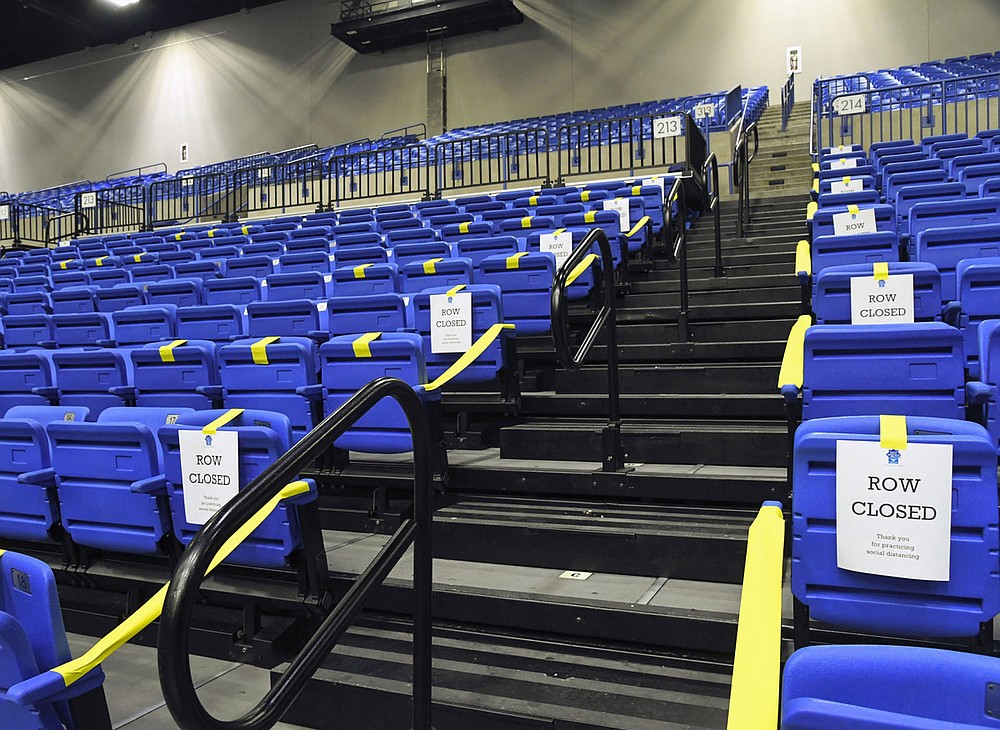 Bank OZK arena seats were set up for a socially distant graduation ceremony on Wednesday. - Photo by Grace Brown of The Sentinel-Record
Sponsor Content
Comments