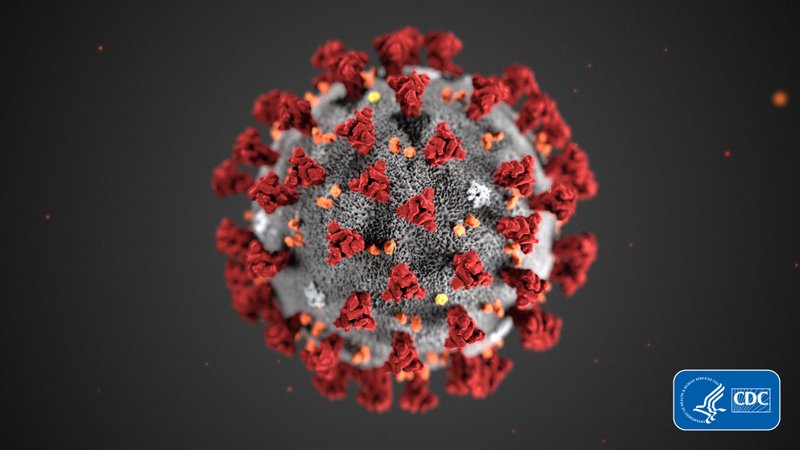 This illustration provided by the Centers for Disease Control and Prevention (CDC) in January 2020 shows the 2019 Novel Coronavirus (2019-nCoV). (CDC via AP, file photo)
EDITOR'S NOTE: As a service to our readers, The Sentinel-Record publishes updates released each weekday by the city of Hot Springs and the state of Arkansas.
The following stats were shared Thursday at Gov. Asa Hutchinson's daily COVID-19 news conference in Little Rock and posted on the Arkansas Department of Health's website:
• 36,259 cumulative cases, up 1,013 from Wednesday.
• 453,684 test reports, up 8,217 from Wednesday.
• 8% cumulative infection rate, up from 7.9% Wednesday
• 7,009 active cases, up 133 from Wednesday.
• 28,864 recoveries, up 874 from Wednesday.
• 480 hospitalizations, up six from Wednesday.
• 386 deaths, up six from Wednesday.
• 107 cases on a ventilator, no change from Wednesday.
• 1,076 cumulative nursing home residents infected, up eight from Wednesday.
• 581 cumulative cases in Garland County, up 32 from Wednesday.
• 11,252 test reports for Garland County, up 269 from Wednesday.
• 5.2% cumulative infection rate, up from 5% Wednesday.
• 200 active cases, up 11 from Wednesday.
• 376 recoveries in Garland County, up 21 from Wednesday.
• Five deaths in Garland County, no change from Wednesday.
Reported cases Thursday in Garland County set a single-day high for the second time in six days, raising the county's rolling seven-day average of new cases for a 14th-straight day and pushing the county's moving average to a new peak for an eighth-straight day.
The 32 new cases reported Thursday raised the average to 26.71, a 105% increase from a week earlier and 420% increase from two weeks ago. The county's cumulative infection rate has risen 27% in a week and 49% in two weeks.
Active cases rose for an eighth day in a row, reaching a new peak of 200. The county's active infections have risen 115% in a week and 213% in two weeks.
It took 47 days for the county to go from 120 cumulative cases in mid-May to 240 late last month but less than half that time to double from 250 cases at the end of June to 500 cases Monday.
The 1,013 new cases, which included a record 1,008 community cases, reported statewide Thursday raised the rolling seven-day average of new cases to 735, a 4% increase from Wednesday's average and 1.46% decrease from the July 14 peak of 745.86. Hutchinson said some of the cases were reported to the Health Department Wednesday but weren't logged until Thursday.
The Health Department's nursing home and congregate settings report listed 577 actively infected inmates and seven inmate deaths at the Ouachita River Unit of the Arkansas Department of Correction in Malvern. Hutchinson said the age and health of the prison's population makes the outbreak that started there last month more problematic than outbreaks at other state prisons.
He said the facility houses all of the Department of Correction's special needs inmates and inmates with medical issues, including those who are elderly and who have mental health problems. It also serves as the prison system's hospital. He said all of the facility's more than 1,700 inmates have been tested. According to the Health Department's report, the prison's had 1,228 cumulative infections among inmates and 48 among staff.
"Everyone in Arkansas should know that we care about our inmates," Hutchinson said. "They didn't ask for COVID-19. That was not expected during their period of incarceration. We want to make sure that they have the protection that they need, and we're working hard to make sure we treat them in the best way possible to speed up their recovery."
The state said there are 869 active cases in prisons and county jails. They've had 4,655 cumulative cases and 21 deaths. The Department of Correction said it's tested 8,583 inmates, roughly half the state's prison population. More than 3,700 of the tests have been positive, and 103 inmates have been sent to outside hospitals.
Sponsor Content
Comments