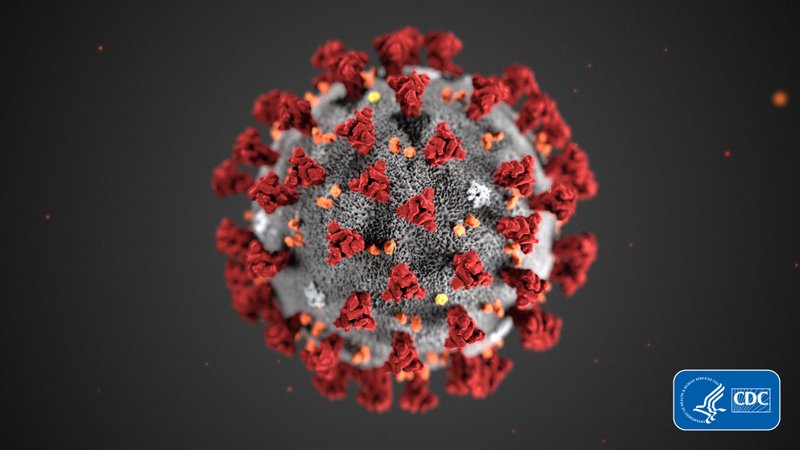 This illustration provided by the Centers for Disease Control and Prevention (CDC) in January 2020 shows the 2019 Novel Coronavirus (2019-nCoV). (CDC via AP, file photo)
EDITOR'S NOTE: As a service to our readers, The Sentinel-Record publishes updates released each weekday by the city of Hot Springs and the state of Arkansas.
The following stats were shared Friday at Gov. Asa Hutchinson's daily COVID-19 news conference in Little Rock and posted on the Arkansas Department of Health's website:
• 37,249 cumulative cases, up 990 from Thursday.
• 461,464 test reports, up 7,780 from Thursday.
• 8.1% cumulative rate of infection, up from 8% Thursday.
• 7,028 active cases, up 19 from Thursday.
• 29,827 recoveries, up 963 from Thursday.
• 497 hospitalizations, up 17 from Thursday.
• 394 deaths, up eight from Thursday.
• 109 cases on a ventilator, up two from Thursday.
• 1,127 cumulative nursing home residents infected, up 51 from Thursday.
• 604 cumulative cases in Garland County, up 23 from Thursday.
• 11,384 test reports for Garland County, up 132 from Thursday.
• 5.3% rate of infection, up from 5.2% Thursday.
• 204 active cases, up four from Thursday.
• 395 recoveries in Garland County, up 19 from Thursday.
• Five deaths in Garland County, no change from Thursday.
Rolling seven-day averages of new cases reached new peaks statewide and in Garland County Friday.
The county's increased for a 15th-straight day, climbing to 27.29 with the 23 new cases reported Friday. It was the 10th day in a row the county's moving average set a new high and sixth-straight day with 20 or more reported cases. The average has increased 71% in a week and 378% in two weeks.
Friday was the 10th day in a row the county's cumulative infection rate increased. Positive tests as a percent of total tests was 5.3% Friday, a 47% increase from two weeks earlier and 56% increase since the start of the month.
The county's active cases rose for a ninth day in a row, reaching a new peak of 204. Active infections have grown 87% in a week and 292% in two weeks.
The 990 new cases reported statewide Friday raised the state's rolling seven-day average of new cases to 783.86, a more than 5% increase from the previous peak July 14.
"As we go into this weekend, 900 cases are too high," Hutchinson said. "We need to reduce that so we can continue to make progress, so follow all the guidelines. Wear your mask. Make sure you socially distance if you go outside. It's the backyard barbecues. It's the swim parties. It's other things that we're not careful in that can lead to a spread of this, so I'm asking all Arkansans to be careful."
The net gain of 17 COVID-19 patients in hospitals reported Friday raised hospitalizations to a new peak of 497. Hospitalizations have increased 71% since the start of the month.
Dr. Jose Romero, acting Health Department secretary, said the next 30 days are critical to putting downward pressure on the curve of new cases prior to the start of school next month.
"We have an opportunity to change the curve," he said. "That has been predicted even in the models that are out there. We can drive this down. We can start seeing results possibly as early as two weeks from now, so I encourage all of our citizens to engage in using your mask and engage in social distancing."
Hutchinson said it's possible the statewide mask mandate that took effect Monday could start to have an effect on the curve in a few weeks.
"It takes a while for that to show results," he said. "That's been the experience across the country. So that is both hopeful, but it's also based upon the experience that we've seen. If we can keep it flat and then start going down, that would be my hope and my vision for Arkansas."
Sponsor Content
Comments