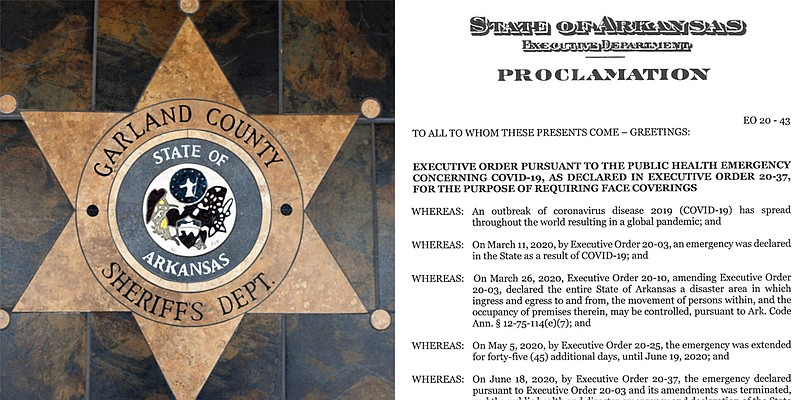 Photo illustration by The Sentinel-Record
Garland County Sheriff Mike McCormick on Saturday clarified his position on the wearing of facial coverings, reiterating that he believes masks are beneficial in helping to prevent the spread of COVID-19 and encouraging the public to wear one.
McCormick last weekend issued a statement saying the sheriff's department would not issue citations for violations of Gov. Asa Hutchinson's executive order mandating that masks or facial coverings be worn in public that went into effect on Monday. According to the directive, violation of the mandate is a misdemeanor offense punishable by a fine of not less than $100 or more than $500.
McCormick said this past week he has received "a number of inquiries and calls regarding my stance on the wearing of masks or facial coverings."
"Some have agreed, others have not," McCormick said.
"I take my duties as Garland County sheriff very seriously and have dedicated the past 38 years to protecting and serving our community. ... During my career in law enforcement, I have always strived to do the right thing even if it is not popular. I would like to clarify and reiterate my position on the wearing of facial coverings," McCormick said in a statement issued to The Sentinel-Record.
"I personally believe that wearing a facial covering when you cannot social distance is beneficial in helping to prevent the spread of COVID-19. And, I agree that Gov. Asa Hutchinson's issuance of Executive Order 20-43 was a good idea for trying to keep Arkansans and our visitors safe," McCormick said.
McCormick noted he and his family wear masks when out in public, and take other measures recommended by the Arkansas Department of Health to reduce the risk of spreading COVID-19.
Garland County deputies are required to wear a mask when dealing with the public and masks are required to be worn inside the sheriff's department facility when the proper distance cannot be maintained, he said.
"We encourage all citizens of and visitors to Garland County to social distance, wear a facial covering when they cannot maintain social distance, and be vigilant with hand washing. Individuals who are ill or at high risk for contracting COVID-19 are encouraged to avoid public places," McCormick said.
The sheriff's department's jurisdiction includes the unincorporated areas of Garland County, and much of those 800 square miles are rural, McCormick noted, adding that most of the county's 100,000 residents live in those areas, and there are four or five patrol deputies on duty at any one time covering all of Garland County.
"They respond to calls for issues that take place in unincorporated Garland County, of which there are approximately 30,000 per year, as well as providing assistance to other law enforcement agencies when needed," McCormick said.
"These men and women work hard to ensure the safety and well-being of those in Garland County. As I have stated before, if a business owner or manager calls the sheriff's department because a patron refuses to wear a mask and does not leave the premises when asked, we will respond to this as a criminal matter."
The Hot Springs Police Department said Monday it would uphold the facial covering mandate put into place by Hutchinson's executive order last week, seeking compliance through "education and by setting the example to our community."
"Our goal is to educate and achieve compliance," Hot Springs Police Chief Chris Chapmond said Monday. "The executive order gives us the authority to issue citations if necessary. We hope the public complies with the governor's order and protects themselves and those around them."
Sponsor Content
Comments