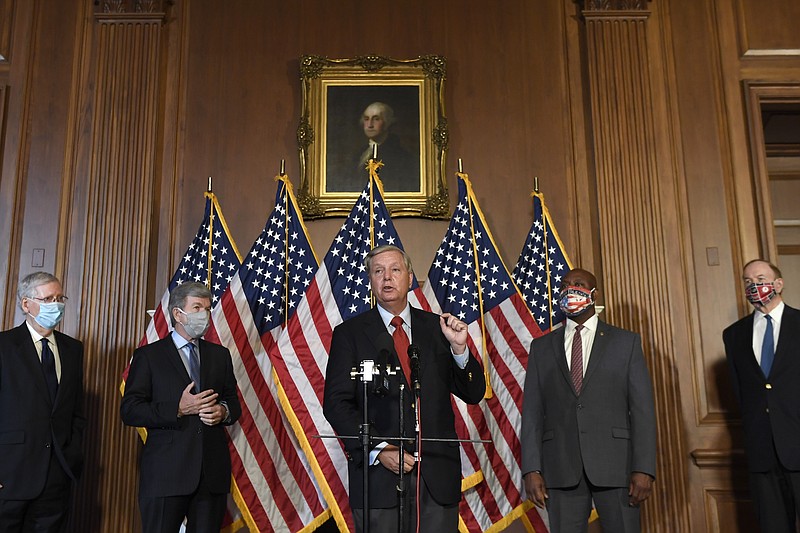 Sen. Lindsey Graham, R-S.C., center, speaks during a news conference on on Capitol Hill in Washington, Monday, July 27, 2020, to highlight the Republican proposal for the next coronavirus stimulus bill. Joining Graham, from left, is Senate Majority Leader Mitch McConnell of Ky., Sen. Roy Blunt, R-Mo., Sent. Tim Scott, R-S.C., and Sen. Richard Shelby, R-Ala. (AP Photo/Susan Walsh)
WASHINGTON -- A new $1 trillion COVID-19 response package by Senate Republicans is supposed to give the government more weapons to battle the surging coronavirus pandemic. But GOP lawmakers have more than just the "invisible enemy" in mind.
The Republican measure includes billions for F-35 fighters, Apache helicopters and infantry carriers sought by Washington's powerful defense lobby. Overall, the proposal stuffs $8 billion into Pentagon weapons systems built by defense contractors like Boeing, Lockheed Martin, and General Dynamics -- corporate titans that sit atop the Washington influence industry.
The bill, drafted by Senate Appropriations Committee Chairman Richard Shelby, R-Ala., would deposit $2.2 billion in Pentagon shipbuilding accounts, boost missile defense systems in California and Alaska and deliver about $1.4 billion for C-130 transport planes and F-35 fighters manufactured by Lockheed Martin Corp. Some of the F-35s could be delivered to an Air National Guard unit in Montgomery, Alabama.
In several cases, Shelby proposes restoring cuts imposed by the administration that diverted almost $4 billion to help pay for construction of President Donald Trump's border wall. The Pentagon won significant increases last year with passage of a budget agreement that erased automatic spending cuts known as sequestration.
The $8 billion weapons procurement package is part of a $29.4 billion defense portion of the GOP's $1 trillion coronavirus response measure, a White House-backed package released Monday. Providing that money now would help build headroom into the annual defense funding bill tat Congress plans to write later this year.
The outlook for Shelby's proposed defense projects appears dim. Democrats slammed the add-ons and Senate Republican leader Mitch McConnell of Kentucky said Tuesday that the final package should not stray from the coronavirus response.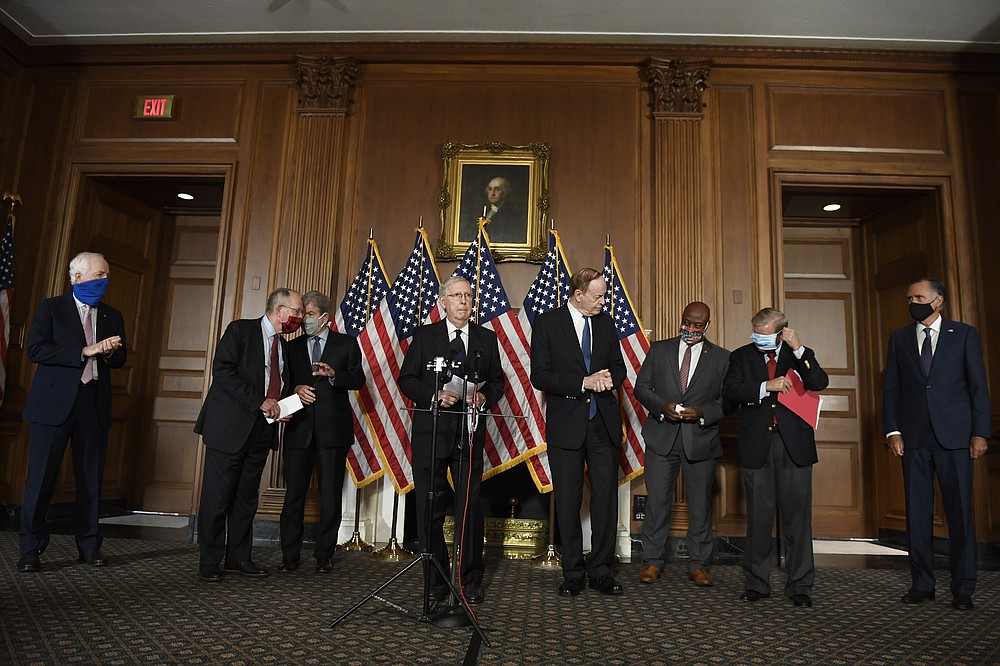 Senate Majority Leader Mitch McConnell of Ky., during a news conference on on Capitol Hill in Washington, Monday, July 27, 2020, to highlight their proposal for the next coronavirus stimulus bill. McConnell is joined by, from left, Sen. John Cornyn, R-Texas, Sen. Lamar Alexander, R-Tenn., Sen. Roy Blunt, R-Mo., Sen. Richard Shelby, R-Ala., Sen. Tim Scott, R-S.C., Sen. Lindsey Graham, R-S.C., and Sen. Mitt Romney, R-Utah. (AP Photo/Susan Walsh)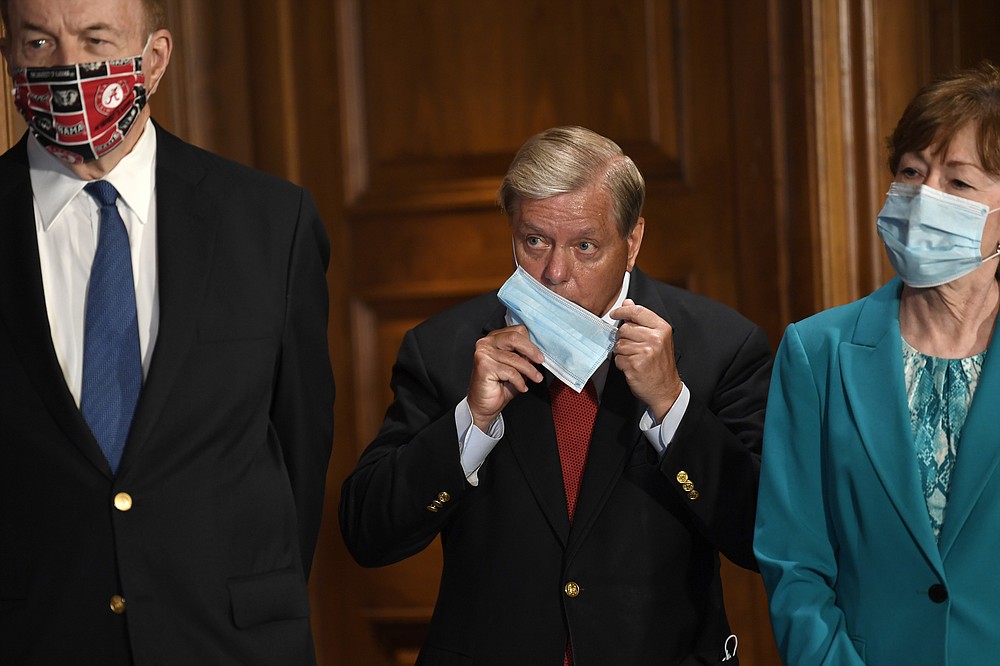 Sen. Richard Shelby, R-Ala., left, Sen. Lindsey Graham, R-S.C., center, and Sen. Susan Collins, R-Maine, right, listen during a news conference on on Capitol Hill in Washington, Monday, July 27, 2020, to highlight the new Republican coronavirus aid package. (AP Photo/Susan Walsh)
Sponsor Content
Comments